If you are looking for ways to help your flock of backyard hens happy, peck toys are an excellent go-to! Chicken Peck toys not only stimulate your chickens physically but also mentally. Keeping them happy and alert.
A sad and unhealthy hen will not produce fresh, tasty eggs.
Try introducing peck toys and you will be amazed at just how engaged your fluffy friends will be with these simple toys that are filled with nutritious tidbits and treats!
In this quick guide, we're on hand to take the guesswork out of selecting the best peck toys for your hens. Read on for all your need to know about peck toys and our selection of 2020's finest! 
Before you read on… Take a look at the latest Backyard Chicken Coops from Omlet. Available in the US & UK
What are chicken peck toys?
Peck toys are enrichment objects that come in all sorts of shapes and sizes that can be given to your hens to interact with. They are typically filled or coated with food, grit,, and treats that your hen has to peck (and sometimes karate kick) at to access. Most toys deliver some kind of sensory stimulation, from sounds to movement to textures and mirrors. 
Types of peck toys include:
Treat balls are a classic peck toy and popular treat for many birds. The originals were a calorie-dense combination of grains, aromatic seasonings, nuts,, and lard. Newer versions are plastic balls that you fill with nuts, seeds, or mealworms and dispense them slowly has your bird pecks at the ball. 
Corn cob chicken peck toys are dried corn cobs that can be pecked at or, 'cob-style' sticks, layered with seeds and grit which a hen can peck at over time. 
Hanging peck toys make a great addition to your coop. Simply suspend the toy from the roof of the coop to an accessible level for your hens and get them to peck away at their newfound moving target!
The best peck toys on the block don't make it easy for your girls to be rewarded, so expect them to have hours of fun!
Why do I need peck toys for my backyard hens? 
Think chicken. Yes, it is that simple. Chickens think and need mental stimulation and activity just like we do. Do you notice how inquisitive your girls are, following you around the yard, or how some cheeky hens can even lead a jailbreak or two if given the chance?
Hens are quick learners and peck toys are a great way to engage and challenge them. Overlooking such stimulation for your hens can cause problems like bullying, fighting, and egg-eating, which is no fun.
Boredom can also set in in the winter months where forage is limited. Peck toys not are a helpful distraction but also helps them to exercise their natural behaviors. 
Read on for how you can keep your hens fully entertained with our pick of the best peck toys!
---
Our selection of 2020's best chicken peck toys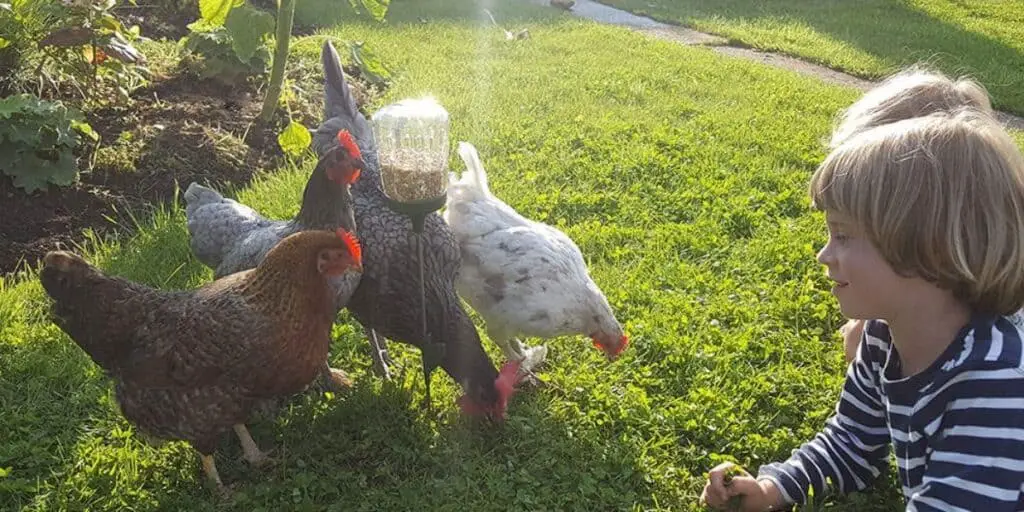 Key Features
Dimensions:  9cm (height of the dispensing chamber) by 9cm (width of the dispensing chamber) by 23cm (total height of toy)
Weight: 0.112kg (0.24 pounds)
Washable
Refillable
Description
The Poppy Peck Toy is an ingenious new kind of peck toy designed by poultry experts Omlet. It consists of a clear plastic slotted dispensing chamber which you fill with treats and a screw-on stem that can be staked into the ground.
When your ladies peck at the treats the flexible stalk bends and flexes, causing treats to be scattered all over the ground for the hens to peck and forage. 
This toy is geared to stimulate natural pecking and foraging behaviours and should have a positive impact on flock behavior and wellbeing. Treats are scattered randomly so it will also give the hens a good workout while they scoot about after their tidbits!
Pros
Varying spring in the pole means random scattering of goodies for your hens to find!
Easy clean up with warm soapy water and a sponge.
Treats will last a long time as they are dispensed slowly
Cons
We could see a big mamma hen seriously bossing this toy, so purchasing a twin pack may be wise.
---
Key features
Dimensions:  20cm length, 7.9cm width
Weight: 0.1kg (0.22 pounds) per ball
Stainless steel
Waterproof rain cap
Nylon hanging cord
Description
If you are looking for a way to include fresh foods for your hens in an enticing and hygienic way, Omlet hit it out of the park with their peck-inducing hanging caddy.
Simply remove the lid and fill with your hens' fresh favourites, kale, spring greens, collards, onion shoots. Replace the lid and suspend it from the roof of your hens coop by its hardwearing nylon cord for a days worth of pecking and decent nourishment.
It is very versatile and would work excellently with food balls and fresh fruit too. The stainless steel cage is washable and this peck toy is adjustable in length.
Pros
This treat holder is easy to clean after use, making providing fresh food to your flock very simple.
You can feed your birds whatever you want, within reason!
Weather-resistant fabrication makes this a great peck toy all year round.
Cons
This peck toy will not work with fine seed or grain.
---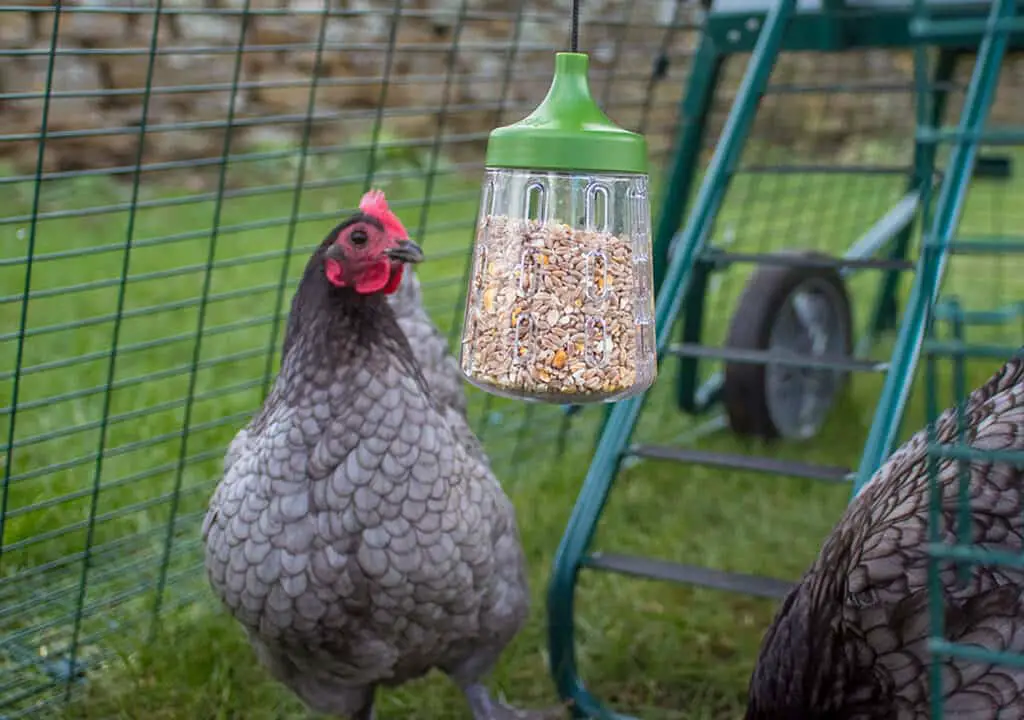 Key features
Dimensions:  9cm (height of the dispensing chamber) by 9cm (width of the dispensing chamber)
Weight: 0.112kg (0.24 pounds)
Washable
Refillable
Description
The Pendant Omlet Peck Toy takes the crazily fun Poppy Peck Toy and flips it on its head! This great design will give your hens a workout and a half as the dispensing chamber filled with goodies is suspended from your coop by a length of hardwearing cord.
You can fill the dispensing chamber with up to 300g of your hens' favorite treat. This makes an irresistible moving target for your hens who can peck to their heart's content, scattering scratch across the run.
Omlet report that this peck toy has great benefits for flock behaviour. 
Pros
The adjustable string, of upto a meter in length can securely suspend the Pendant Peck Toy friom an Eglu Coop or any other type of chicken run.
Two to four medium sized chickens will be able to use this toy.
Multipacks are available from Omlet as we are sure that this pendant toy will be popular.
It can also be used as a grit dispenser.
Cons
The holesin the dispening head limit the type of treat you can feed to your birds. Mealworms may not work. 
---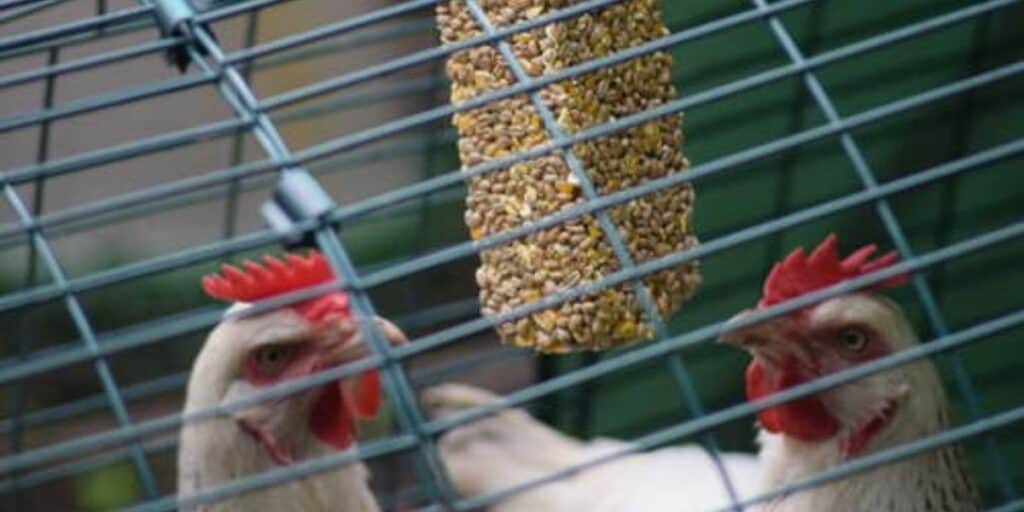 Key features
Dimensions: Length 15m (5.9 inches)
Weight:  270g (0.59 pounds) 
Eyelet attahment for hanging the treat in a run. 
Description
This basic Poultry Corn 'n' Grit Treat is great to have on hand to occupy your hens for a few hours on a warm and sunny day. Chickens love corn and therefore will work away at this tasty stick treat which delivers vital grit too. You can freely toss them into the run or hang them from the top of the coop for the flock to peck at. 
Pros
Corn is great for adding richer color and flavour to your eggs!
Cons
One is definitely not going to be enough. Order a few as it is sure to be popular!
---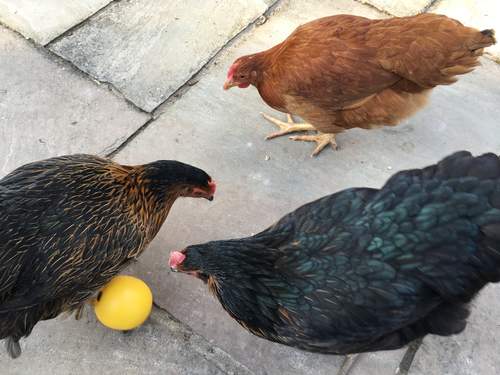 Key features
Dimensions: 8 cm diameter 
Weight: 0.04kg (0.09 pounds) per ball
Re-fillable
Description
This is a clever feed-dispensing ball that may initially have your hens stumped for a while, but once they realize that food comes out of it you will find them pecking and kicking it around for hours.
It is a simple, plastic spherical shell that you pull apart and fill with grain, scratch, or corn. Once filled it will release the tasty treats when it is moved around the coop. 
Pros
This is a great value toy as you can clean and refill it as needed.
The Manna Pro Seed Ball moves around the run so everyone of your hens will get a chance to play with it.
Con
Some purchasers of this treat-filled ball have reported local squirels have stolen it. 
---
Frequently asked questions
Q. Will peck toys affect my hens' regular diet?
ANSWER: These treat-filled toys are not designed to replace a daily complete poultry ration for your hens. The tasty mealworms, corn, and other goodies you put in a toy should not be eaten in excess either, as they may be too fatty for your hens.
The foodstuffs in or on these toys are deliberately difficult to get at, so your bird will have to work hard to get even a small amount of food.
Your more bossy ladies may want to dominate toys so you should always ensure that there is plenty of food available for everyone.
---
Q. What other forms of enrichment can I provide my hens?
Dust baths are a delight to chickens of any breed. The fine sand will get in between their feathers and help keep them clean and parasite free. It can also double up as a source of grit for younger birds. 
Compost piles will be extremely popular with your birds and you will find them returning day after day to forage for grubs, scraps, and protein-rich insects! This is a great option if they can't free-range. 
Chicken swings may not be the most graceful but will be in demand in a well-furnished coop!
Be there!  Being around your hens makes a real difference to their lives. While you clear out the coop, scatter scratch and collect eggs, they will be responding to your presence
---
Rounding up
Toys are a great way of giving your birds a delicious treat while also providing much-needed activity. Purchasing one of these great chicken peck toys should improve quality of life and are perfect if your hen is living within a contained coop.
Peck toys that stay off the ground are properly easier maintain as the food stays dirt and dust-free. The Poppy and Pendant Peck toys tick all the boxes in this area and are washable and refillable too.
Give them a go – we are sure that both you and your hens will have hours of good ole' fashioned fun!
---
Other Toys
$10.88
in stock
as of June 6, 2023 15:43
$8.87
$9.99
in stock
9 new from $6.05
as of June 6, 2023 15:43
Last updated on June 6, 2023 15:43