If you are looking to 'mix things up' with your flock of backyard chickens, a perch or a swing could be a very popular addition to the setup of your coop. An empty coop, garnished only with a few isolated feeders and drinkers can get boring after a while, especially if your hens do not free-range.
Adding a toy swing or a few perches will provide much-needed stimulation for your hens and break up the monotony of their environment. After all the hard work of keeping you well supplied with fresh eggs, your hens could do with a reward!
In this article, we will review some great options for swings and perches that will have your fluffy friends up and away in no time!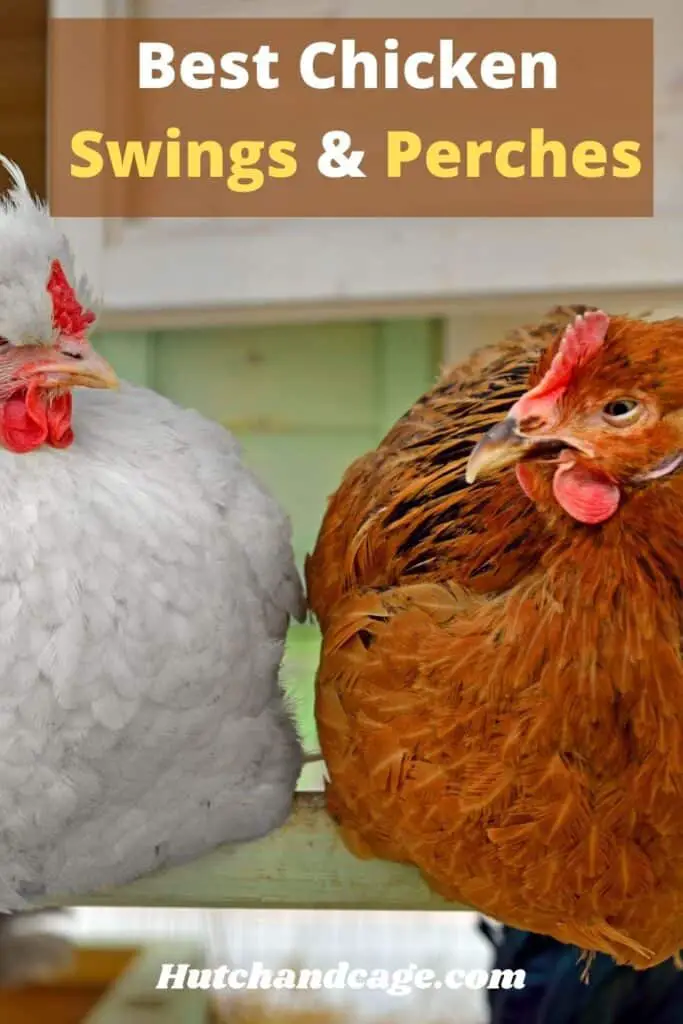 Why a perch or swing is one of the best forms of enrichment for your chicken coop
You may have thought of a swing being more of a toy for a pet budgerigar or cockatoo, but chicken swings are very popular and even used in commercial poultry farming.
Swings and perches are simple and easy to install in your chicken run or coop and are an excellent means of enrichment of your hens' environment. Here are some of the key benefits of installing a swing or perch in your run:
A perch encourages you hens to exercise their innate natural behaviors. Like their wild Red Jungle Fowl ancestors, your backyard hens can still appreciate the reassurance of perching at height for safety and vantage in their environment.
Balancing on a swing is a great new skill for your hens to learn. Your hens may not automatically opt for a swing, especially if they realize that it moves, but once they are introduced to it you will find that they can learn to balance quickly. Swinging is a great mental work out for these intelligent fowl so it will not take much time for them to master the swing. 
You will enjoy teaching and taming your hens as they are encouraged to use the perch. Introducing your flock to the new swing or perch is a great opportunity for cuddles and bonding as you coax them onto the perch. Make sure you enter the coop with a pocket full of treats to help the process along.
Swings and perches can help improve the behavior of your hens. Providing your hens with something new to do can prevent negative behaviors like fighting, feather-pulling, and egg-eating from setting in. New challenges and distractions are a well-known method for reforming flock behavior.
Swinging can be soothing for your bird. Once they get used to a swing, most hens enjoy the gentle back and forth movement.
Chicken swing or perch could be the just the upgrade your chicken run needs? 
Read on for our pick of eggcellent options for your coop. Anyone of these high-quality perches and swings can be safely installed in your coop for your hens to enjoy!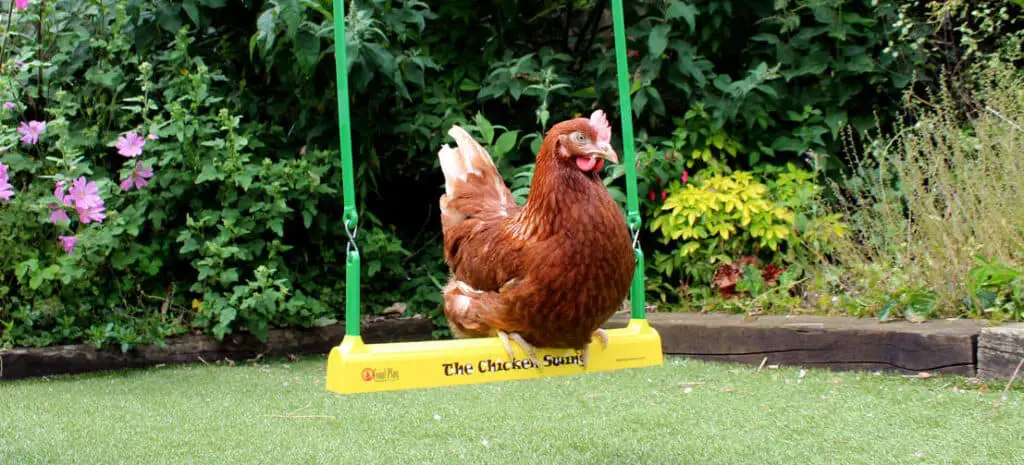 Key features
Dimensions: Length 41.2 centimeters (16.25 inches) 
Weight: 0.46 kg (1.02 pounds) 
Works for all breeds and ages
Height-adjustable
Description
This colorful and quirky chicken swing by Fowl Play is proving itself a market leader. The innovative and engaging design enables your bird to pump the swing and swing themselves.
All articulating parts are robust, strong, and safe. It is attached to your coop with secure rope buckles and a hard plastic cross member that sits across the roof of your run.

The height is easy to adjust and the makers advise that you start with the swing at a very low level so that your chicken can simply hop on. 
Pros
The country corn yellow will certainly brighten up your coop
The swing is a great perch alternative if you already have a perch installed.
The grip on the swing will help your chickens hold on more confidently. 
Cons
Some chickens can be started by the swing when it is first installed. Give them time to become acclimatized before trying them on it. 
---
Key features
Dimensions: Length 29.3 centimeters (11.8 inches) 
Weight: 0.2 kg (0.44 pounds) 
Colorful beads and bells for added stimulation
Description
This chicken swing is made from a range of colorful and non-toxic material, including natural wood for the perch. A basic suspension hook design means that your hen will be able to pump the swing and the bells and colorful wooden bead can be pecked at for additional fun. The swing is designed to be used by a range of breeds and sizes of birds, including parrots. 
Pros
The beads and the bells will certainly pique the curiosity of your hens.
Natural pepperwood is a great choice for a rustic perch for the swing.
This is a great choice for younger chickens like pullets.
Cons
There is no weight limit ascribed to this swing but some purchasers report that it is more for a parrot than a chicken. 
---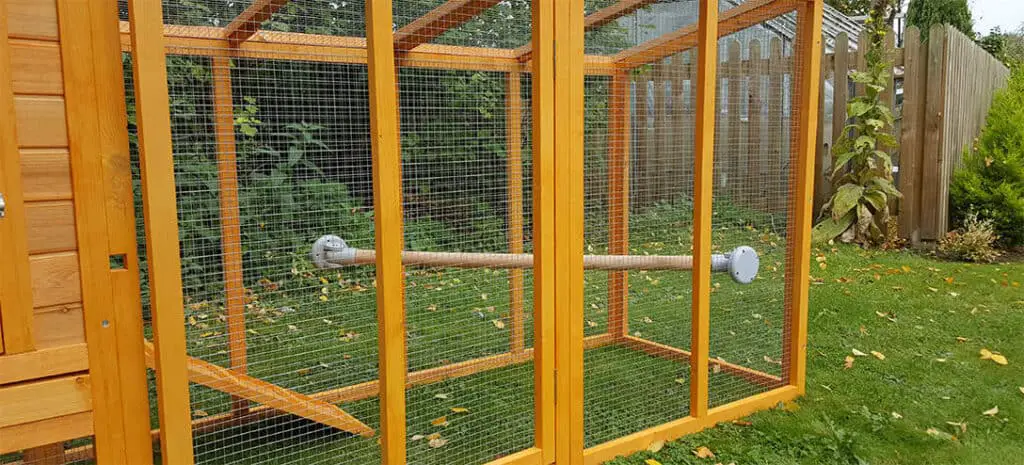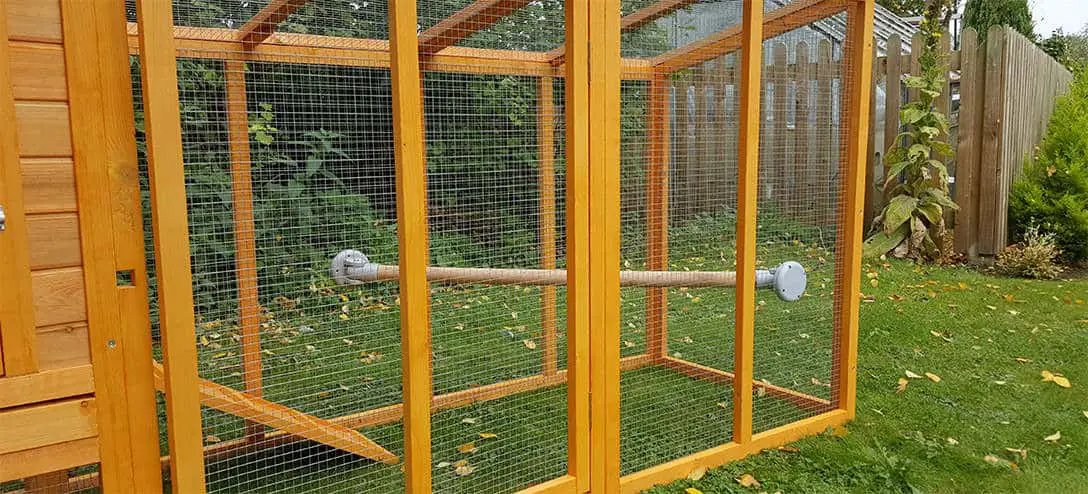 Key features
Dimensions: Length 91 centimeters (3 feet). Thickness 13 centimeters (5.1 inches)
Weight: 0.2 kg (0.44 pounds) 
Perch can be doubled to increase the length
Eucalyptus wood with plastic and metal brackets
Able to securely attach to any coop or chicken run
Description
Poultry professionals Omlet has done it again with this thoughtful perch which is a practical addition to coops or runs of any size or dimension. This simple hardwood perch is robust and will hold up under the weight of more than one happy hen.
The clever bracket that holds the perch allows it to angled meaning that you can install the perch in a corner or anywhere else in the coop.
The firm clamp connector attaches to mesh and chicken wire or can alternatively be drilled into wood.
Whether you have an Eglu Chicken Coop, Walk in Run, or a DIY chicken coop… the Omlet Chicken Perch will fit them all. This innovative perch for chickens has a special connector that clamps around any chicken wire or chicken mesh leaving a secure and very neat looking finish.
It's one of the easiest and cheapest ways you can add a perch to your chicken run that your hens will use every day.
The single perch fits directly across the Eglu Cube, Eglu Go UP, Eglu Go, and the Eglu Classic. The double perch fits across an Eglu Cube MK1 (pre-September 2016) and a 2×2 Walk in Run. It can be used as an outdoor chicken perch or indoor perch for chickens.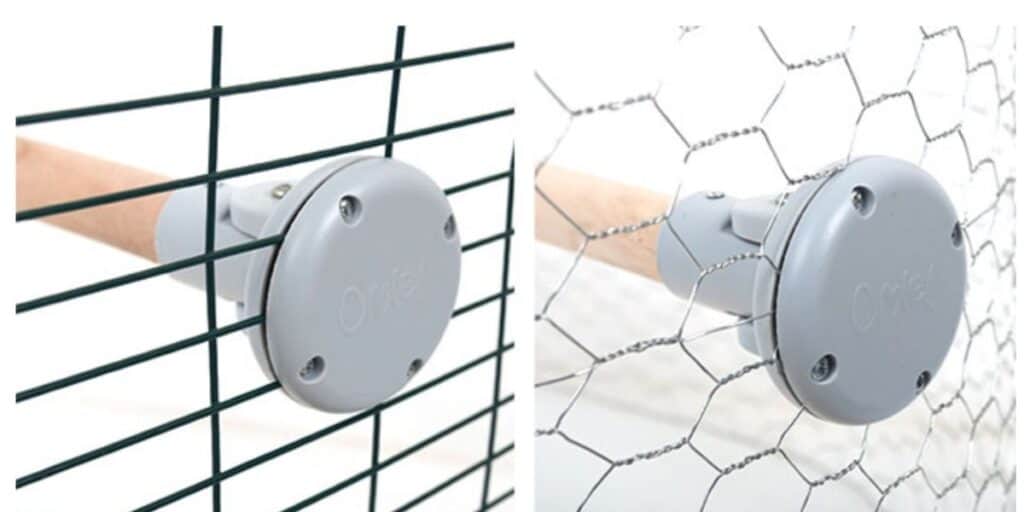 Pros
This hardwood perch is easy to assemble and keep clean. It can even be stained or treated with non-toxic products.
The flexible design makes custom fitting easy.
It is sturdy and robust enough for even the heaviest of hens!
Fits any coop with wire surrounds
Perfect for Chicken wire ( round & square )
Cons
There is little wrong with this practical product. However, once installed in a position it cannot be adjusted easily.
---
Does every chicken love to swing?
Not all chickens are adventurous enough to take to a swing, so you may find that some prefer solid ground no matter how much you encourage them. That's fine. Comfort and balance can go through the process, and a sturdier design may improve their confidence.
Do chickens roost in the day?
If you are installing a perch or two, providing a shaded cover will make it a popular hideout for an afternoon siesta, especially on very hot days. Chickens are just as likely to nap as anyone, so a perch is a great purchase that means they don't have to head into the coop. 
Do chicken swings have a weight limit?
Some chicken swings do carry a weight limit of around 4.5 kg (10 pounds), so a swing is unlikely to be tested to its limit by the most well-endowed hen. Safety is important because chickens can fall off the swing and become injured so purchasing from reputable manufacturers with high safety standards makes all the difference.
What other toys can I try out with my chooks?
Once you have tried out a new chicken perch or chicken swing, we are sure you will want to find other toys to challenge and entertain your flock. Have you thought about peck toys? These are food-based treats that use movement and reward to not only provide something interactive but also nourishing and tasty too.
Will chickens roost on a swing?
Chickens may roost on a swing, but the back and forth movement doesn't make it an appealing place to roost.
---
In conclusion
Chicken perches and chicken swings are a great purchase for improving your coop for your hens adding dimension, and ensuring everyone in the flock has something to do.
Owner-wise, they do require training so you need to be ready to put adequate time into getting your girls onboard. Train up your younger birds, and you will be delighted to see them continue to use them as they grow older.