If you're thinking of buying or making a new home for your beloved Hamster or Gerbil there are a few options for you to consider and you certainly couldn't go wrong if you purchased a Prevue 528 cage.
But whichever one you choose you should always go for the best hamster or Gerbil cage that you can possibly buy with the budget you have available.
If your budget can stretch to a top-quality shop-bought cage then you have come to the right place.
The Prevue 528 Hamster and Gerbil Cage is widely known to be one of the best small pet cages on the market today. Voted for by many Facebook Hamster and Gerbil owners groups as one of the best shop-bought cages available under $100
There are only two real options for you when it comes to creating the perfect home for your hamster.
Make and build your own cage DIY Style
Buying a pre-made cage like the Prevue 528
There is nothing wrong with either method and both come with their own pros and cons and it can only be your decision to build or buy at the end of the day.
If you're like me and shockingly bad at DIY or anything crafty then you'll always opt for buying a purpose made cage.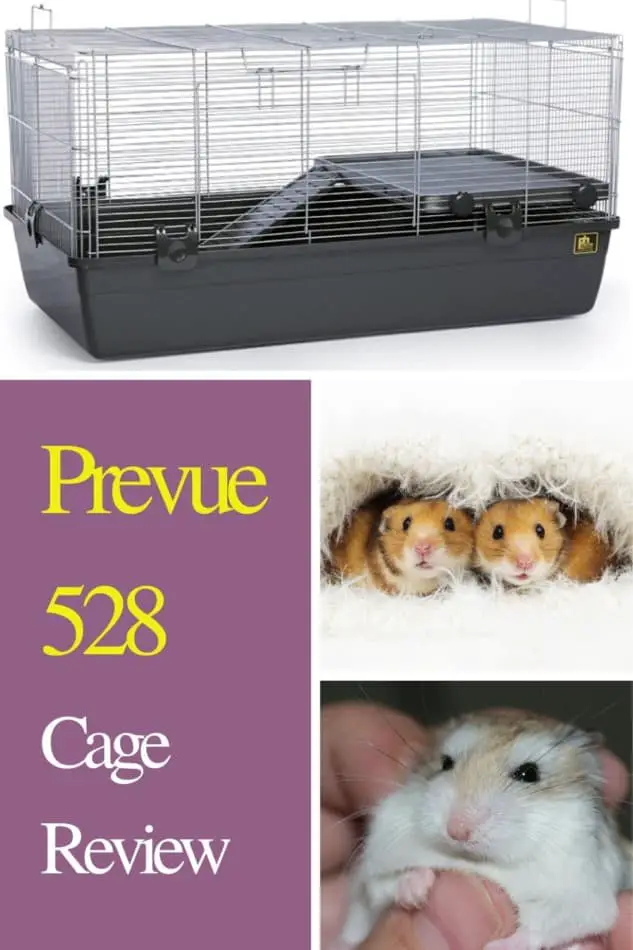 However, let us take a look at some suitable options for you whether that's building or buying so you can make the right choice your personal circumstances.
Make your own Gerbil or Hamster Cage
The choice for many Gerbil or Hamster lovers is to make or create their own amazing and unique homes for their little rodent friends.
Normally this option is chosen so they can provide a large enough living space for their small pets to roam and play in.
With a little bit of imagination, you can easily create an amazing space that cannot be bought and a cage that nobody else will have. Your personality can shine through on a self-build gerbil or hamster cage.
And the most important thing is that you can create a safe environment for your little friend.
Lots of cages that are sold online just simply are too small and some are even dangerous for hamsters and gerbils. Climbs that are too steep, tubes and shoots that are too small or too big.
And most of the time with an overall living space under 450 square inches which just isn't a good longterm living space for small rodents.
This rules out 99% of all Hamster and Gerbil cages sold online.
There are really only two cages that we would recommend and that's the Living world deluxe habitat and the Prevue 528 cages.
These are the most recommended by Facebook Hamster, Gerbil and pet mice groups and professional breeders.
But even these are only suitable for one or two maximum.
Use a glass aquarium as a cage
A plain glass 40-50 Gallon aquarium is actually a great way to home a small rodent.
Just be careful not to place it in direct sunlight otherwise it will heat up and be far to warm for some pets.
These offer the height to be able to make a second level or den safely inside and has enough room to allow your hamster to get enough exercise and room to play. Another added bonus is the fact that they cannot chew through the glass. And as we know Hamsters love to chew!
The only downside is that all toys and obstacles will need to be free standing unless you are very creative and build something very special.
Clear storage box
Another widely popular solution is to use a clear storage box. A strong plastic box box around  29 in – L x 17in – W x 13in holds around 95 Quart / 89.9 Liter Load capacity.
This is a good size container to house a Hamster and again they can't chew through the plastic.
You'll have to make some adjustments to the lid, of course, hamsters and gerbils need to breathe!
But a simple mess screen would be ideal on top or you may be able to fashion something from the lid that is supplied with the container.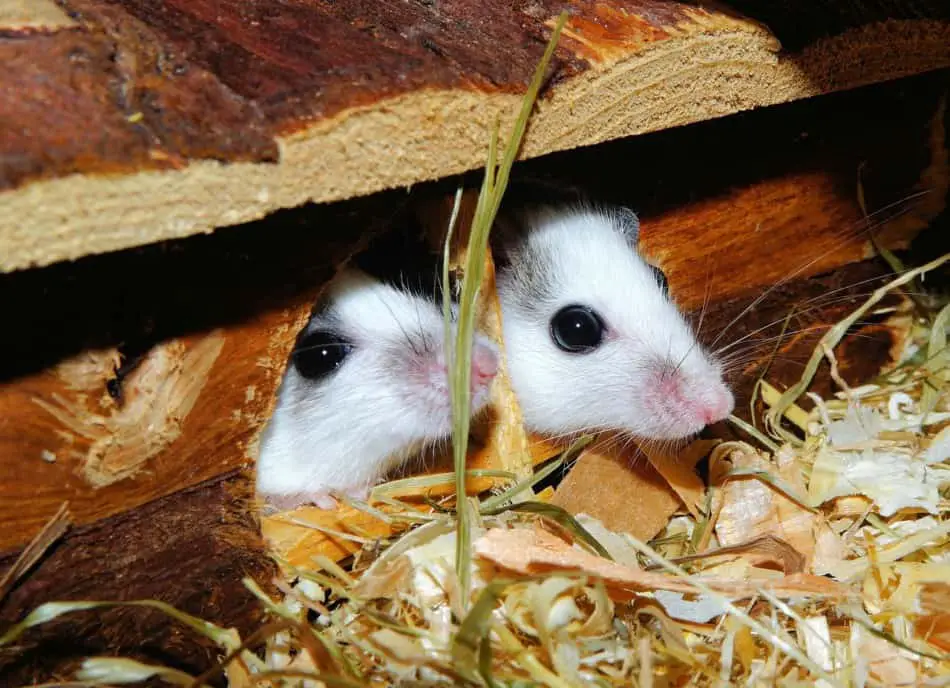 What to look out for when buying a cage?
Before we get into reviewing the Prevue 528 in more detail lets take some time to look at the things you need to know and think about before purchasing a new hamster cage.
How and where will you supply water and food
Where will the cage be placed? Can it hold the weight
How big does the living space need to be
How wide is the bar spacing?
Cost, what is your budget
How many pets do you want to keep
How easy is the cage to clean
Can you fit toys and fun things in the cage
As you can see there are lots of options and things to think about before buying a new cage. But the simple fact that space and a large surface area should be your number one concern.
The more space you have the easier the questions above are to answer. Maybe apart from ' Where will you place the cage?'
Accessibility & Cleaning
Something that is often overlooked. You may be able to get into the cage, tank or container but can the person caring for the gerbil or hamster. Maybe that's a young person?
Either way, your cage or living environment needs to be easily accessible and easy to clean and maintain.
May cages like the Prevue 528 have a hinged cage lid to make access easier this cage has one on the top and one at the side which makes it easier to clean and handle your pet.
---
Prevue 528 cage Review
Prevue Pet Products 528 Universal Small Animal Home, Dark Gray
7 new from $108.19
7 used from $102.43
Free shipping
as of February 1, 2023 21:41
Features
Designed to home a wide variety of small animals
Tight 3/8" wire spacing. Large tubby base offers room for exercise and accessories
Extra deep 6 1/4" tubby base
2 large entry doors – one on top and one on the side
32 ½'' L x 19'' W x 17 ½'' H with 3/8'' wire spacing
The Prevue 528 Universal small animal home is Dark Gray in color and 32 ½'' L x 19'' W x 17 ½'' H with 3/8'' The wire spacing is a perfect size for a wide variety of small animals.
The tight wire spacing and rounded corner design with no pinch points makes this small animal cage suitable for many small rodents.
An extra large cage perfect for hamsters and gerbils with a 6 1/4'' deep tubby base which has a sturdy 18'' long and 12 3/8'' wide platform with twist knob closure and a 14 ½'' long and 4 ½'' wide plastic ramp.
The extra large detachable base makes it a ver hygienic cage and easier for cleaning.
You can easily access the cage through two large entry doors. One at the front and one at the top. Each door Measures 12 ¾'' long and 9 ¼'' wide and closes securely with a wire latch Locking mechanism.
Easy snap-on, snap-off mesh is held firmly in place with 6 clips. Lightweight for easy handling and expertly made this universal small rodent cage measures 32 ½'' long, 19'' wide and 17 ½'' high with tight 3/8'' Wire spacing.
Replacement platform and ramp are available separately.
Other options
Here are a few more options for pre-made cages that may be suitable for your space and budget.
$108.19
$124.00
in stock
7 new from $108.19
7 used from $102.43
as of February 1, 2023 21:41
$171.02
in stock
2 new from $171.02
1 used from $119.69
as of February 1, 2023 21:41
$129.34
$135.99
in stock
2 new from $129.34
1 used from $116.87
as of February 1, 2023 21:41
$75.99
in stock
as of February 1, 2023 21:41
Last updated on February 1, 2023 21:41
Conclusion: Living World Hamster Habitat
The choice is your when it comes to providing a suitable home for you hamster.
The cheapest and fun method it to purchase a large clear storage box and make your own or similarly a large empty fish tank.
But if you're like me and just want to quickly get a suitable hamster cage then I would suggest the Living World Deluxe Habitat ca