Most cat litters, with their different compositions, pose a risk. Clay, crystal, clumping, cedar, pine, or litter with zinc are some of the most dangerous litters for rabbits out there! When picking out a cat litter for your rabbit, you must use all due care. In this article we are going to look at the dangers of cat litter for rabbits and try to answer the question "Is cat litter safe for rabbits?"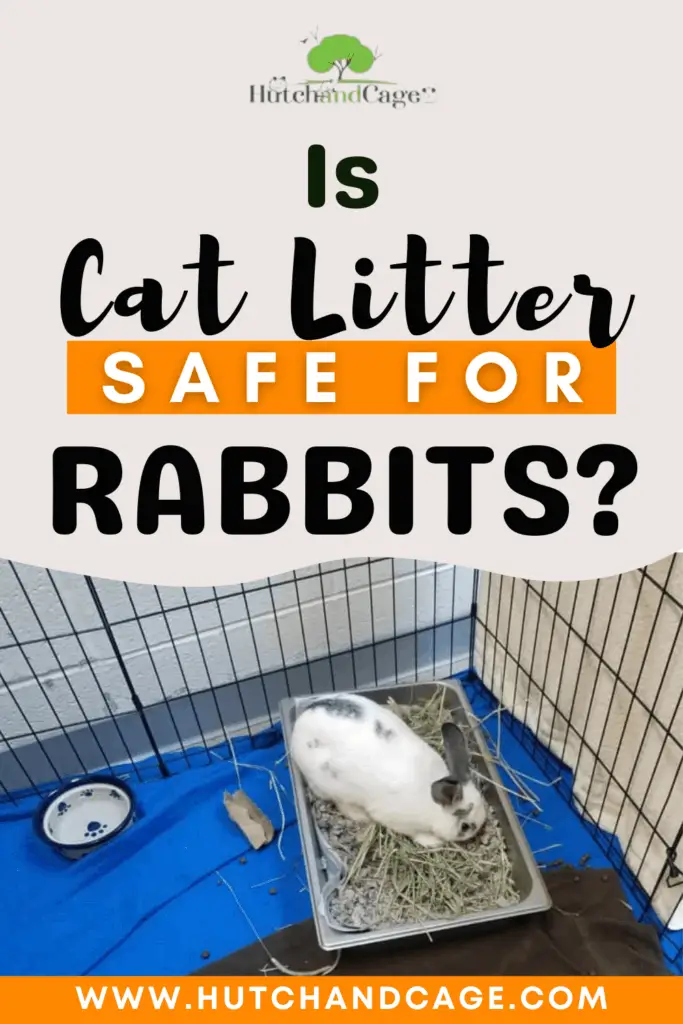 Cat litter is unsuitable for rabbits to use as they often like to nibble and chew everything in their hutch. This includes their litter. Cat litter if nibbled or chewed will swell and become lodged in the throats or stomach which will cause them illness. A safer option is a specifically designed rabbit litter.
A safer idea is to look for litters that are specifically for rabbits. You can find these at your local pet store, or online. Paper pellet litter and aspen wood shaving litter are some of the best rabbit litters that are available.
With a quality litter, you can begin to litter-train!
Cat Litters That Pose A Risk
Clay: Clay cat litter is a very poor choice for rabbits. These little guys like to munch, and they are sure to ingest some of the litter eventually. Clay litter can cause digestive troubles and blockages in rabbits. Not only that, but it is also very dusty! Should your rabbit inhale this dust, they will experience respiratory trouble.
Crystal: Crystal cat litter is full of chemicals, and these can be toxic to rabbits should they happen to ingest some.
Clumping: For rabbits, clumping cat litter is one of the most dangerous cat litter types of all. This litter will expand in their stomachs, creating intestinal blockages and even causing their digestive system to totally shut down. This is definitely not a risk you would want to take!
Cedar or Pine: Cedar and pine are uniquely unsuitable wood varieties for rabbit litter; or cat litter, for that matter! Cedar and pine shavings are dusty and full of slivers and the like. Worst of all, cedar and pine are especially aromatic woods and will create fumes when they come in contact with urine. These fumes are toxic and can make your rabbit very sick.
Zinc: Zinc is extremely poisonous to rabbits and many other animals. Your rabbit should not be exposed to litter or anything else containing zinc, which can otherwise cause bloody stools and ultimately prove fatal.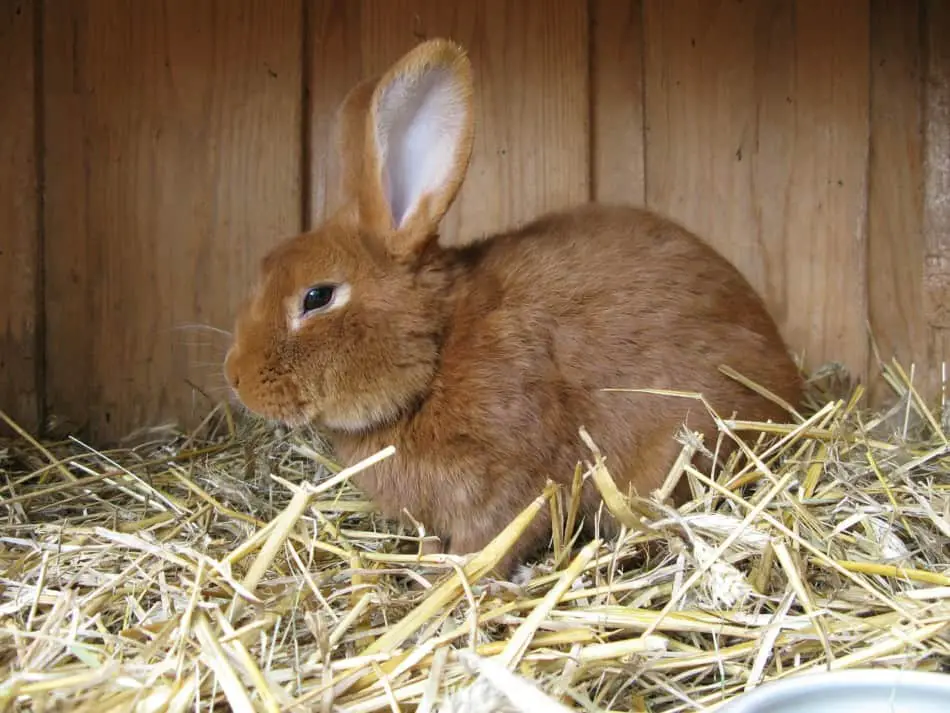 Cat Litter: Is Cat Litter Safe For Rabbits?
Paper Pellet Cat Litter. Paper pellets are a fantastic rabbit-safe cat litter alternative. You can purchase these online or at your local pet store. Paper pellet cat litter is absorbant of liquids and odors, and toxin and allergen-free. This makes for a cat litter that is both gentle and effective. Paper pellet cat litter is probably the only type that should be considered when asking 'is cat litter safe for rabbits?'
The Best Rabbit Litter Options Out There
There are also some kinds of litter that are specifically for rabbits. Rabbit paper pellet litter and aspen wood shavings litter are perhaps the two best available.
Aspen Wood Shaving Litter
Aspen wood shavings are perfect for animals that are small and sensitive. This wood is uniquely odor, toxin, and allergen-free. Quality aspen wood shavings are also free of slivers, dust, and the like.
Rabbits love to make nests out of this soft, springy material. The shavings are absorbant of both liquid and smell. You can find them online or at your local pet store. Not only are they effective, but they are affordable as well.
However, there are a couple of things to keep in mind when it comes to aspen wood shavings: one, its quality, and two, its source. Even aspen wood shavings can be dusty when they are of poor quality. To avoid this, pick aspen wood shavings of medium to high quality.
The source is of equal importance. You should always obtain aspen wood shavings for pets at the pet store, or online.
Aspen wood shavings obtained from lumberyards have not been sanitized. They are also sure to be dusty and slivery, and an all-around unsuitable rabbit litter alternative. To obtain good rabbit litter, simply make sure to look at the pet store or online.
Paper Pellet Litter
As touched on above, paper pellets make a nice choice of litter for cats and rabbits alike. Paper is a natural material and is naturally toxin and allergen-free.
Paper pellets are made with ingredients that are simple and pure. This means that, if your rabbit ingests some paper pellet litter, it should not do them much harm. This litter type is also very absorbent, of both liquid and smell.
Hay
This may not be a litter, but it can work almost as well. Hay is absorbent, soft, and toxin and allergen-free. Rabbits feel at home in the material. This may help encourage them to use the litter box.
Like aspen wood shaving and paper pellet litter, hay must be changed out frequently to keep it hygienic and fresh.
Just make sure to never use the same material for bedding as you do the litter box. You want your rabbit to be able to differentiate. If the litter box is hay, then the cage bedding should be something else, like aspen wood shavings, and so on.
Litter-Training Your Rabbit At Home
You can, in fact, litter train your rabbit! They must be spayed or neutered to begin with. This eliminates the hormones that compel them to spray and mark their territory. In order to successfully litter-train your rabbit, you must begin as soon as you introduce them to your home.
Step one: Set up the litter box in a designated room. Pick from one of the rabbit-safe litter materials, such as aspen shavings, paper pellets, or the like. Most rabbits prefer a medium to large litter box. They will also appreciate multiple litter boxes to choose from (1-2 per rabbit is ideal).
Step two: Fill the litter box with about 1 inch of the litter of your choice. Unlike cats, rabbits do not bury their droppings, so this depth is all that they require. Sometimes rabbits are picky.  Experiment with litter levels, and it may encourage them to use the box.
Step three: To litter-train your rabbit, you must confine them to just one room. When they leave droppings or urine, pick these up and place them in the litter box. You can also take your rabbit and put it in the box. Praise them for staying in the box.
As prey animals, rabbits are easily frightened and quite sensitive. They will not respond well to scolding; instead, positive reinforcement will do the trick.
When you start litter-training too late, you may find it extra difficult or even impossible. Your rabbit will quickly learn to go wherever they like.
As soon as you get a new rabbit, they must be confined. Keep them there until they are completely litter-trained. To successfully litter-train your rabbit, consistency is key.
Training them should take a week, sometimes more. There are cases where the rabbit is particularly stubborn, but most are willing to learn!
Keeping Your Rabbit Cage Clean
What is the point of a neat litter box if the cage itself is not clean? A dirty cage will also discourage your rabbit from being tidy. Why should they bother? This means it is very important to keep the rabbit cage clean.
To maintain a hygienic cage, there are a few things that you can do every day and once a week.
First off, change the bedding! Ideally, you will have litter-trained your rabbit, so most of the droppings and urine should be in the litter box.
The bedding will absorb any accidents elsewhere, as well as water spills, odors, and the like. So, it will need to be changed frequently. Change the bedding at least a couple of times a week. Along with this, disinfect the cage at least once a week.
Remove any leftover food from the cage so that it does not go rotten. Leftover food will otherwise cause clutter and smell. You will also want to wash out the food bowl, and give the water bottle a wash and refill.
Again, not all of the droppings and urine will make it into the litter box. Some fall through the bedding as well. When this occurs, spot-clean.
When it comes to the litter box, keep it clean, but not too clean. Leave a little bit of mess behind so that your rabbit will still recognize the litter box as a litter box.
Top 5 Recommended Litter Boxes
Ware Manufacturing Plastic Scatterless Lock-N-Litter Small Pet Pan (Colors May Vary)
16 new from $13.95

as of November 25, 2023 07:59
Features
Scatterless Lock-N-Litter Pan That Locks to Prevent Messy Spills
Made of Durable, Stain and Odor Resistant Plastic
Locks to Cage to Eliminate Overturned Pans and Scattered Litter
Plastic Guard and Wire Floor Keep Pets Feet Clean
Attaches to Any Wire Cage, Easy to Remove and Easy to Clean
Nature's Miracle High-Sided Litter Box, 23 x 18.5 x 11 inches
 out of stock
as of November 25, 2023 07:59
Features
High sides to prevent litter scatter
Care and cleaning: Spot or wipe clean
Non-stick surface for easy cleaning
Item dimension: 23.4 inches Length x 18.25 inches Width x 11 inches Height
Packaging may vary
Md trade Rabbit Litter Box Toilet, Plastic Square Cage Box Potty Trainer Corner Litter Bedding Box Pet Pan for Small Animals, Rabbits, Guinea Pigs, Chinchilla, Ferret, Galesaur(Blue)
 out of stock
as of November 25, 2023 07:59
Features
Material: Made of plastic. Durable and strong. The special design is also stain and odour resistant which is hygienic and easy to clean.A wire floor panel keeps messes away from pet.
The ideal size is suitable for adult rabbits, adult chinchilla, adult guinea pigs, ferret, galesaur or other animals is relatively large or adult rats.
Size:11-inch long,8.6-inch wide,6-inch high,3-inch depth
Potty train your small animal,makes the cage easier to keep clean.
Locks to Cage to Eliminate Overturned Pans and Scattered Litter
Misyue Litter Pan Guinea Pig Square Potty Trainer Corner Litter Bedding Box Pet Pan for Small Animal/Rabbit/Guinea Pig/galesaur/Ferret
 out of stock
as of November 25, 2023 07:59
Features
| | |
| --- | --- |
| Part Number | 4346728850 |
| Color | dark blue |
Arm & Hammer 22195 Rimmed Wave Pan Large (Colors may Vary)
5 new from $19.76
Free shipping
as of November 25, 2023 07:59
Features
High Sided Litter Box: The high rim of this cat litter box helps hold litter liners in place and reduces litter scatter and spills, leaving you with less mess and a cleaner litter box area. This top entry litter box measures 18.7 in. x 15.5 in. x 10.6 in
Maximum Smell Control: Built-in Microban protection inhibits litter box smells. It is recommended your cat litter box be 1.5 times longer than your cat. Replace your cat litter box every 12 months to maintain freshness
Made with Recycled Materials: Arm & Hammer is not just a friend of furry family members, but the environment too. We produce eco-friendly, sustainable pet supplies for cats and dogs from kennels to high sided litter boxes to cat litter scoops
Use Your Favorite Litter: Great for pine litter, crystal cat litter, pellets for cat litter box and clumping cat litter. We suggest Arm & Hammer Slide. Litter maintance boxes like this are an affordable alternative to pee pads
Arm & Hammer Pet Litter Maintenance: part of a line of pet supplies for cats like cat litter mats, cat litter & housebreaking, litter box with lid, cat boxes for indoor cats, kitty litter box, sifting litter boxes and more
Conclusion: Is Cat Litter Safe For Rabbits?
So, as you can see, there is indeed a cat litter or two that rabbits can use! Paper pellets, for example. However, litters made especially for rabbits and other rodents are still the best choice. These include aspen wood shavings, paper pellets, and the like.
There are even more cat litters that can cause your rabbit serious harm. (choose wisely). For rabbits, clay litter, crystal litter, and clumping litter prove the greatest risk.
A spayed or neutered rabbit can be litter-trained as long as you begin the first time that you bring them home. Otherwise, they will quickly get into the habit of going everywhere; a habit that may prove impossible to break! Confine your bun, and teach them to use a toxin-free, allergen-free litter box.