In the wild, rabbits live in what are known as warrens, or dens. These are holes that they find or dig in the ground. They line the dens with leaves, fur and other natural materials that are soft, warm and springy. 
But what about indoor rabbits, do they need bedding?
Yes, indoor bedding serves to help rabbits feel comfortable and at home. Not only that, but some similar materials can serve as litter for a bunny. A good bedding will also aid in absorbing stray odors and liquids daily. 
Bedding Helps With Hygiene Which Aids In Rabbit Longevity
Rabbits have pretty long lives for rodents. While hamsters, mice and guinea pigs tend to live only a few years, rabbits can live several years – up to 5 or more.
Of course, part of allowing your rabbit to live into their golden years is keeping them healthy. This means, among other things, hygiene! 
The proper bedding can be removed with a brush alone because it will absorb most liquids and is not too dirty.
However, the only real way to keep bedding relatively clean is to also provide litter, which should be replaced every day. 
While this may sound like work, it should not take more than a moment or so, and the reward of a tidy cage and healthy bunny are well worthwhile. 
When it comes to the question, 'do indoor rabbits need bedding?' the main thing you will want to consider is the material you use. There are a few types of bedding that can serve nicely.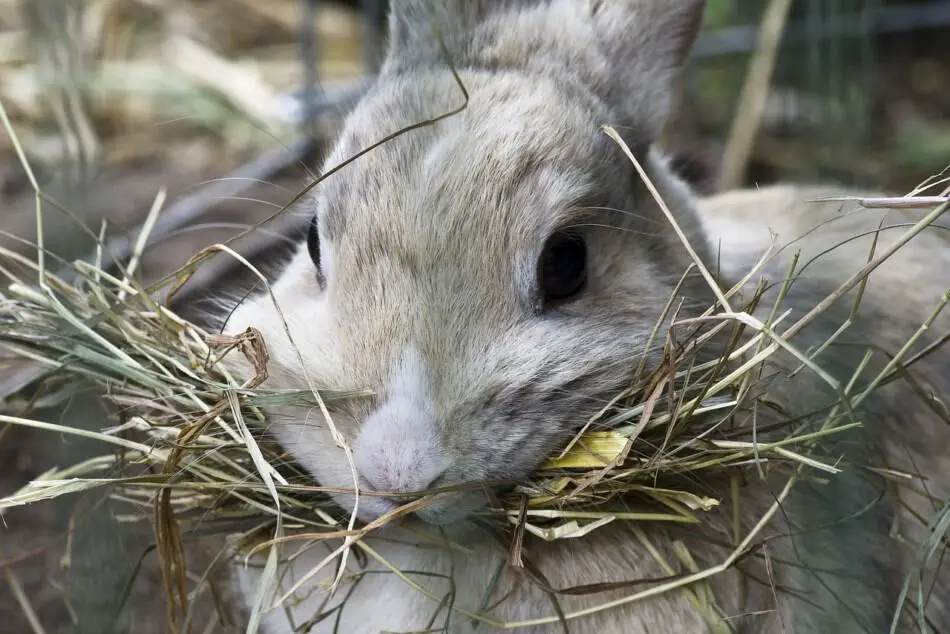 Bedding And Hay Should Not Mix 
Sometimes the mistake is made of using hay as a bedding material, which is one of the foods rabbits eat primarily.
While it is true that the bedding for your rabbit should be edible and non-toxic, they should still not be eating it excessively.
This is because the bedding will absorb liquids, like urine, odors, and other things which are not especially sanitary. You will not want your rabbit eating too much of this, clearly. 
Hay is also better for rabbits nutritionally. Their bedding should not distract from what your rabbit is supposed to eat daily. 
Here's a couple of great hay holders…
SunGrow Rabbit Hay Feeder Rack, 7×6 Inches, Mess-Free Food Dispenser, Keeps Hay, Alfalfa and Other Grasses Dry, Ideal for Guinea Pigs, Chinchillas and Hamsters
as of February 24, 2023 14:43
Features
No-Mess Hay Dispenser For Rabbits — Hay plays an important role in a rabbit's diet. How you provide this source of fiber to your bunnies is also important. Hay Feeder for Rabbits by SunGrow helps make a pleasurable meal time in an organized manner keeping hay, alfalfa and other grasses dry. It can also hold an ample day's supply with a little left-over for your energetic nibblers.
Save Your Bunny's Food From Dirt — One of the valuable advantages of having this hay rack for bunnies is that it keeps your cottontail's food off the floor. Scattered hays are most likely to get soiled by urine or feces. The Guinea Pig supplies' upper layer is a grass rack, and the lower layer is a food bowl ideal for rabbits, chinchillas, or other small animals.
Effortless Maintenance — Maintaining our bunny hay feeder is also as easy as using it. Simply discard unused food, wipe it with a damp cloth and mild detergent. Wipe off again with a moistened cloth to remove any residue left. Air dry fully prior to returning it to your pet's hutch.
Sturdy and Spring Loaded — Made from metal and hard quality plastic material, it provides durability to accompany your herbivore pet in all his growing years. This pet feeder is steel-edged that restrains your pet from chewing. This dispenser measures 5.3 x 3.5 x 3.5 inches and includes a spring loaded wire mesh cage as well to keep the hay in one place.
Easy to Install and Use — Installing this convenient bunny hay holder is also uncomplicated. You can just directly connect this to any wire cage. To fill and refill your pet's supply of food, you just have to lift the spring held bar.
sxbest 2 in 1 Food Hay Feeder for Guinea Pig,Rabbit,Indoor Hay Feeder for Guinea Pig,Rabbit, Chinchilla,Feeder Bowls Use for Grass & Food
as of February 24, 2023 14:43
Features
Perfect Hay Feeder – This is a feeder designed for small animals like Guinea Pig, Rabbit, etc.The feeder's upper layer is a grass rack,and the lower layer is a food bowl ideal for rabbits, chinchillas, guinea pigs or other small animals
Safer Raw Materials – This hay feeder uses high quality material to ensure your pet baby has a durable, long-lasting feeder
Humanized Design – The edge of its lower layer is covered by stainless steel, which effectively prevents small animals from biting it. Also, the grass rack is removable so that you can easily clean it
Convenient Installation – The feeder's back lock adopts cross screw fixed design so that you can easily connect it to a wire cage and freely adjust its height. No tool required. The diameter of the cage wire should be fewer than 3.9mm/0.15 inches
Dimensions – L*H*W 5.9*7.1*5.9 inches / 15*18*15 cm.Ideal for rabbits, chinchillas, guinea pigs, galesaur or other small animals.The outermost layer is a plastic protective film that needs to be removed before use (not product damage)
The hay for your rabbit should be available in a trough or the like, up and away from the bedding for your bunny. Take steps to ensure that your rabbit treats the hay as food and not as straw – and vice versa. 
So, when it comes to the question, 'do indoor rabbits need bedding?' if the answer is yes, what bedding materials are suitable? 
The Highest Recommended Rabbit Bedding Is Straw
When wondering, 'do indoor rabbits need bedding?' think straw. For rabbits, straw makes a very comfortable bedding material.
Straw is also non-toxic, which means that if your rabbit gets bored and takes a nibble, they will be okay. 
Of course, keeping the straw clean is important in order to keep your rabbit hygienic and healthy. 
Litter must be included in the cage as well so that they make most of their messes there. Straw can absorb the extra but should serve as bedding primarily.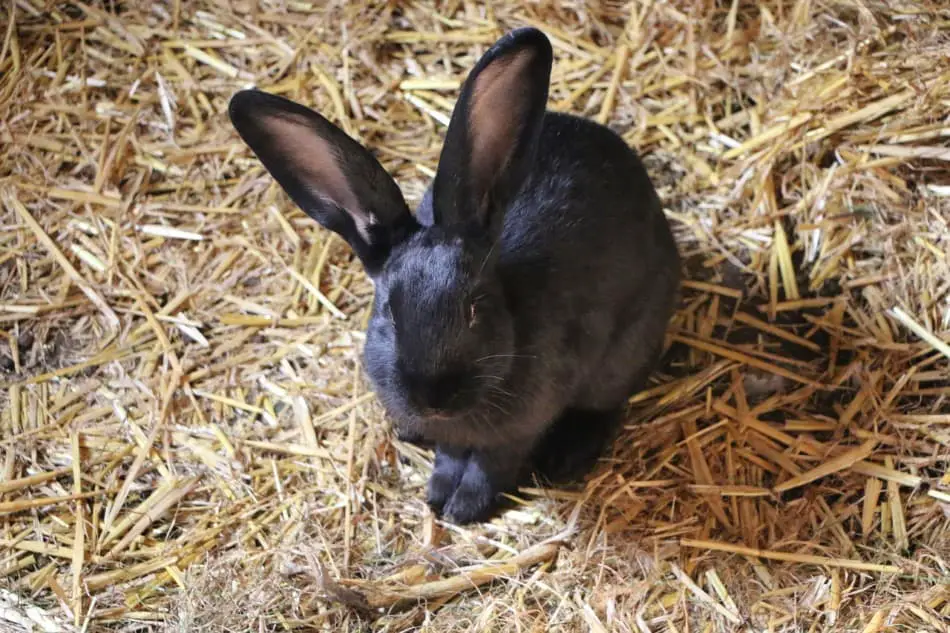 Do Indoor Rabbits Need Bedding? You Also Need Litter for Your Bunny
A clean cage is always ideal, both for you and your bunny. Making certain that your rabbit has a litter pan will assist in ensuring that they do not use the cage at large.
This is part of the reason keeping bedding and food separate is key. There are a few kinds of litter for rabbits that work effectively. 
Check out some litter pans on Amazon. There's a wide variety on there will all different price ranges. Here's a link to them to save you time!
Certain Papers Make Good Litter for a Bunny
For rodents of all kinds, paper makes a great litter choice – as long as paper is not being used for bedding, too.
Once again, the bedding and litter for your pet should never be made of the same material. This will confuse your pet, and cause them to use both for both purposes. This is terrible as far as hygiene goes, clearly. 
As a bedding material, paper is one of the most popular choices out there. This is due, first, to its affordability, and second, to its availability.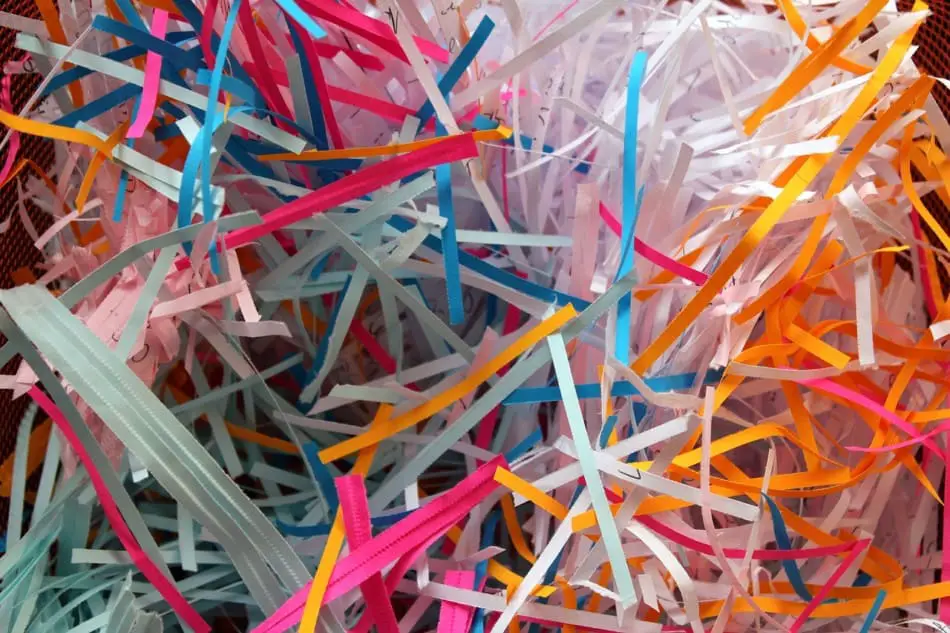 White computer paper and brown paper bags are the best paper types to use. These materials can be put through a paper shredder or torn up by hand, to make a bedding that is absorbent and springy. 
The biggest downside to paper bedding is that it requires replacement somewhat frequently. But, due to the overall convenience of paper, many consider this of little worry. 
Never use newspaper as it contains ink which when wet can leak into their skin and food source.
Paper Pulp For Rabbit Litter Can be Homemade 
Do indoor rabbits need bedding? Try quality straw bedding along with litter from paper pulp. Paper pulp can be homemade. 
Making paper pulp is quite simple, actually. All you need to do is gather paper, like white computer paper and brown paper bags, and tear it into bits. From here, soak the paper fragments in warm water overnight or for at least 8 hours, ideally. 
Tear the paper into even smaller pieces and allow to soak a little more. You then strain the paper in a strainer or cheesecloth. 
Form the concoction into thick round pancake-like balls, and allow them to dry. This may take up to a few days. 
Once they are dry, crumble the paper balls into paper pulp, for a non-toxic, cheap and highly absorbent litter material for your bunny. 
Top 5 Most Hygenic Bedding
$18.99
$21.99
in stock
6 new from $18.99
as of February 24, 2023 14:43
in stock
as of February 24, 2023 14:43
$18.48
$24.43
in stock
3 new from $18.48
as of February 24, 2023 14:43
$49.60
in stock
7 new from $49.60
as of February 24, 2023 14:43
$12.39
in stock
4 new from $12.39
as of February 24, 2023 14:43
Last updated on February 24, 2023 14:43
Clean Bedding Is What They Require
How often you must clean your rabbit cage depends on how many rabbits you have. Another factor, of course, is how litter-trained they are.
Well, litter-trained rabbits may require a thorough cage-cleaning just once weekly. 
A messier rabbit, or a few rabbits in one cage, may require a cage-cleaning more frequently. Use your judgment here. 
Do not neglect to keep the cage hygienic and fresh with straw. Rabbits are very tidy creatures and require a clean environment to be most happy. Luckily, cleaning out a rabbit cage is fairly easy. 
Conclusion: Do Indoor Rabbits Need Bedding?
So, for those who have wondered, 'do indoor rabbits need bedding?' the answer is a simple one. They do, and the best bedding choice for a bunny is straw.
Your rabbit will feel at home in their homemade den, as the straw mimics leaves and the like nicely. 
Include a litter pan with one of the above litters, or an alternative rabbit-safe variety. This will give your rabbit somewhere to use other than their bedding, ideally. 
Cleaning the straw out will be much easier if, thanks to the litter pan, it is less dirty. 
'Do indoor rabbits need bedding?' Rabbits should have both bedding and litter to keep them hygienic, healthy and happy.