There is no denying that when you think of bird cages you automatically picture a standard wire cage with no noticeable design or functional features to comment on. 
In fact, bird cages are one of the most basic products in the pet market and if you are a fan of visual aesthetics, you've likely struggled to find an appealing birdcage to match your home decor. 
The Geo-Dome Birdcage from Omlet is designed for this very reason; it's a cage that is not only designed to be functional, spacious and 'homely' for your pet bird but also with the additional feature of actually being an aesthetically pleasing cage to fit the decor of a modern home. 
** Spoiler, this is a great quality birdcage that not only looks good but will provide the perfect home for your small birds. 
In this article, we are going to check out all the features that this modern birdcage has to offer and see whether it's a marketing gimmick or a genuine, top-quality birdcage in 2020.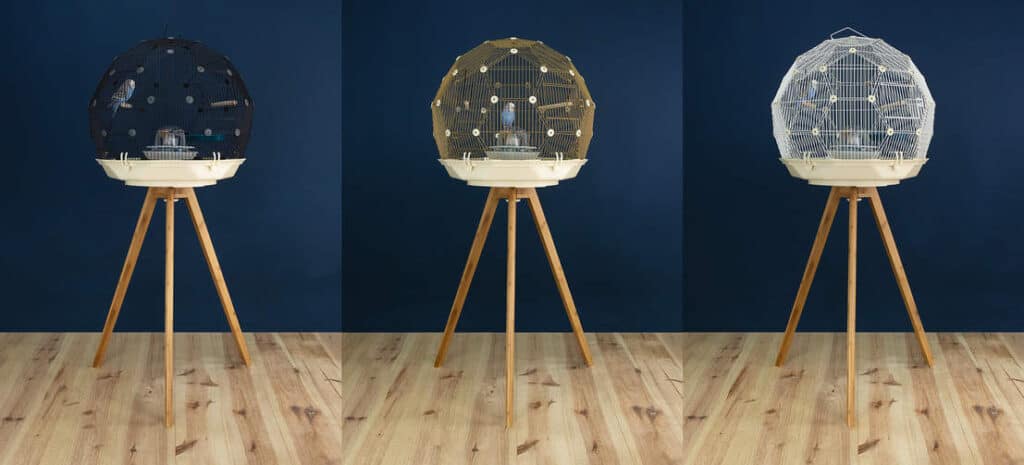 Background on Omlet
Omlet is a British based product design company with outlets in the US that specializes in innovative designs for pet owners. Founded in 2003 with a unique concept for a chicken coop (an igloo design for chickens), the company has gone from strength to strength creating unique and easy to clean (their unique selling point) cages, hutches and other pet homes for a variety of different breeds. 
The Geo Bird Cage is one of the latest innovative products in their inventory list and we just had to check it out to see if it's recreated the standout design of previous models and replicated it in the bird category.  
Geo Bird Cage Features
You might wonder just what a company can realistically do to make a birdcage more appealing or practical. For most pet owners, the bird's breed is what adds character to a home and the cage is merely an afterthought. 
We are therefore going to run through some of the key features with this product and see how Omlet has gone about making a unique and highly sought-after birdcage that features both style and practical use. 
Geo Bird Cage Specifications
Geo Bird Cage: 24.40 inches (H) x 23 inches (W) x 23 inches (D)
Geo Bird Cage with High Stand: 53.54 inches (H) x 28.34 inches (W) x 28.34 inches (D)
Geo Bird Cage Weight: 13.18 lbs
Geo Bird Cage High Stand Weight: 4.25 lbs
Parts and Accessories:

2 x perches (pine & mild steel wire)
Disposable paper birdcage liners (1 x free pack included)
Bamboo stand (sold separately)
Night time cover (sold separately)
Birdbath (sold separately)
2 x cage doors
Feeder and drinker (with removable finch ring)
Easy clean tray
5 x easy cage clips for quick removal

Capacity: 2 x small birds (finches, budgies, canaries)
Made in the UK – Sold USA & UK
---
Design
The first thing you'll notice is the design of the Geo dome birdcage and it is what really sets it apart in the market. Not only have they made use of modern visual design but have also engineered this product to be low maintenance and easy to use which is perfect for teaching your children the pet care basics (or for a busy professional short on time).
From a visual perspective, the geodesic design is ultra-modern, minimalistic and has a range of customizable color schemes for both the base and cage as well as a range of accessories to compliment any interior decor.  
From an engineering perspective, the geodesic design offers up to 44% more flight space for your small bird than more traditional birdcages of a similar or comparable width. Two doors also give better access to your birds and make it easier to allow them the option to free roam in the house before returning to the cage to use their feeder.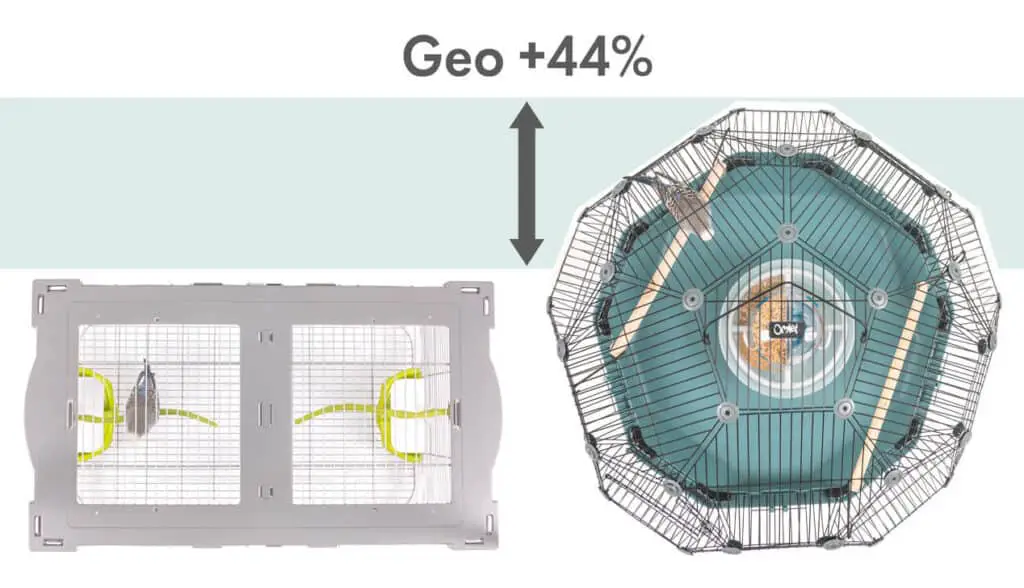 At 2ft tall in height, the birdcage can be placed anywhere for comfortable viewing (both for yourself and the small birds) though you can also utilize the bamboo tripod stand (sold separately) to use this cage as an ornamental centerpiece within the room. 
You just need to take one look at the customer image reviews to see that this cage is a standout model and will act as a focal point of a room whilst also comfortably blending into a range of decors. 
Innovative Parts
The cage's interior is again minimalistic in its design but also excellently engineered for low maintenance. The centrally placed feeder and drinker is also a "sculptural object" in its own right according to Omlet and is specially designed to act as the centerpiece of the Geo Birdcage.
This is not purely for aesthetic purposes however and is highly functional in its own right. The feeder and drinker simply lift out for ease of replenishing and it also comes with a custom-built finch ring (removable for larger birds). These items are fully enclosed to make sure the food and water are never contaminated and always fresh.
It also includes an innovative 'no-spill' feature that means any seeds or husks that fall during feeding (common amongst smaller birds like parakeets) are collected in the tray keeping the cage clean and tidy whilst also drastically speeding up your weekly cage clean!
Price
For the price we are going to take an incredibly neutral view in our opinion because this cage is not only designed to be a functional birdcage but also a modern design to suit a home's interior. Therefore, some may see this as a slightly expensive cage whereas others will see it as a complete, 2 in 1 bargain.  
In our opinion, given the features and ultra-modern design that come with this cage we feel that it's an incredibly competitive price and excellent value for money. If we are honest, it's priced slightly cheaper than what we initially expected and there are far less appealing cages that are surprisingly priced much higher on the market.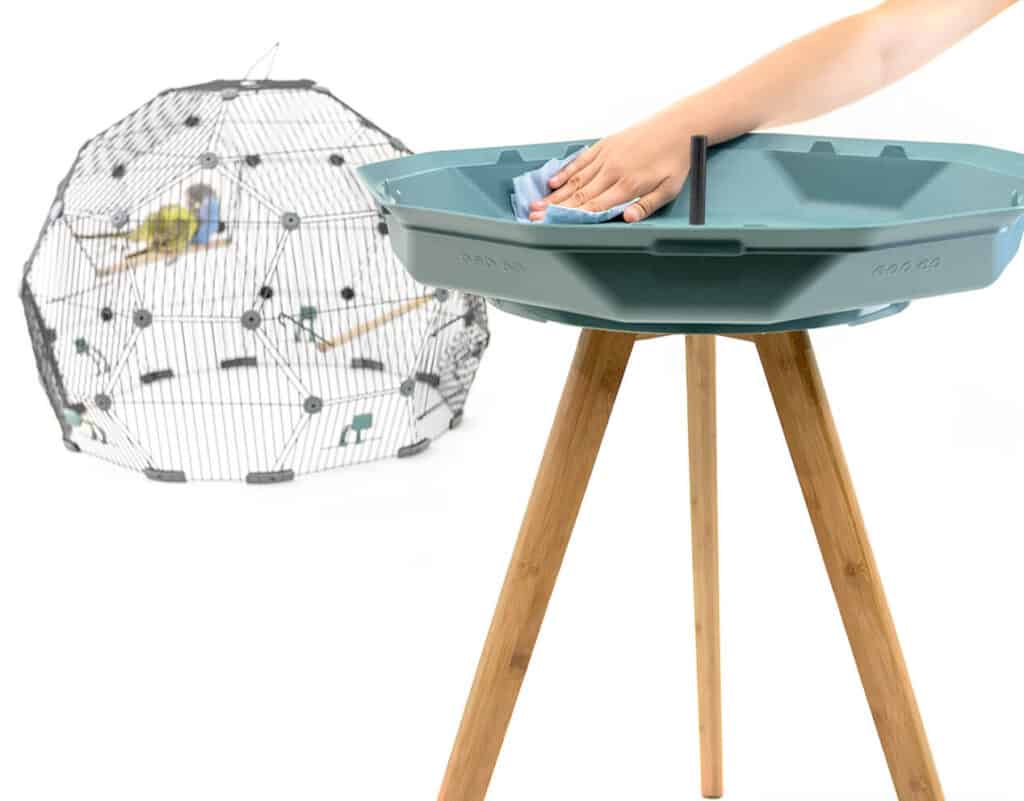 Low Maintenance
This cage is designed to be minimalistic in appearance and minimal in terms of maintenance as well. We've already mentioned the 'no-spill' feature which minimizes seeds and husks ending up on the tray but the cage also features a durable, wipe-clean plastic tray. 
You can use paper or sand liners for this tray and the easy wipe tray combined with 5 quick clip hooks means that the cage can be disconnected, the tray can be cleaned and the cage re-attached to the base in just a few minutes. 
This is a huge step up in ease of maintenance when comparing it with more basic cage designs that have a flimsy tray release and awkwardly placed feeders, drinkers and bird baths. 
Additional Accessories
The Geo Birdcage is customizable depending on your individual wants and needs, we've already mentioned that you have the option to add the sleek bamboo stand to make this cage a focal point of any room however it can just as easily rest on a current table unit. 
The cage comes as standard with two perches, the innovative feeder and drinker, finch ring and a free 10 pack of paper liners. On top of this, you also have the option to purchase some additional, custom made accessories specifically for this cage. 
The Geo bird bath is custom-designed to be attached away from the food and drink source and is quick to install for ease of refilling and cleaning.
An elegantly designed night cover is also available in a midnight blue which is designed as a Geo constellation cover giving your birds a view of the stars to go to sleep with. 
Age Range
The simplicity of design and ease of maintenance make this cage suitable for all ages, young and old. Some cages are truly a poor design, they are heavy, clunky and are difficult to keep up weekly maintenance however this product with its easy-fill feeder, clip off cage and double door access make it incredibly easy to care for your birds with minimal effort. 
Product Assembly
The Geo Bird Cage from Omlet comes flat packed, however, if your DIY skills leave plenty to be desired then do not be put off just yet. Omlet has added an online manual and more importantly, a visual YouTube video that we've added below giving you a complete walkthrough of the entire process.  
You can complete the step by step process at a leisurely pace and if we are being honest, it's not too different from building something out of the classic K'Nex toy sets (though of course, more durable!) so anyone is capable of setting it up with minimal difficulty.
Will Your Birds Like This Cage?
It's not just the owner's wants and needs that you need to consider when looking into a new cage; sure, low maintenance and stylish design are good but what's really important is will your birds be comfortable and happy in the cage? 
The expanded flight space thanks to a geodesic design, 44% more room than a comparable width cage, innovative features to minimize spillage and cage mess and the option to perch the cage high up to give your birds more views and security means that your smaller birds will more than likely love this cage. 
We couldn't help pointing out the unique features and designs earlier in this article but this cage has very much been designed to give your small birds a spacious and easy to navigate 'home', the parts that we find appealing are just additional benefits on top!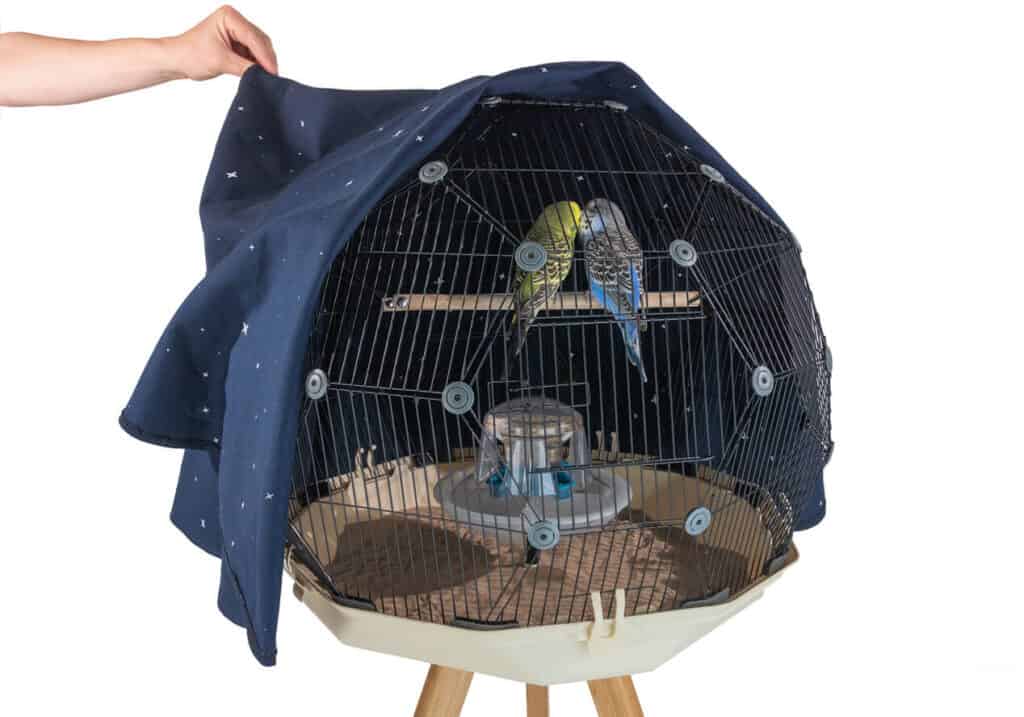 ---
Final Thoughts
So, what do we really think of the GEO Birdcage from Omlet?
We know that Omlet likes to shake up the pet market with their innovative and eye-catching designs and the Geo Bird Cage is another winner in our opinion. 
Just the fact that the geodesic design alone allows for more flight space for your birds to stretch their wings and move about is enough to stand out against the competition. 
Throw in the modern color schemes, low maintenance features and the highly competitive price and you'll find that this is simply an excellent cage for any small bird owners.