If you love finches – tiny, melodic birds that they are – you may wish to set up or buy a finch aviary of your own! Nothing can beat sitting in a backyard in summer watching and listening to these little birds enjoying the space to live a happy life.
To create the best living environment for your finches, there are a few things you will need to consider:
Easy Construction
Corner Unit
Editors Pick
Model
PawHut Outdoor Cat House Big Catio Wooden Feral Cat Shelter Enclosure with Large Spacious Interior,…
A&E Cage Co. Small Corner Aviary, 37″x30″x61″, Green
JAXPETY 93″ Large Metal Bird Cage, Stainless Hexagonal Shape Aviary Cage, Walk-in Bird House for…
Easy Construction
Model
PawHut Outdoor Cat House Big Catio Wooden Feral Cat Shelter Enclosure with Large Spacious Interior,…
Corner Unit
Model
A&E Cage Co. Small Corner Aviary, 37″x30″x61″, Green
Editors Pick
Model
JAXPETY 93″ Large Metal Bird Cage, Stainless Hexagonal Shape Aviary Cage, Walk-in Bird House for…
Basic Design & Features to consider
Shapes
Octagonal
Octagonal finch aviaries tend to be quite popular. This is because, like gazebos, they have a great deal of decorative appeal. While a large octagonal aviary can provide enough room for flight, a small one probably will not. So keep this in mind.
Rectangle
If you'd like your finches to have plenty of room for flight, you may wish to opt for a rectangle aviary. And, as always, the bigger the aviary the better. A rectangle aviary will allow your finches to fly both up and down and side to side relatively-freely.
Flight Box
To make your finches very happy, you can add-on a flight box. This will allow them to really stretch their wings, do some swoops, etc. Flight boxes are usually long and rectangular.
Breeding Area and Nesting Box
Some will add breeding areas to their aviaries, in order to encourage mating to occur. You will also want to include a nesting box. Just make sure that you are ready to manage the potential young, and any possible competitive mating behavior.
Free-Standing vs Porch Aviary
While many using free-standing aviaries and are successful, porch aviaries are generally safer. What is a porch aviary? A porch aviary is an aviary that literally connects directly to your porch.
This way, your finches will simply fly inside your home – where they are much easier to catch – if they escape through the porch door!
PawHut 60″ Wooden Outdoor Bird Cage for Finches, Parakeet, Large Bird Cage with Removable Bottom…
Weather Resistant: Rain or shine, this wooden bird cage will stay strong, outlasting weather. An asphalt roof ensures a protected inside, and high feet avoid mud under its structure in case of wet ground. Keep your birds happy in the fresh air while adding beauty and warmth to your outdoor area.
Extra Large Door: An extra large door provides easy access to the interior when you want to reach in and enjoy time with your feathered companions. This also allows you to place bigger items inside without having to squeeze them through. There are two additional small feeding doors on the side wall.
Easy Slide-Out Tray & Metal Wire: The cage is easy to clean with a pull-out tray on bottom. The wire is made from strong metal materials that offer protection.
Includes Perches: Four wooden perches provide plenty of space for your feathered friends, allowing you to hang toys and upgrade the interior.
Bird Habitat Cage Info: Overall Dimensions: 31.75″ L x 22.5″ W x 60.25″ H. Not Suitable for Aggressive Birds.
DIY
DIY aviaries can turn out wonderfully, but they are a lot of work. You will have to make sure that the cage is sufficiently large, that it is secure against predators and pests, and that it is weather-proof.
This being said, it is definitely possible to do yourself. Just get ready to commit several hours to the task, and make sure to find a dependable design and instructions to follow.
Pre-Made from Amazon
The easiest and most reliable option is to purchase a pre-made aviary, from a trustworthy source like Amazon. You will be able to refer to reviews, to learn how it holds up to predators, flight room, etc. Store-bought aviaries tend to be the most durable, and they come in various designs to choose from. You can also simply add-on to a store-bought flight box to customize it or make it bigger.
---
Our Favorite Outdoor Aviaries
PawHut Outdoor Cat House Big Catio Wooden Feral Cat Shelter Enclosure with Large Spacious Interior,…
Multiple Platforms: Accommodate several of your cats' favorite things at once with six large platforms featuring the height kitties love, a multi-layer set-up for climbing up and down, and large, wide surfaces to allow room for napping.
Large & Luxurious: Give your feline companions a roomy, cozy playhouse with lots of space to wander and roam. The size of the cat cage ensures a wide amount of room for anywhere from 1-4 furry friends.
Outdoor-Resistant Design: The weather protection provided by the asphalt roof and water-resistant construction allows your fur babies to enjoy the great outdoors without being adversely affected by the elements.
Reliable Material: Made of fir wood that can endure clawing, this durable design ensures cats can scratch to their hearts' desire, so your enclosure can last.
Cat Patio Product Information: Overall Dimensions: 71″ L x 38.5″ W x 71″ H. Door Dimensions: 20″ L x 41″ W. Platform Dimensions: 16.25″ L x 11″ W. Assembly Required. PLEASE NOTE: This item arrives in separate boxes and may not be part of the same shipment; delivery times may vary. Box Quantity: 2
A&E Cage Co. Small Corner Aviary, 37″x30″x61″, Green
Ideal for: Finches, Canaries, Cockatiels, Small Conures and Parakeets
Exterior Dimensions: 37″x30″x61″ Interior Height: 53″
Includes: 2 wood perches, 2 plastic feeding stations
Non-toxic, durable & safe powder coated finish
Slide-out grill & tray for easy cleaning
JAXPETY 93″ Large Metal Bird Cage, Stainless Hexagonal Shape Aviary Cage, Walk-in Bird House for…
🐦【Extra Large Space】: Our high-quality bird cage with a size of 47.2" (L) X 47.2" (W) X 92.5" (H) provides extra large space for your pet birds that is perfect for birds of various sizes such as parrots, finches, canaries, cockatiels and etc.
🐦【Hexagonal Frame】: This pet cage adopts unique hexagonal frame and conic top that is not only graceful and fashionable but also greatly enhances its stability. It's ideal for outdoor use like backyard, garden, park and so on.
🐦【Premium Material】: Made of select aluminum alloy, this outdoor bird cage features good rust-resistance and durability. The design of aluminum mesh is good for ventilation as well as providing wide vision for your pets.
🐦【Humanized Design】: Our bird cage is equipped with special lock to prevent your smart birds from escaping. Besides, a pair of gloves is offered to protect your hand from scratching when installing the bird cage.
🐦【Quality Assurance】: 100% quality and satisfied service are provided for your risk-free purchase. If you have any question, please feel free to contact us no matter before sale or after sale. Tips: The product will be delivered in two packages.
Material
Wood
Wood has a definite decorative appeal. While most of your aviary should be made of sturdy mesh, wood beams, edging, etc. is also OK.
Metal
Most of your aviary should be made of metal, and not just any metal: mesh made from stainless steel. This will help prevent predators from breaking-in, yet provide plenty of ventilation for your finch's, as well.
Concrete or Earth Floor
For your aviary, you will need a concrete or earth floor. This will prevent predators from burrowing in from below.
---
What Plants Can You Put in a Finch Aviary?
Certain berry bushes, like blueberries, bilberries, cranberries, and bilberries; roses, ivy, silver fir, aloe vera, spider plants, bamboo, hens and chicks, etc. Just make sure to always give the toxicity of any plant a double-check.
Can Finches Be Kept Outside?
Can finches be kept inside? Finches can indeed be kept outdoors as well as indoors, as long as certain requirements are met. An outdoor aviary must never drop below 40 F, and should ideally have a temperature between 70-90 F. The aviary must also be super-secure against pests and predators, as well as weather-proof.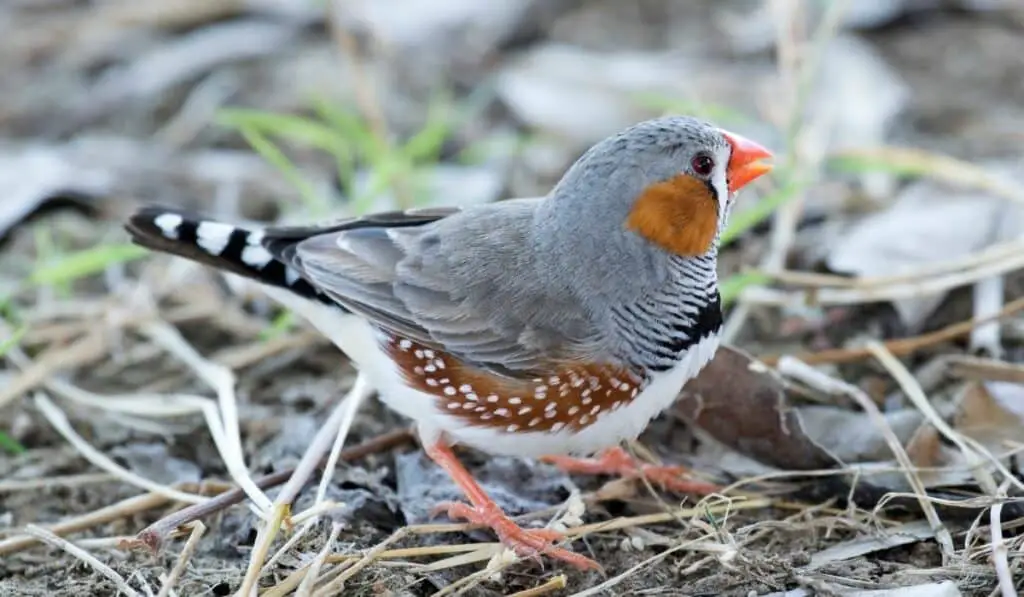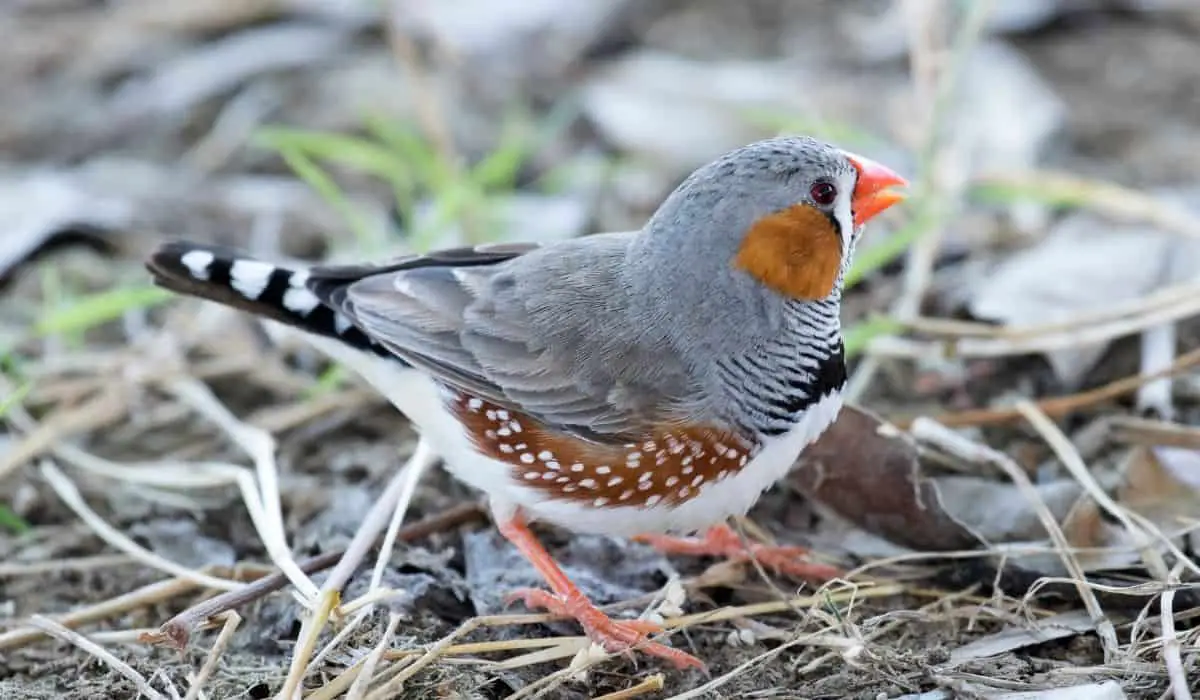 How Many Finches Can You Have In an Aviary?
So that they don't become lonely, finches should always be kept in a male-male, female-female, or male-female pair. You will need at least 3-4 feet of floor space per finch pair. Finch cages should also be at least 30 inches in length for each pair.
| | | |
| --- | --- | --- |
| Number of Finch Pairs | Feet of Aviary Floor | Inches of Aviary Width |
| 2 finches (1 pair) | 3-4 feet of floor | 30 inches of width |
| 4 finches (2 pairs) | 6-8 feet of floor | 60 inches of width |
| 6 finches (3 pairs) | 9-11 feet of floor | 90 inches of width |
| 8 finches (4 pairs) | 12-15 feet of floor | 120 inches of width |
| 10 finches (5 pairs) | 16-18 feet of floor | 150 inches of width |
---
What Should Be On an Aviary Floor?
What should be on an aviary floor? First off, you will need concrete or solid earth, to provide a secure predator barrier. Then, you can move on to making the area comfortable, with the materials below:
Wood Shavings
Some opt to use wood shavings on their concrete or earth aviary floor. These are affordable, and absorbent of both liquid and odor. Just make sure to choose a kind that is toxin-free, like aspen wood.
There are toxic compounds in some other woods, including pine and cedar. These shavings will need to be replaced with fresh ones roughly twice a week.
Wood Pellets
There are those who prefer wood pellets to wood shavings, as they can absorb more liquid, in general. They may not be as effective against odor, however. You can always try out the two to see which you prefer.
Tin Foil
Between the bedding and the floor, you can also put aluminum foil. This will make the bedding much easier to remove. All that you need to do is fill the foil with bedding, and when the bedding needs changing, slide the foil and the bedding out of the aviary together!
Brown Paper
If you find yourself a bit short on funds, you can opt for aviary bedding made from brown paper. All that you need to do is tear it up, or -if the sheets are small enough – put it through a paper shredder. You can also use ink-free white paper.
Fleece Blankets
Do you live somewhere that reaches temperatures as low as 40-50 F? Then your finches will need a way to stay warmer. Though they can survive these temperatures, they prefer 60-80 F.
When it comes to getting your birds cozy, spread fleece blankets on the floor or any other overly-cold surfaces, and – if there is one – inside of the nesting box.
Waxed Paper
If you worry your birds might try to eat tinfoil, you can instead use wax paper on the floor. This is water-proof, as well, and should be just as simple to slide to remove both the wax paper and bedding together.
Newspaper
Last but not least, you can line the floor of your finch aviary with lots of newspaper. This can be a bit harder to obtain but works just as well as brown paper or white paper.
---
Do You Need a Porch Door On an Aviary?
Do you need a porch door on an aviary? What does this mean? A porch door aviary, as its name implies, is one that is built directly onto your porch door.
This way, when you open the cage, you won't have to worry about them escaping into the sky forever. They will fly into your home instead, where catching them will be worlds easier.
This being said, so long as the proper precautions are taken, free-standing can also be OK.
What Tree Branches are Safe for Finches?
Some types of wood are toxic to finches, including box elder, black locust, redwood, sumac, and hemlock. Most fruit trees are toxic as well: apricot, cherry, peach, plum, nectarine, etc.
Woods that are non-toxic, on the other hand, are almond, apple, alder, aspen, ash, beech, bamboo, cottonwood, crabapple, elm, palm, oak, Mediterranean laurel, vine maple, sycamore, etc. Before introducing any wood to your finch's environment, give the toxicity a double-check.
How Cold is Too Cold for Finches?
The finch is naturally a desert critter. This means that these little birds prefer warm to hot temperatures, and they cannot withstand temperatures that are excessively cool.
Normally, they can handle between 50-60 F, and even survive 40 F. You will need to provide some fleece blankets, a thick cover, and other ways for them to warm up, however.
Finches should never be kept outdoors in truly cold weather. They will freeze if their environment drops below 40 F.
Which Way Should an Outdoor Aviary Face?
If you're keeping your aviary outdoors, make sure that it is facing the North-East. This will provide the most sun throughout the seasons, and facing away from the inclement weather conditions that tend to come in from the south will also make it more weather-proof.
Should Finches Be Covered at Night?
It may not be necessary to cover your finches at night if they are somewhere that is nicely secluded and dark. Outdoors, there may be night sounds and car lights, so your finches would probably appreciate a night cover.
---
Protecting From Predators and Pests
Predators
Finches are hunted by many predators, including snakes, rats, dogs, cats… even hawks! This means that your finch aviary must be made completely predator-safe.
If you have snakes around, you may need to cover your aviary in a screen in order to make it truly snake-proof.
To protect against rats and mice, the aviary mesh should be no less than ¼" or smaller. You may also need to set out snap-traps to protect against rodents or to use live traps to catch and then release them into a – faraway- meadow.
If you have dogs, or if they can get into your yard, you will need a real fence around the aviary, as well. Bird spikes can help keep hawks from landing on the aviary roof.
Pests
Ants
Because ants get into so much different stuff, they can easily introduce parasites to your finches, including Dispharynx. There are a few ways you can guard against ants, including trimming trees and shrubs away from the aviary; keeping the aviary clean; keeping the bird food in airtight containers; and avoiding leaving sugary or fatty foods in the cage, as these are easy for ants to smell.
Bait on the outside of the cage is also effective, as long as you have no children or pets who could get into the toxic material. If you do have children or other pets, it is safer to douse any nearby ant nests with boiling water.
Mosquitoes
Mosquitoes not only carry various diseases, but they are also just plain uncomfortable! Your finches will thank you if you put up proper protective measures against this insidious pest. How?
First off, get rid of any standing water. If you have a pond, remove debris from the surface, and consider introducing some mosquito fish, which feed on mosquito larvae. Also, endeavor to keep your grass from becoming too tall (mosquitoes love to perch on long grass).
You may wish to cover the aviary in a mosquito screen, to avoid the bloodsuckers altogether.
Cockroaches
When it comes to the health of your finches, cockroaches can prove a very real risk. They can transmit diseases like Sarcocystis Falcatula, etc.
To keep cockroaches away, rinse food off of dishes in the sink, remove food crumbs, get a trashcan with a seal, and keep your home extra clean in general.
Keep cockroach nesting spots away from the aviary, such as wood or lumber. You can release small geckos, or keep silkie chickens (they are flightless and will not leave droppings on the roof) to hunt them down, as well.
Wild birds
Wild birds should not be allowed to interact with your finches, as they will carry mites, lice, and diseases. Their droppings are also a risk. You will want to put bird-proof spikes on the aviary roof.
---
Final Thoughts
As you can see, a finch aviary can take a bit of work. Especially if you're going the route of DIY. You can purchase a finch aviary online, from a trusted source like Amazon, to make your task easier.
No matter what, your finch aviary must have protection against predators and pests, must be sufficiently warm, and must be weather-proof.
---
Indoor Finch Cages