Have you ever wondered, how high can rabbits jump? They can jump a whopping four feet high, though most of the time they'll jump no higher than two. They simply need the proper motivation to jump the entire four.
Perhaps they'll see something that could make a nice snack. Or, maybe they'll simply become bored and want to explore. You never know.
To be safe, it's generally best to make anything you don't want your rabbit to hop over at least 4-5 feet tall.
Adult rabbits can jump 4-5 feet straight up if they have the incentive to do so. Baby rabbits can only jump 2 feet within the first 2-3 months. Ensure all fencing and rabbit runs are covered to secure your rabbit from escaping. Free-roaming rabbits can run at 25-45 MPH then leap 4-5 feet so keep this in mind.
We use this portable and easy to move fence from Omlet. Designed for chickens but also perfect for rabbits
---
The Rabbit is a Natural-Born Jumper
The rabbit is a natural-born jumper. Rabbits' backward-facing (to us) legs are literally made for the task, as well as very muscular. The force with which they push off the ground is quite powerful.
Rabbits use this ability to evade a predator's grasp or to hop a garden fence in hopes of rooting up a tasty snack.
They can also use these impressive legs of theirs to deliver a fierce kick when they feel they are in danger.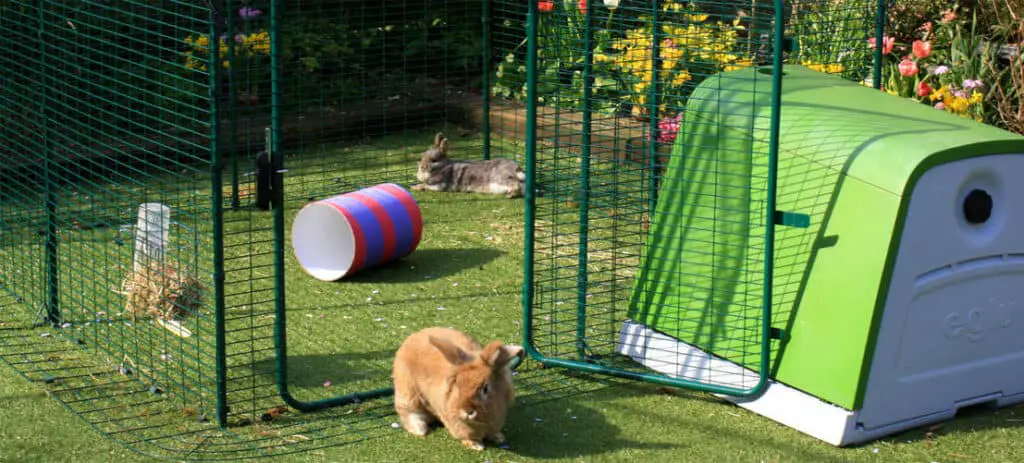 ---
How High Can Rabbits Jump?
Believe it or not, your average rabbit can jump an impressive four feet. This means that you might need to rethink your safety measures when it comes to fences, a playpen… even your rabbit cage!
Normally rabbits will only jump two or so feet at a time, but with the right motivation, a 4-foot jump is definitely within their capability… which is good to know!
---
How Fast Can Rabbits Jump or Run?
Rabbits can hop or run 25-45 MPH. This is so they can escape a myriad of predators, like foxes, owls, hawks, eagles, coyotes, wolves, wildcats, etc. Rabbits are a popular prey animal.
Along with their speed, rabbits also have exceptional hearing and vision ability – that's what those cute big ol' eyes and ears are for. 
---
How High Can Rabbits Jump When They're Babies?
Baby rabbits cannot jump as high as adults, but they can still jump pretty high! They can chew through plastic or wriggle through bars, as well. This means that, when it comes to keeping baby rabbits safe and contained, you will need to be rather careful.
Baby rabbits are known escape-artists, and the world outside the cage or pen presents a whole lot of danger. 
Baby rabbits, like adults, may try to leap from your arms if you try to hold them (this is a fear of heights-triggered panic response). 
A drop like this can cause them to seriously injure themselves, as they are quite fragile despite their fighting spirit.
With this in mind, you, may wish to lift a baby rabbit only if they are swaddled to prevent wriggling, or you are sitting down at a safe level yourself.
---
Do Rabbits Jump When They are Happy?
Rabbits use hops to express themselves in all sorts of ways. Depending on the hop, it could represent joy, fear, or even anger. 
Quick, energetic hops when excited, indicate that rabbits are quite happy, and they will often display this behavior in anticipation of a visit or snack. 
---
How Far Can Rabbits Fall?
If rabbits can hop four feet, they should be able to fall four feet, right? Actually, falling is another matter. When rabbits hop, their bodies are prepared for the impact when they come back down ("fall").
It's different when they have an accidental slip or a jump from your arms into the open air. They could land wrong, making potentially serious injury a real risk. 
Try to avoid your rabbit falling any more than, say, one foot, in general. Baby rabbits should never under any circumstances experience a fall (this could all-too-easily prove deadly).
---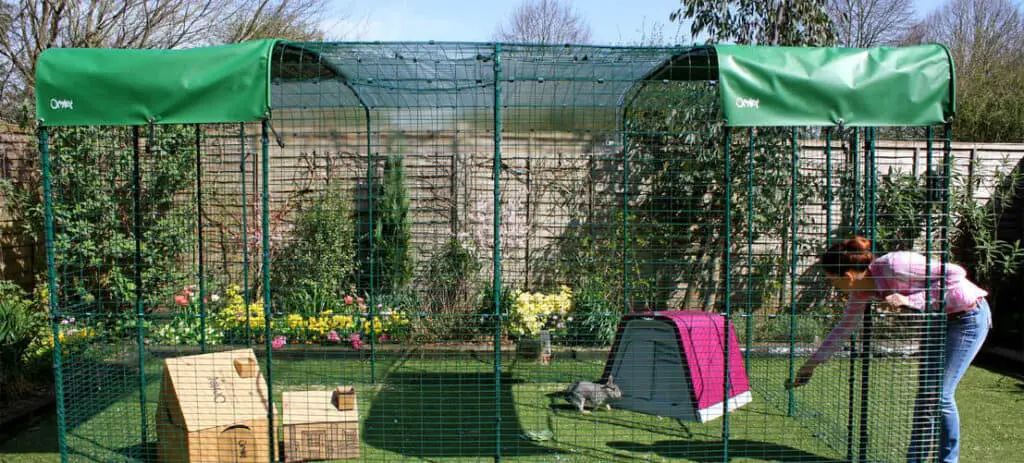 How High Can Rabbits Jump Over a Garden Fence? 
No one wants rabbits in their garden, as they're sure to turn your tirelessly-tended produce into a quick snack. Did you know, some common garden plants can also pose a real danger?
Onions, for example, and garlic, are so toxic to rabbits that it's often fatal. Tomato leaves? Poisonous. Rhubarb? The same. 
Your fence will need to be at least 4 and ½ feet, ideally 5, to prevent your rabbits from jumping over. Also, make sure that the fence is a hard plastic or metal that your rabbits won't be able to chew.
The fence should be pressed a foot or two into the ground, to help keep opportunistic rabbits from digging under. 
We use this portable and easy to move fence from Omlet. Designed for chickens but also perfect for rabbits
---
Make Sure Your Rabbits Can't Jump Out of their Pen
Many like to take their indoor rabbits outdoors in a little, mesh-bottom pen. As long as the walls of the pen are tall enough, and the mesh spacing is close enough, this can work perfectly OK.
Just make sure the walls are over four feet tall. With mesh spacing, the smaller the spaces, the better. The pen must also be chew-proof, with a bottom that is impossible to dig under. 
We love this escape proof metal rabbit run from Omlet. Click here for prices and sizes
Did you know that rabbits could hop so high? Hopefully, you found this information useful. Build the walls higher than four feet (closer to 5 is ideal), to keep your delicate little pet from hopping the fence, and to protect them from danger!
---
Final Thoughts
As you can see rabbits can run at a very fast pass which then helps them leap to over 4 feet on average and even baby rabbits can jump 2 feet. The only factor you'll need to consider is if your rabbit can jump or leap over your backyard fence and escape.
Nobody wants to be making those sad 'Lost Rabbit' signs to be pinned all over your neighborhood.
Ensure wire enclosures or runs have a roof and free roaming rabbits have fencing 4 feet in height at least.
Below are some suitable and safe rabbit runs or fencing.
$52.99
in stock
as of February 23, 2023 14:02
$79.99
in stock
as of February 23, 2023 14:02
$139.99
$165.99
in stock
7 new from $139.99
as of February 23, 2023 14:02
$29.99
in stock
15 used from $23.99
as of February 23, 2023 14:02
Last updated on February 23, 2023 14:02