Due to the guinea pig having similar characteristics to a hamster, many often assume that an enclosed hutch or cage is a sufficient living space and mistakenly neglects the amount of exercise that guinea pigs actually need. 
Guinea pigs are an incredibly energetic breed and plenty of exercise and most importantly, space to roam around is essential for their health and wellbeing.
While some owners and families are happy to let their guinea pig have some free-roaming time around the house or in a spare room, the majority of owners are not quite so comfortable with this approach. 
In a hurry? Here is our No1 Choice for an Outdoor Guinea Pig Run ↗️
Therefore, outdoor exercise in a specially designed run is often one of the best approaches that you can take to ensuring your guinea pig is both happy and adequately exercised, there's also that added benefit that you or your child can play with the guinea pig during exercise time which is, of course, a bonus!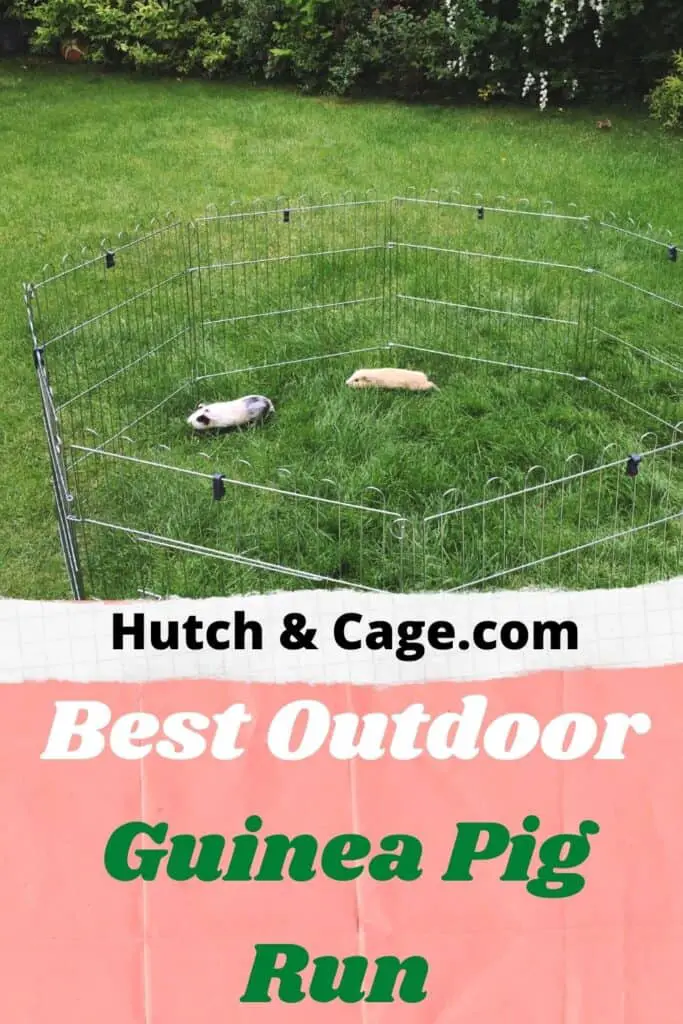 In this article, we are going to run through what you need to consider when purchasing an outdoor run for your guinea pig and what some of the best products are for your consideration. 
Why Do Guinea Pigs Need an Outdoor Run
As mentioned, guinea pigs need exercises and not just a little run around to stretch their legs but surprisingly a lot of exercise. Guinea pigs are small bundles of energy that need to be kept active and stimulated. 
This means that when we refer to an outdoor run, a more apt term would be a playpen and giving them plenty of stimulating toys and obstacles is an ideal way to combine exercise and mental stimulation. 
Guinea pigs are also extremely social animals and need plenty of companionship and playtime, this means if your guinea pig does not have a companion then either you or your child will need to provide daily playtime much in the same way that you'd need to give this level of companionship to a dog. 
Key Considerations When Letting a Guinea Pig Into an Outdoor Run
Now that you know exercise and stimulation are an important part of a guinea pig's daily routine, we want to give you some of the important factors that you need to consider when letting a guinea pig into an outdoor run. 
Safety – The number one factor is safety, guinea pigs like to burrow and of course, can also be at danger from predators. Firstly, we'd rarely recommend leaving a guinea pig to play unsupervised outside as you would with a rabbit. Guinea pigs are startled easily and the presence of a predator could have long-lasting effects on your guinea pig. 
Secondly, ensure that the inside of the run is free from hazards and most importantly escape. If your run does not have an underfloor mesh and you keep them on grass then they can easily burrow and escape. Also, make sure the wire holes on the cage are not large enough for them to get trapped in or attacked by predators reaching through. 
Space – A guinea pig doesn't need a huge space in which to exercise, keeping them housed in a cage all day and night however can lead to them becoming depressed and frustrated so a moderately spacious run would be advised (a 6ft x 3ft run is more than enough space).
Stimulation – Obstacle courses, toys, shade and companionship/interaction are all essential to ensuring that your guinea pig has a balanced lifestyle.
---
Best Outdoor Guinea Pig Runs (2023)
When looking at the following products, please don't assume that we've made a mistake and accidentally confused rabbits with guinea pigs!
We are fully aware that the product title may say rabbit however when it comes to outdoor runs, those designed for rabbits are also some of the best for guinea pigs as well.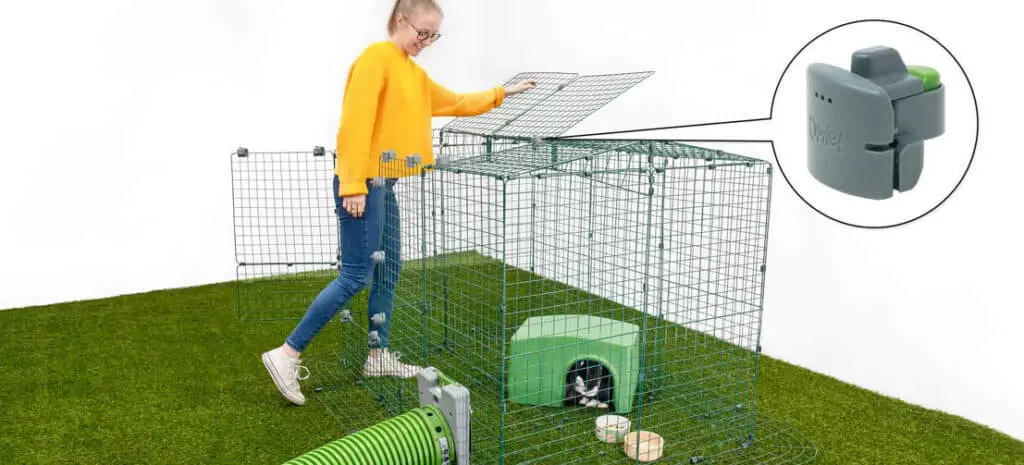 The Zippi run with roof and underfloor mesh (single height model) is an ideal entry-level run for your guinea pigs. It's small enough to be incredibly lightweight and portable for ease of moving around your backyard but also large enough to give your guinea pig plenty of room to run around. 
What we like about this particular model is that you can extend it over time if you decide that you want to have a larger run and you can also connect this to other hutches, runs or playpens with the Zippy burrowing tunnels for an impressive outdoor living environment for your guinea pigs.
The product is incredibly quick to assemble (check out the easy to follow Assembly Video ) and the durable steel construction means that once it's assembled it will be sturdy and weather/predator-proof.
Overall, this is the perfect little outdoor run for your pet guinea pigs.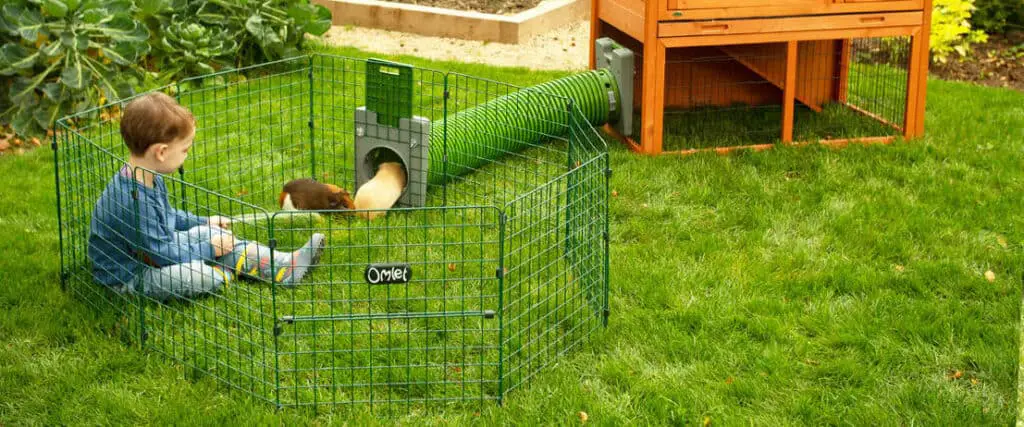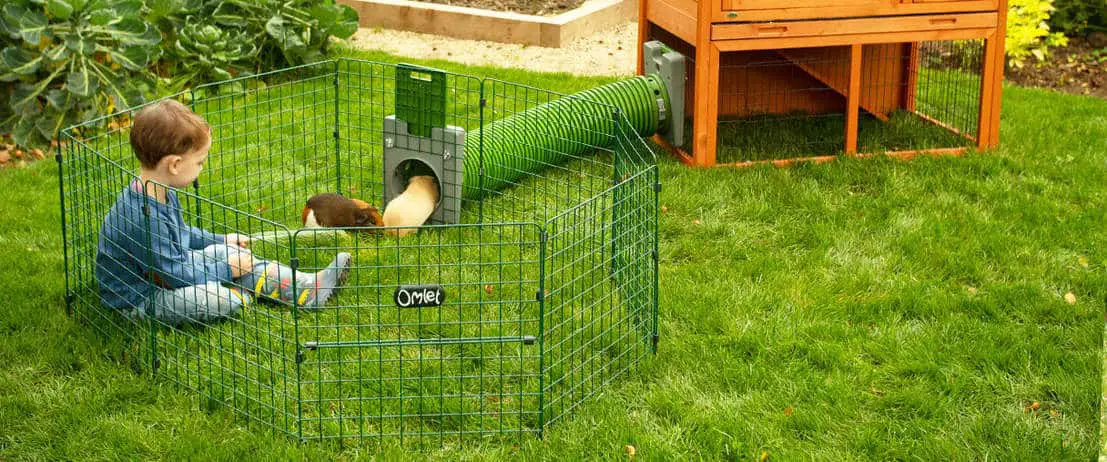 Dimensions:
Covers an area of 4ft 9in x 3ft 2in with a maximum height of 1ft 10in.
Walls and Roof mesh size: 1.50 x 1.50 inches.
Underfloor mesh size: 3.07 x 3.07 inches.
Skirt mesh size: 1.50 x 3.07 inches.
What We Liked
Lightweight and portable for ease of moving around
Fully predator-proof and also fully enclosed to prevent your guinea pig escaping
Reviews specifically stating that their guinea pigs love them, you can also see some customer images of their guinea pigs using the product
Able to connect this with a Zippy tunnel to hutches and playpens for a full living area/environment for your guinea pig
What We Thought Could Be Better
Not suitable for human interaction (ie, it's too small for a human to fit in)
---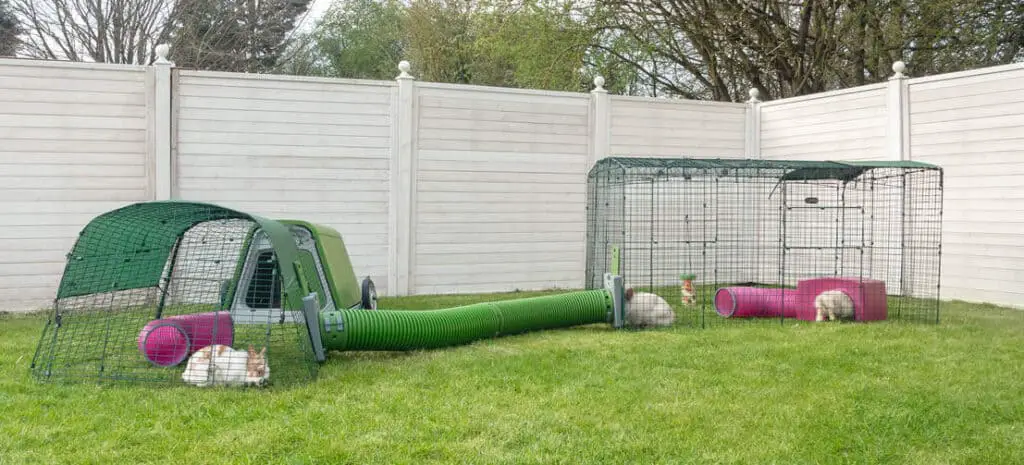 The Zippi playpen starter pack (double height) is an excellent guinea pig run for those that want to play with their guinea pigs, particularly young children. The shape of the cage can be manipulated but the open top design makes it easy to access and share playtime with your guinea pigs. 
The open top design does mean that it's not predator proof so you won't be able to leave your guinea pigs unsupervised to play and exercise. 
The playpen also doesn't come with a skirt or underfloor mesh so you'll need to either place it on concrete paving or purchase an underfloor mesh as a guinea pig could easily burrow under it if given the opportunity. 
The assembly is the same as the single height run we covered above and should, therefore, be quick and easy for most people. There is also an extensive range of accessories and toys that are available to support this product and therefore you can easily customize it over time. 
We'd say this is ideal for those that have young children who can spend time in the playpen with their guinea pigs. As it doesn't come with a predator-proof design it's definitely more suited to a hands-on owner that spends time with their guinea pig during exercise.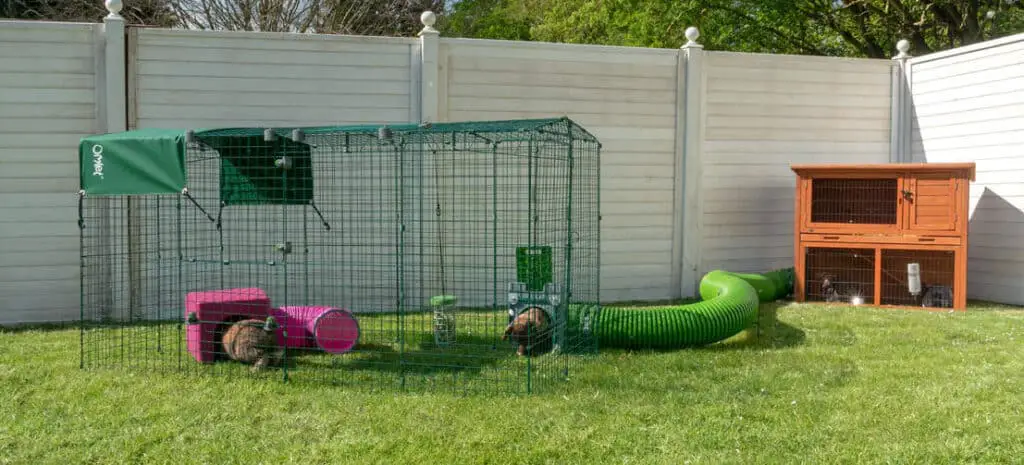 Dimensions:
Includes 10 panels (3ft 2in x 1ft 7in each) and covers an area of 4ft 9in x 3ft 2in when assembled in a rectangular shape, with a height of 3ft 2in.
Walls and Roof mesh size: 1.50 x 1.50 inches.
Underfloor mesh size: 3.07 x 3.07 inches.
Skirt mesh size: 1.50 x 3.07 inches.
What We Liked
Space for children to play with their guinea pigs
Room to build obstacle courses and layers due to the double height
A range of accessories available
Fast to put up and take down so it doesn't need to be left out when it's not in use
What We Thought Could Be Better
You can purchase a roof version but this would then prevent someone from entering the run which is the key feature that we like about this model
Your guinea pigs can't be left unsupervised in this run as it's not predator proof
---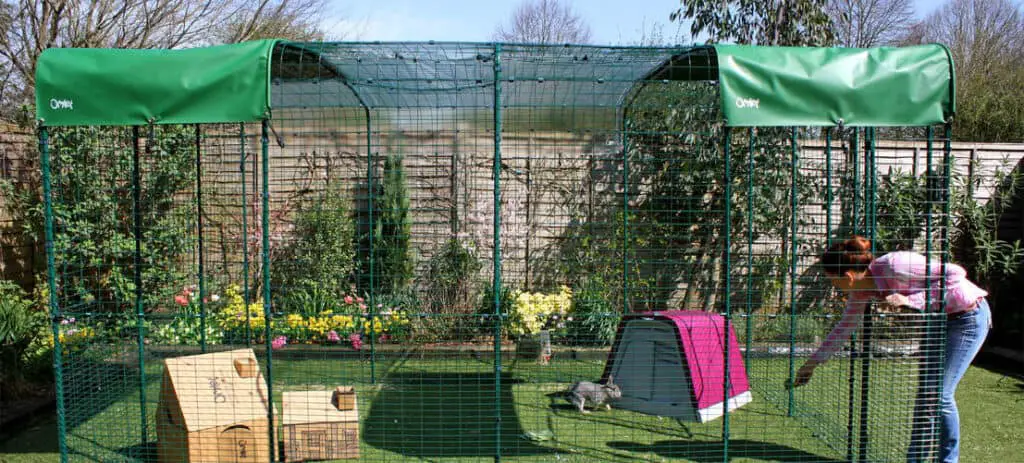 The Omlet outdoor run is a premium pick for those that have a very close relationship with their guinea pig(s) and want to enjoy playtime with them in the outdoors. 
The reason this is such a great option is that it's easily customizable and designed to comfortably fit a human inside as well as all the obstacles and toys that you could think of. 
The size range is so extensive with this product that we'd recommend trying out the smaller size to start with as even this comes in with dimensions of 6ft (L) x 6ft (W) x 3.9ft (H) and is more than enough space for a guinea pig to run around in.
The Lo-Rise option allows for a child to crawl in and play with their guinea pigs whereas the Hi-Rise option allows an adult to easily enter the run as well. 
Space is definitely the key feature with this product however it's worth pointing out a few additional features that make it an excellent run for your guinea pigs.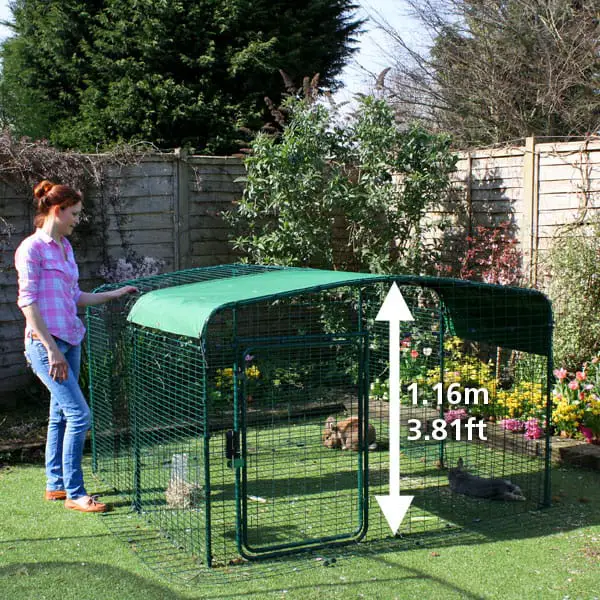 The run has a detachable skirt to prevent burrowing (from predators trying to get in but also from your guinea pig potentially getting out!) and you can also purchase an easy clip underfloor mesh for added protection. 
The design is minimal and will blend into your backyard nicely, If you know the Omlet brand then you'll know design and innovation are at the forefront of what they do. If you have the backyard space then this is definitely a great product to consider.  
What We Liked
One of the most spacious runs on the market
Room for multiple guinea pigs as well as room for children and adults inside (depending on the size you purchase)
Plenty of room to create large obstacle courses
A large range of accessories available from covers, tunnels and toys to safety measures like underfloor mesh. 
What We Thought Could Be Better
More premium priced than other runs so won't suit everyone's budget
Easy assembly but it will take longer than the other products we've listed above (1 hour – 1 hour, 30 minutes)
---
Round Up
Before reading this article you might not have even been aware that your guinea pig needs regular exercise and stimulation and assumed that a hutch was adequate enough. 
Hopefully, you now know the importance of providing an exercise area for your guinea pig with an outdoor run being the best option for those that are conscious of giving a guinea pig free roam in a house or room. 
The runs we've mentioned above are great options not only for your guinea pig but also for you or your children to enjoy playtime with them as well. 
Alternative Budget Options
$22.80
$39.99
in stock
8 new from $22.80
11 used from $20.28
as of September 29, 2023 22:42
$14.99
$16.99
in stock
as of September 29, 2023 22:42
$29.99
in stock
as of September 29, 2023 22:42
$13.99
in stock
as of September 29, 2023 22:42
out of stock
as of September 29, 2023 22:42
$29.99
in stock
8 used from $28.17
as of September 29, 2023 22:42
Last updated on September 29, 2023 22:42