Magnificent creatures like Macaws need the very best conditions and care to reach their full potential.
A big part of maintaining their wellbeing and keeping them active and content is the provision of toys that provide them with sufficient occupation and challenge. 
As an owner, you need to provide your parrot with enrichment of their environment through play with toys that provide the birds with the stimulation their need. 
If you neglect to provide suitable toys, the health of the parrot can start to suffer from frustration and stress presenting themselves in the form of feather-pulling, biting, and other aggressive acts.
Macaws are clever and need toys that provide mental stimulation.
Their brains may only be walnut-sized, but Macaws have more cerebral matter (the thinking part of the brain) than most other bird species.
Studies have shown that Macaw brains also have an extremely high density of neurons, comparable to primates!
Animal studies have been able to demonstrate that Macaws and other parrots are capable of complex cognitive processes, which we appreciate in their communication and mimicking skills.
Do not underestimate the capabilities of your Macaw in working out puzzles or foraging. They are definitely up for a challenge!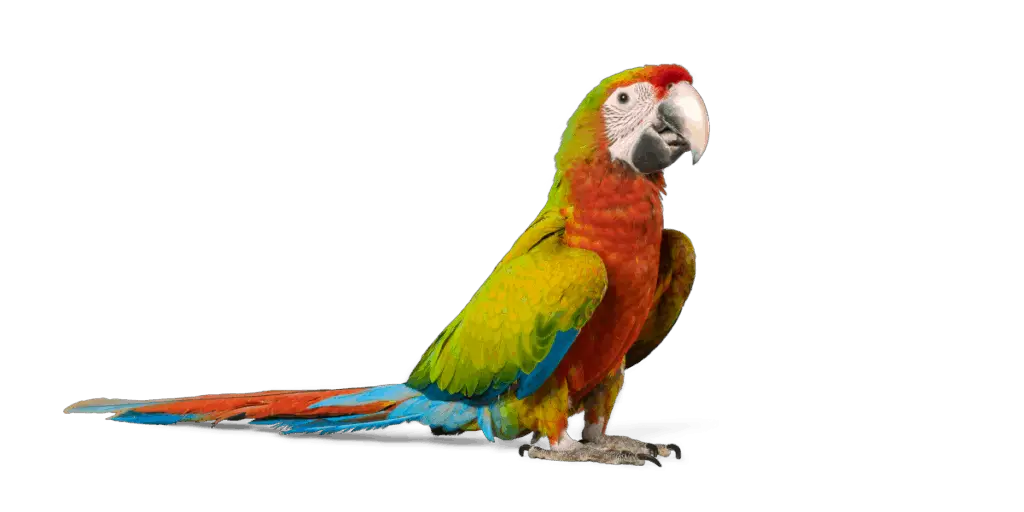 There are different types of toys to choose from when entertaining a pet Macaw.
With so much known about caring for pet Macaws today, it is easy to find a wide variety of high-quality today that have been designed to engage your Macaw. Most toys available will fall into one of 5 categories and most are multifunctional :
Chew toys are great for keeping your Macaws beak in great condition and stopping them from chewing the cage and your furniture. 
Excercise toys work the upper body and shoulder muscles. This is especially important if your parrot does not fly often.
Foot toys are designed to work the joints and muscles in your Macaws feet. 
Forage toys help Macaws and other parrots exercise their innate foraging behaviors. Working for their food is very satisfying to these birds.
Puzzle toys provide Macaws with the mental workout they need, and while you may have to incentivize other birds with food rewards, Macaws are capable of enjoying mastering a puzzle for the puzzle alone!
---
7 Favorite Toys That Our Macaws Love
1. Luckycyc Parrot Roller Skates
Mewutal 2Pcs Parrot Roller Skates Pet Intelligence Training Toy Double Row Roller Skateboard for Bird Parrot (Large Size)
as of December 7, 2023 20:49
Key features
Toy type: 2 piece exercise toy; foot toy
Material: wood, metal, plastic
Dimensions: available in 3 sizes, largest 5.5 by 0.94 inches 
Description
Well, if you thought that skating parrots were an urban myth, you will be shocked to see that parrot roller skates do exist and you Macaw will love to try them out.
These skates come in 3 sizes meaning even the largest macaws are catered for. They will enjoy a total body workout, including the exercise of the feet, balance, coordination, and memory.
Your parrot may not immediately zoom off but give them time and they will soon look forward to playing with their new roller skates. 
---
2. Multicolored Wooden Blocks Tearing Toy
MEWTOGO Large Bird Parrot Toys for Cockatoos African Grey Macaws and Amazon Parrots
as of December 7, 2023 20:49
Key features
Toy type: chew toy
Material: wood, metal, and plastic 
Dimensions:  9.5 by 9.3 by 3.5 inches
Product Weight: 1.55 pounds
Description
This extra-large, colorful chew toy is just the right size for a Macaw and can provide hours of determined chewing and tearing fun!
The cascades of colorful wooden blocks are secured to the cage via metal chain hardware meaning that your parrot can rip all he wants without pulling the whole thing down!
Each of the cascades of blocks has a bell attached to its end for additional stimulation of your bird. 
---
3. Hypeety Bird Parrot Foraging Toy Wheel 
Hypeety Bird Parrot Foraging Toy Creative Seed Food Ball Rotate Wheel Intelligence Growth Training Toy for Parrot Parakeet Cockatiel Conure Lovebird
2 new from $10.99
Free shipping
as of December 7, 2023 20:49
Key features
Toy type: forage toy, puzzle toy
Material: acrylic with metal hardware
Dimensions: 5.11 inches diameter
Description
This is a simple reward toy that can be easily attached to any cage. All you need to do is fill it with your parrot's favorite treats and let them rotate the plastic opening to access their nuts and other stashed goodies.
Macaws and other parrots find working for their food tremendously satisfying and how the wheel works will certainly whet their curiosity.
However, more powerful Macaws may simply smash the wheel to pieces or work on the center nut to get what they want.
---
4. Cotton Bungee Rope Toy with Ringing Bell
Super Bird Creations SB326 Colorful Cotton Bungee Rope Bird Toy, Large/XL Bird Size, 1.25" Diameter x 97",Varies
2 new from $39.99
Free shipping
as of December 7, 2023 20:49
Key features
Toy type: exercise toy
Material: 100% cotton
Dimensions: 5 by 8.5 by 8.5 inches
Product Weight: 2.5 pounds
Description
Ropes are a great toy for parrots. Despite their simplicity, your Macaw will get a decent workout as they clamber and grapple with the rope.
The attached bell will also help hold their attention while they play. This heavy-duty bungy rope is designed for extra-large birds and has a well-insulated, bendable internal wire that can be reshaped to form the coils after play.
This is a great enrichment toy that you can confidently leave in the cage as all components are fully bird-safe. 
---
5. Bird Ball Toy
QBLEEV Bird Ball Foot Talon Toy for Chewing Training,Parrots Treat Tabletop Puzzle Ball Toy,Soft Rubber Bird Grinding Beak Ball,Bird Cage Playpen Gym Playground Decor for Cockatiels
as of December 7, 2023 20:49
Key features
Toy type: foot toy
Material: plastic and rubber
Dimensions: 3.74-inch diameter
Description
Unleash your Macaws inner soccer star with this clever foot toy that will work your parrot's talons and increase their dexterity and balance.
The outer ball can be gripped, kicked, thrown, and chewed, while the inner ball contains a rattle to give a stimulating sound when it is played with.
Your parrot may be too interested in the inner ball and try to bit through the outer rubber to get to it. The bright colors also make the ball great for fetch games with your parrot too. 
---
6. Box Foraging Toy
Busy Bird | Box Foraging Bird Toy – Rounded Corners, Non-Removable Wing Nuts – 100% Metal, Ultimate Brain Teaser and Mind Game for Medium to Extra Large Birds
as of December 7, 2023 20:49
Key features
Toy type: puzzle toy
Material: metal
Dimensions: 6 x 6 x 3.75 inches
Product Weight: 11.99 ounces
Description
This challenging puzzle toy is just the thing for the smart Macaw who is adept at taking the bolts of their cage or letting themselves out from time to time.
This puzzler involves a box that is held together with nuts and bolts and can only be opened by turning the wing nuts to release an inner reward placed by you. 
The Busy Bird team has ensured that your parrot cannot just break the box by making the entire toy from metal. This puzzle is not only indestructible but also robustly secured to the cage bars.
Your Macaw will have no choice but to work on those bolts to get to their treat!
---
7. Goodie Gadget Foraging Bird Toy
Busy Bird | Goodie Gadget Foraging Bird Toy – Spins on Axis with Peek-A-Boo Window – 100% Metal, Ultimate Brain Teaser and Mind Game for Medium to Extra Large Birds
as of December 7, 2023 20:49
Key features
Toy type: puzzle toy
Material: metal
Dimensions:  4 by 3 by 1.25 inches
Product Weight: 4 Ounces
Description
If you are spending a lot of money on chewable and shreddable toys that hit the trash, this all-metal rotating puzzle toy will save you money and keep even the biggest parrots occupied for prolonged periods at a time.
Fill the lozenge with a treat that your parrot will be able to see through the hole. To get to the treat your Macaw will have to unscrew the rotating lozenge from the cap that holds it to the cage.
Sounds difficult? Busy birds know how to fully challenge and exercise your bird with toys that will stretch them!
---
Frequently asked questions
Q. Are there some games I can play with my Macaw?
Even with an abundance of toys, your Macaw will still benefit from the bonding and training that comes from structured playtime with you.
Spending time with your Macaw to learn how the toys work will make them more satisfying for the bird when you are away. You can play "fetch" with a parrot ball, or share in the tearing up of paper or stripping wood that your bird enjoys.
Q. Is a play stand worth it for my Macaw?
For Macaw owners who have not got an extra-large cage that can accommodate a variety of toys, a play stand can provide the space and stimulation for a bird spending time outside of its cage.
Think of it as a cage without walls as your Macaw will have a stand and food and water they can also enjoy in a location that they will learn is just for them. 
Rounding up.
This is a great selection of high-quality Macaw toys that should keep even the brainiest parrot going for a long time. Remember to mix things up with the toys, offering them in different combinations to keep things fresh and interesting.
Also, these big parrots can damage and wear down toys quickly. You will need to regularly inspect the toys you provide for damage to ensure that they cannot injure your pet.