Parakeets or budgerigars are enchanting little birds, full of character and great company.
To provide the very best environment for these colorful little creatures you need to provide suitable activities and entertainments that will fill their hours productively. 
If you are not sure where to start in selecting suitable toys for your parakeet, were here to help with a concise guide to the 7 best parakeet toys on the market today.
Also, we will take a look at the key types of budgerigar toys and why they are so beneficial for your bird.
Providing your parakeet engaging toys will promote its health and wellbeing
Budgies are intelligent social creatures that have a lively communal existence in the wild. This means that a pet budgie will have a continual need for stimulation and engagement, without which it will fail to thrive. 
As an owner, you need to provide your bird with interesting activities that will encourage them to move and interact as well as keeping it gainfully occupied while you are away.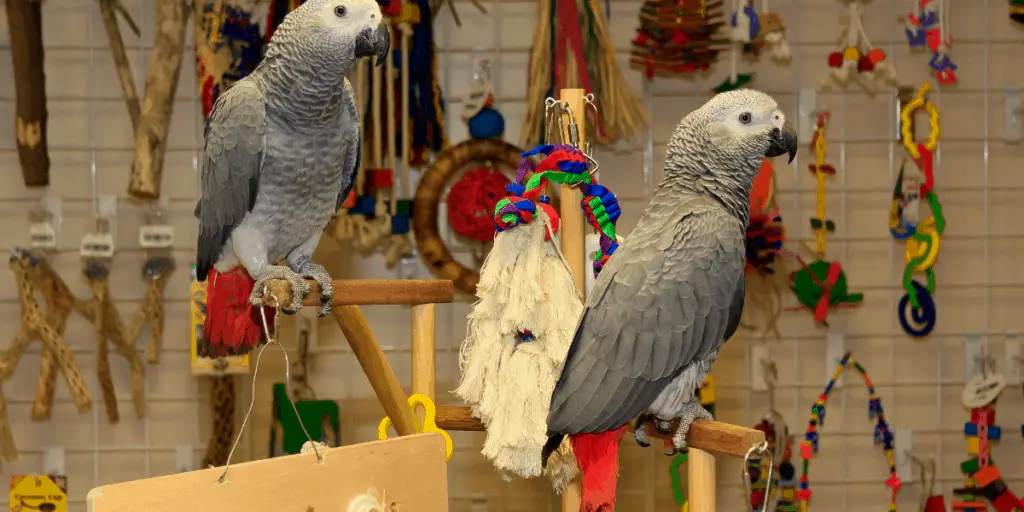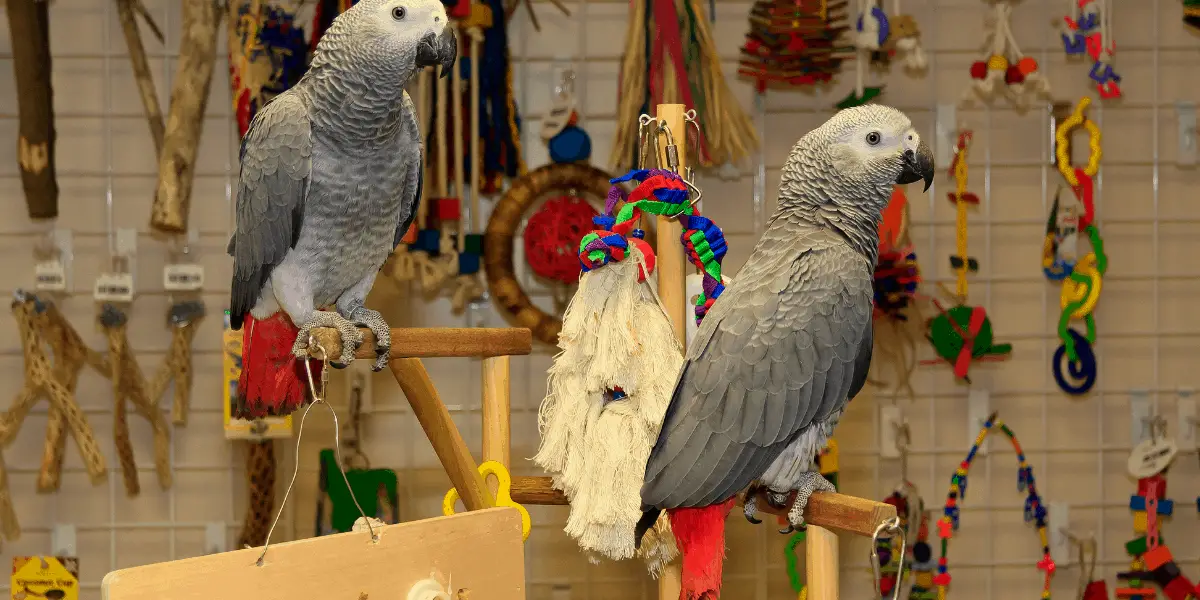 If a budgie lives in a bare cage without toys it can become withdrawn, fretful or irritable. A new toy is an effective intervention for a budgerigar that is struggling with isolation, so making toys a feature of your pet's cage is a prudent investment. 
What kind of toys can I provide for my parakeet?
Here are 6 types of parakeet toys that each benefit your budgie in a different way.
Foraging toys for parakeets
These enticing toys reward hard work with a tasty treat hidden within them. Foraging toys not only provide physical exercise as the bird grapples and pecks but allows them to express the innate foraging instincts they would have to rely on in the wild. 
Exercise toys for parakeets
If you have a budgie that spends most of its time sitting on its perch, you can get them moving with toys that will encourage climbing or balance. 
Foot toys for parakeets
The foot muscles and joints of a parakeet can be exercised and worked by toys that encourage the parakeet to hold and grasp. These toys are great for promoting dexterity!
Parakeet puzzle toys
Bring out the inner Einstein of your budgerigar with toys that are real brain teasers. They will be occupied for hours untying knots, picking locks, and removing bolts to get at a tasty treat reward.
Chewing toys for parakeets
Aside from that tired old cuttlefish bone, your parakeet can keep its beak pristine by chewing away on wood or leather-based toys.
Comfort toys for parakeets
A lone budgerigar does not have someone to snuggle up against and keep warm. Snuggle toys are great for providing a soft gentle surface for your feathered friend to cuddle and preen.
7 Fun Parakeet Toys on the market
1. SunGrow Parakeet Wooden Chew Toy
Key features
Toy type: chewing toy
Material: pithy wood and cotton rope
Dimensions: 12 inches
Description
This simple, all-natural chew toy is great for parakeets as it will encourage the bird's natural pecking and checking instincts.
Use the metal clip to secure the rope and wood toy to the top of your cage and let it hang near your bird who will enjoy grappling and pecking it.
The wood is designed to be broken down, so the toy must be checked and replaced when it is destroyed. 
---
2. ZOHOKO Bird Playgym
Key features
Toy type: exercise toy
Material: pithy wood 
Dimensions: 15.07 by 10.67 by 2.32 inches
Product Weight: 3.06 pounds
Description
Your budgie(s) will enjoy a serious workout with this clever parakeet gym made with all-natural wood and strong stainless steel.
Your parakeet can hop between the varying perches and run up and down the bridge. If they become hungry or thirsty you have food and water cups on hand. 
This is a great toy for getting your budgies out of the cage constructively. You can set it up in your room and your budgies can swoop down onto it, get a great workout and refreshments when needed. 
---
3. Niteangel Coconut Hideaway with Ladder
Key features
Toy type: comfort toy, exercise toy
Material: coconut husk, cotton, and wood 
Dimensions: 5.51 by 5.43 by 5.35 inches
Product Weight: 0.57 pounds
Description
Being safely enclosed in this cool coconut hideout will be a great comfort to a budgie and is reminiscent of the natural treetop roosts. They will soon work out to snuggle inside and will look cute as they peep out.
This eco-friendly toy can be safely secured, via metal clips, anywhere in your parakeet's cage and the rope bridge provides much need opportunity for exercise.
Though this toy looks just right for nesting, it is not a nesting box and cannot safely be used for breeding budgies.
---
4. FLYSTAR Bird Foraging Toys
Key features
Toy type: foraging toy
Material: plastic and metal
Dimensions: 4.7 by 6.7 by 1.4 inches
Product Weight: 0.43 pounds
Description
Foraging is one of the best ways of kicking boredom to the curb and your parakeet will love seeing goodies like millet seed and other treats secreted within this challenging toy.
The transparent acrylic container can be filled with treats and suspended from the top of the cage.
Access to your parakeet's food reward requires natural foraging behaviors, with the budgie pulling the food through the varying openings in the box. 
---
5. LWINGFLYER Wooden Ladders for Bird
Key features
Toy type: foot toy; exercise toy
Material: natural wood with metal hooks
Dimensions: 12.7 by 4.9 by 0.7 inches
Product Weight: 0.15 pounds
Description
These simple ladders are an effective climbing toy that will work the muscles in your parakeet's feet and exercise their balancing skills too.
They can just be hooked onto the cage and your budgie will soon work things out. As the ladder is all-natural wood, it is likely to be enthusiastically chewed and therefore will need replacing after a certain period. 
---
6. Hypeety Parrot Bird Cage Feeder
Key features
Toy type: puzzle toy
Material: acrylic and metal
Dimensions: 3.54-inch diameter 11.4-inch height
Description
Your feathered friend can never be bored with this swinging ball and bell puzzle toy with a treat reward at its center. It can be quickly installed and will keep a parakeet occupies for hours as they peck at the toy to get at the goodies inside.
Alternatively, it can be filled with paper pieces to be shredded by your bird.
Let your budgie work out how to get to the inner treat which they will begin to associate with the bell. 
---
7. Bonka Bird Toys Natural Sola Ball
Key features
Toy type: chew toy; foot toy
Material: all-natural plant material
Dimensions: 8 by 6 by 2.5 inches
Product Weight: 0.8 ounces
Description
This set of three all-natural chewing balls made from the spongy center of the exotic sola atta plant are great for keeping your parakeet occupied with clambering, rolling, chewing, and foraging activities.
The distinctive design has lots of surfaces and textures to work the feet too!
---
Frequently asked questions
Q. How many toys does my budgie need?
Though there is no specific number of toys you can give your parakeet, it is best to provide them with more than one toy. 
Like children, budgies can quickly become bored with a single toy. Mix things up with a selection of different types of toys that can entertain your budgie in different ways.
Q. My budgie has worked out its puzzles and is bored. What should I do? 
Vary your parakeet toys! Once your parakeet has mastered a particular group of toys, it's time to provide them with a new challenge!
Q. Do parakeet toys need maintenance?
Yes. Check the toys for damage regularly. Loose parts or sharp areas of damage on a well-loved toy could harm a parakeet. Make sure you check that toys are intact and remove them if there is any sign of damage. 
Rounding up
We hope that you have found our selection of great parakeet toys an inspiration for livening things up for your parakeet.
There are so many engaging toys on the market that we are sure you will find yourself buying more than a few and watching how your budgie responds to each one.