Rabbits do suffer with their feet if not taken care of correctly. Just like Humans they need some TLC from time to time. Conditions like Sore Hock is a constant worry and can be made worse by poor living conditions.
Their nails will also need to be trimmed. This is a process that you can do yourself or if you're not confident enough to tackle that. Then you could always take them to see the vet.
However, for the vet to carry out this task it can set you back $50-70 per visit.
So, investing in a good pair of nail clippers is the best option. The process isn't as hard as you might think and not as scary once you have performed it a few times.
A good video has been included in this post to help you learn how to do it quickly and safely.
Here are some of the best rabbit nail clippers you can buy to help you take care of your rabbits nails and feet.
Our Recommended Rabbit Nail Clippers
---
Best Rabbit Nail Clippers Buying Guide
Hares, the wild equivalents of rabbits, clip their nails by digging, running, and scratching everything they encounter in their daily activities. Overgrown nails can make your pet uncomfortable, and even worse, result in injury. 
Clipping your pet's nails might seem like a challenging task, which is why many people often resort to paying vets. While this approach seems convenient, it is more expensive than taking care of the rabbit yourself.
The best way to start trimming your pet's nails is by restraining it. If you find this challenging, ask a friend to help you wrap your rabbit to reduce movements and isolate each paw.  
Then, examine the claws to locate the vein running through the nail, also called the quick. By all means, avoid cutting it. If you do it, you can make your bunny experience bleeding and gruesome pain.
It is worth noting that some rabbits have dark nails, meaning that you need a torch to see the quick. Suppose you unintentionally clip the nails too short, use flour powder to suppress excessive bleeding. 
If your fur buddy gives you a hard time while cutting their nails, it is advisable to put it into a "shock" position. 
This involves lifting the rabbit onto its back, putting it into a trance which makes it still. Ensure that your pet is unsettled during this process.
Some rabbits are scared at the prospect of clipping. If you have such a pet, it would be best if you file the nails instead. This can be quite tiring if your bunny has overgrown nails.
Essential Tools for Rabbit Clipping
The following are the tools that you need to clip your rabbit's nails.
Grooming Brushes and Gloves 
Grooming is essential because it helps calm your rabbit before you start clipping. This is why you need a brush and gloves before you even think of clipping your rabbit's nails. 
Nail Clippers
As mentioned above, overgrown nails can cause discomfort to your rabbit. If you care for your pet, nail clippers are a must-have. 
Styptic Powder
Sometimes, you can accidentally cut your rabbit when clipping their nails. This is where styptic powder comes in handy, as it can reduce bleeding and prevent more serious incidents.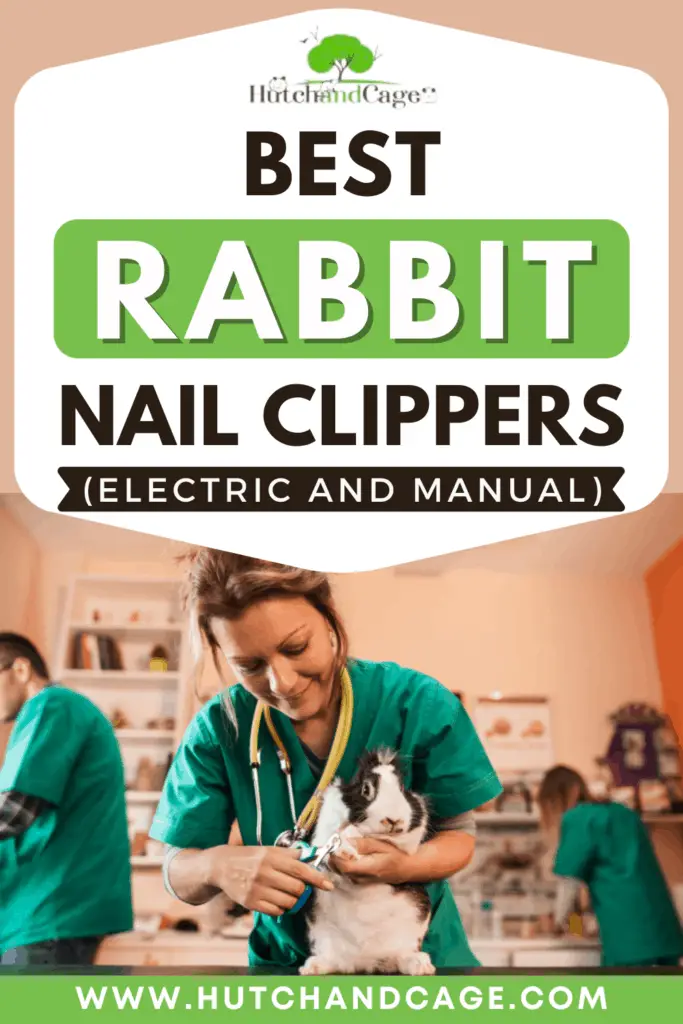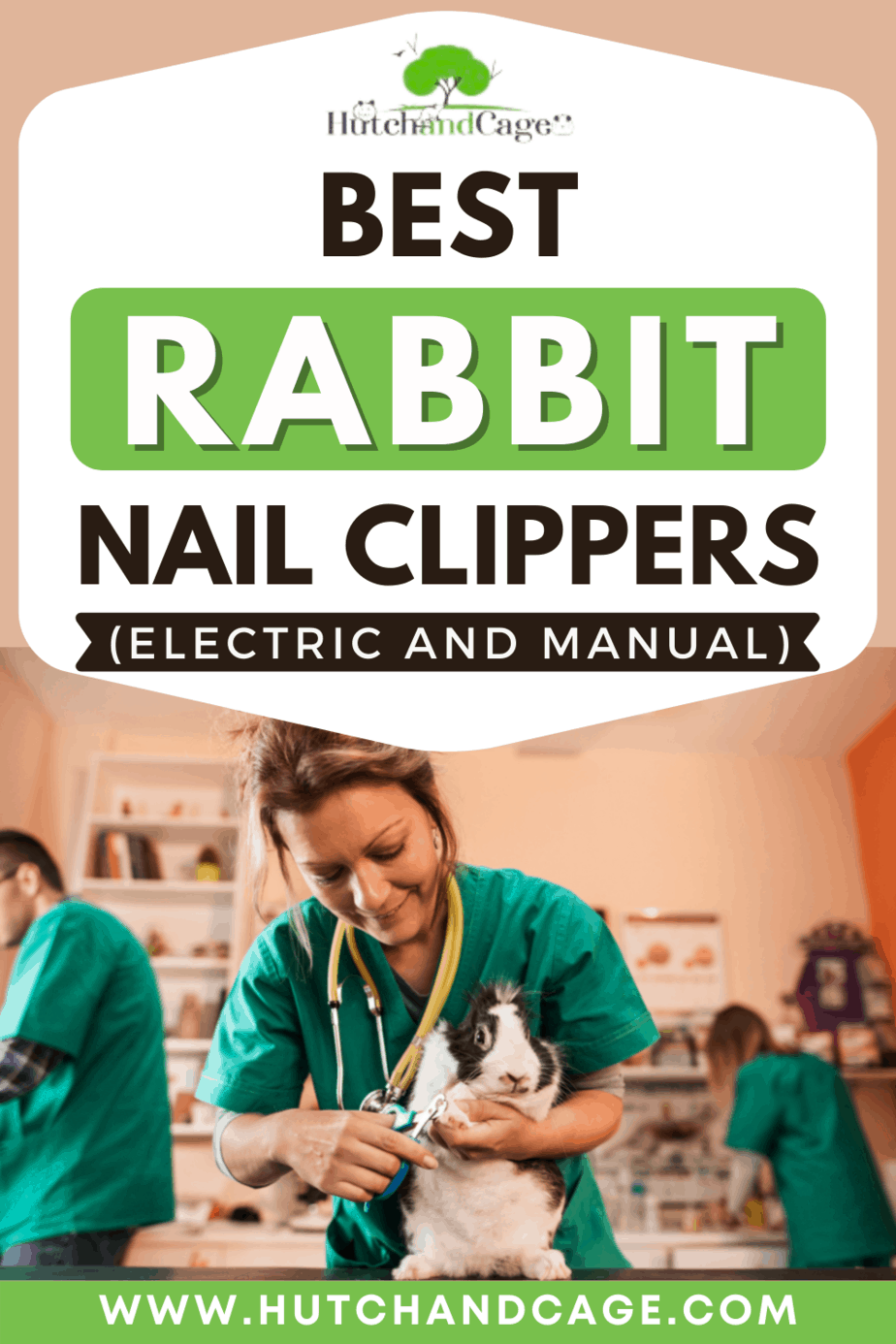 What to Look for in Nail Clippers
With many options to choose from, it can be difficult for a pet owner, especially a first-timer, to find the right nail clipper. Here are the factors you need to consider when shopping for nail clippers.
Type of Nail Clippers
Firstly, you need to consider the type of nail clipper you are buying. Below are the different variants available in the market. 
Grinders
Grinders are used on both large and small pets. However, their high-speed vibration and loud noise makes them unsuitable for your bunnies. Some people like to use them on larger rabbits like Flemish Giants.
Guillotine-style Clippers
As the name suggests, these are quick and snappy. The equipment has ergonomic handles that makes the clipping process quick and efficient. Guillotine clippers are ideal for happy rabbits.
Plier-style Clippers
These clippers resemble pliers in many ways, with the significant difference being that it has blades and handles that look like scissors with rubber covers. With these, you are ensured of unrivaled precision when clipping your rabbit's nails. 
Boshel Cat Nail Clipper – Razor-Sharp & Angled Cat Nail Trimmer, Non-Slip Handels Cat Claw Clippers, Pet Nail Clippers for Small Dog and Cats, Light Weight Cat Clippers for Nails, Cat Nail Clippers
2 new from $11.99
Free shipping
as of November 30, 2023 12:43
Scissor-style Clippers
Scissor-style clippers are ideal for people who want equipment that is easy to use. Furthermore, they are the most available variant on the market and cause the least pain on your bunny.
Materials Used
Another factor to consider when buying nail clippers is the type of material used. Stainless steel is the preferred option for many pet lovers because of its durability and sharpness, which enables it to cut tough nails effortlessly. 
Moreover, your bunny won't experience much pain when you use clippers made using this material.
Contrarily, clippers made using metal alloys are less durable and blunt than those made using stainless steel. They can do the job, and are cheaper, but they are less effective. 
Ease of Grip
Ergonomics are vital when choosing a rabbit nail clipper. In this regard, it is best to purchase a clipper that has rubber handles since they provide unparalleled comfort.
Sharpness
The sharpness of a nail clipper has a significant impact on the trimming process. Generally, the sharper the clipper is, the more precise and cleaner the process.
Finger Guard
Finger guards enhance the safety of the trimming process. When your clipper has a finger guard, there is a lower risk of accidentally cutting your bunny and yourself.
Yoobure Cat Dog Nail Clippers and Trimmer, Pet Nail Clippers with LED Light to Avoid Over-Cutting, Hidden Nail File & Razor Sharp Blade, Professional Grooming Tools Kit for Small Animals Claw Care
as of November 30, 2023 12:43
How Often Should You Clip Your Rabbit's Nails?
In ideal conditions, you should trim your rabbit's nails every three to four weeks. However, this doesn't apply to all bunnies. For instance, you can leave it for up to six weeks, as long as it doesn't cause discomfort to your pet.
Do Rabbits Nails Fall Off?
No, they don't – the only time your bunny can lose its nail is when an accident happens. Such incidences include getting caught or snagged by something, but this is rare. 
DIY vs. Hiring a Vet
The biggest dilemma that most pet owners face is trimming their bunnies themselves or enlisting the services of vets. Since you need to clip your rabbit's nails at least once monthly, it can be costly to hire a vet. 
Although it is expensive, it is advisable to hire a pro to trim your bunny's nails if you can afford it. 
This is because they have the experience and equipment needed to complete the procedure. More importantly, they have the know-how of preventing excessive bleeding and possible fatality if anything goes wrong. 
Final Thoughts
Whether you are a novice or an expert at taking care of rabbits, the objective is to afford the best possible care to your pet. 
This involves giving them a balanced diet, adequate water, proper training, and more importantly, right grooming.
Clipping your bunny's nail tails regularly is crucial to keeping them comfortable. Using the right tool and the tips mentioned above, you can improve your rabbit's quality of life significantly.
If you don't feel confident in your skills, it would best be if you hire a veterinarian.