A major innovation is uncommon when it comes to pet and animal housing as the basics have stood the test of time, so it is a welcome surprise when something new and distinctive hits the market, and for poultry too!
You can put down the chicken wire and tacks and get a look at the Eglu Cube chicken coop by British company Omlet, who have created a brilliant range of compact and highly functional chicken housing that keeps your fluffy one's front and center at all times. 
In a hurry? Want to skip straight to the price!
Their unique colorful and plastic housing has won them a number of awards in the UK including The BSI Design Award and The Plastics Industry Award, as well as a cult following among poultry enthusiasts across the globe.
Ingenious design from an award-winning company that knows how to think chicken!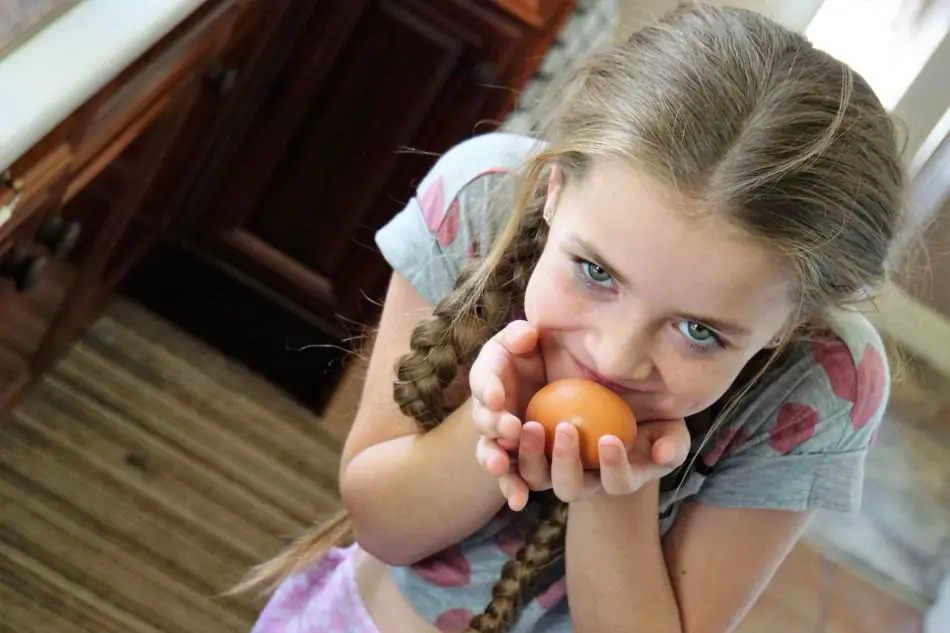 But what makes the Omlet Eglu so special, is it worth the money, and most importantly will your hens get on in it? Let's delve into these points and more with our comprehensive 2020 review! 
Background to the Omlet brand
Chicken whisperers and classmates Johannes Paul, James Tuthil, Simon Nicholls, and William Windham met at the prestigious Royal College of Art where there was a meeting of minds over James' design brief of creating an updated poultry house for his hen-keeping mother.
The group was quick to identify an opportunity to create a sustainable and highly marketable plastic poultry house and the concept matured quickly to become the amazingly successful Eglu!
The reception to their quirky design was positive and gave the fledgling company momentum to expand into the European and American marketplaces with high demand worldwide.
What is an Eglu Cube chicken coop?
The first thing you will notice about this distinctive chicken house, apart from the bright and bold colorways, is the absence of wood and wire.
These are molded plastic twin-walled chicken houses which have a gently rounded trapezoidal shape with larger than life molded features.
They are non-traditional and designed with the urban or suburban family garden in mind.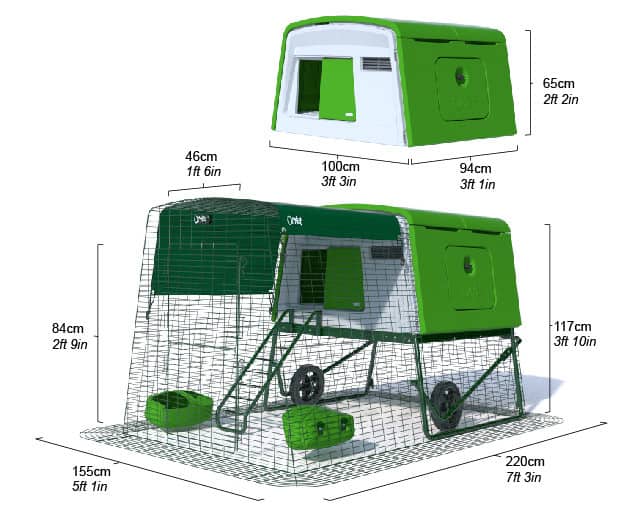 Key specifications of the Omlet Eglu Cube
Dimensions 220 x 155 x 117 cm
Weight 73.5kg 
Capacity Up to 10 hens of small or medium sized breed e.g. Booted Bantams, Silkies, Sebrights or Pekings
Materials and fabrication: Medium Density Polythene
Parts and accessories:

Chicken run made from coated steel weld mesh 
Slide-out tray for droppings 
Nest box
Roosting bars
Ladder
Removable rear panel door
No-spill food and water containers 

Made in the UK
1 year warranty on parts. 
Check the latest prices here ↗️
The Omlet Eglu Cube coop and run is an outstanding package that provides everything needed to keep pet hens in the lap of luxury.
Considered features, insightful design and a robust structure make this hen house comfortable and secure and the inspired choice of plastic for its fabrication revolutionizes your poultry housing maintenance routine.
Here are the 8 stand-out features that we think makes the Eglu Cube the number one choice for poultry housing in 2020.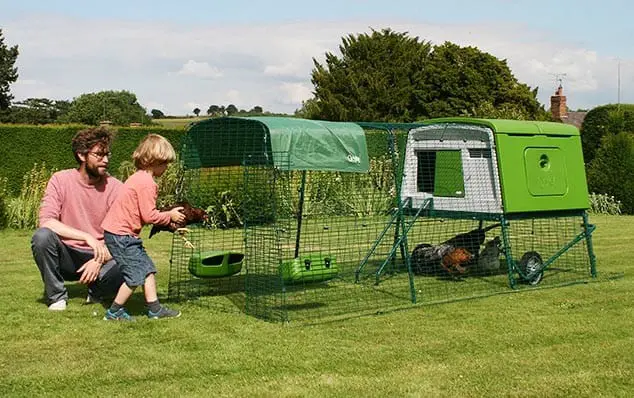 Top 8 features & benefits of the Omlet Eglu Cube
1. Easy access.  The Eglu Cube offers unrivalled  accessibility with multiple openings to its spacious interior. 
Cleaning is aided by the ability to remove the entire back panel.
The slide out dropping tray helps too!
Eggs can be collected without disturbing the hens via the egg port on the side of the coop.
An internal sliding door makes it easy to separate off the cosy nesting area from the roost.
Nighttime entry to the coop is easy for your birds via the cute, easy opening front door.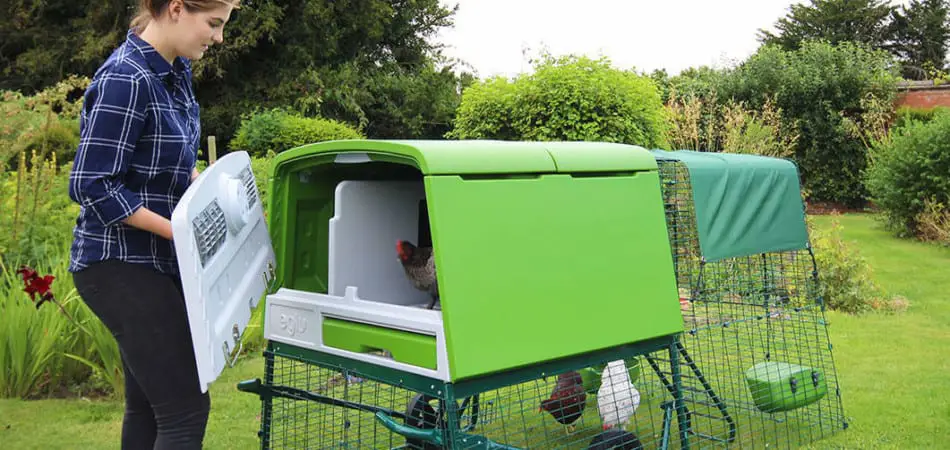 2. Straightforward cleaning. The MDPE from which the coop is made is easy to clean making maintenance incredibly simple. The Cube is designed for droppings to fall between the slats of the roosting area into the removable tray that can be emptied straight into your compost pile.
3. Keeps red mite at bay. Red mite infestation is a common problem with chicken housing and leads to stressful bites on your chickens. Eradicating them from wooden poultry houses is near impossible, due to the grain and absorbance of wood which will harbor eggs for further outbreaks. Plastic leaves no place for these pesky parasites to hide allowing your treatments to take full effect!
4. Insulation. The double-walled plastic of this coop traps an insulating layer of air that helps regulate the temperature of the interior for your roosting hens. These 100% recyclable walls are made from specially engineered energy-efficient polymers for a sustainable and self-sufficient design.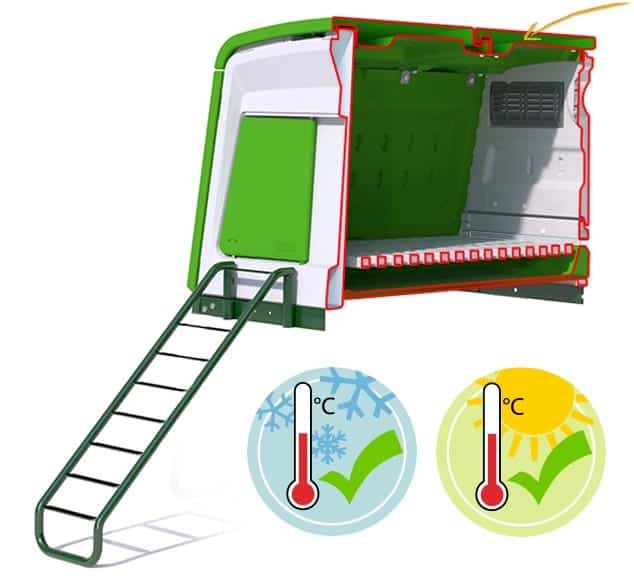 5. Modular and expandable chicken run. The wire chicken run greatly extends the scope of the Eglu Cube with a roomy fenced run that fits seamlessly on your coop. Purchased additional coordinating gated units to expand your run and add features like a porch or walk-in run. 
6. Lots of accessories. You can tell that the Omlet team love hens as they have created a fantastic range coordinating accessories that will meet your hens' every need. Choose from perches and peck toys as well as practical extras like the Extreme Weather Blanket.
7. No foxes – predator proofing. One of the best things about the Eglu Cube is its exemplary approach to keeping your chickens safe and secure. Not only is its hard-wearing plastic exterior unable to be broken into, but it also comes with a robust fox-proof run that has a wire mesh skirt that will resist attempts to dig through.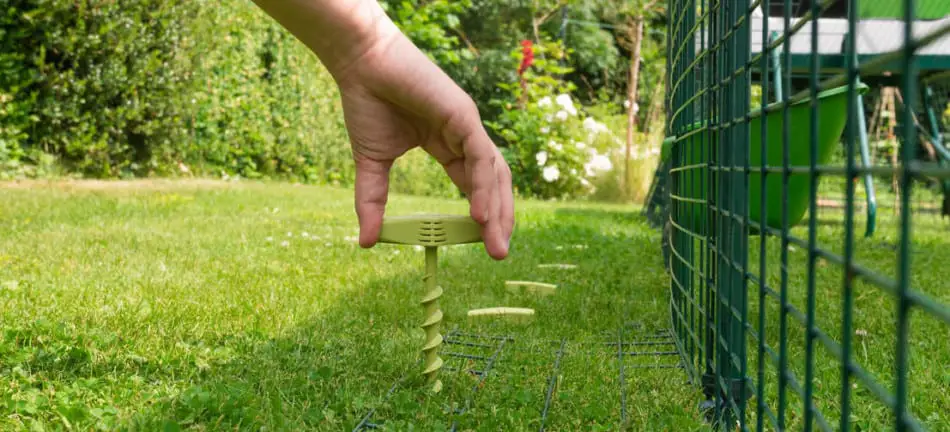 8. Practical portability. If this package was not sweet enough, the Eglu Cube is fantastically portable and can be moved easily on its two attached chunky wheels so that your chooks always get the best of your garden!
Setting up your Eglu Cube
Setting up your Eglu Cube is very simple. It is delivered flat-packed for construction wherever you want to keep your hens. Getting everything built will be great family fun on a sunny day. 
To set up your Eglu you will need at least 2 adults and a Phillips (crosshead) screwdriver. Assembling your Eglu Cube coop has 4 stages. 
Construction of the Eglu Cube base frame, with attachment of the non-slip ladder and chunky wheels.
Assembly of the Eglu chicken run.
Building of the Eglu Cube hen house 
Assembly and positioning of the included feeders.
All the steps are easy to follow. Omlet has produced clear and comprehensive video instructions that provide all the correct steps for the proper assembly of the coop.
In addition, Omlet have a great forum and message boards filled with knowledgeable enthusiasts who can provide tips and advice for getting the most out of your new poultry housing.
What you will like about it
This plastic coop and run makes successful hen keeping easy for even the absolute beginner. As an all-in-one package, it makes a great investment and will be a smart and tidy addition to your property.
Everything is set up for you so cleaning tasks, bedding changes and feeding are very simple. The compartmentalized layout within the house means you always have easy access to those delicious eggs without disturbing the ladies!
The attention to security really puts your mind at ease as the Eglu Cube is robust and secure at night. You don't need to watch your hens like a hawk in the daytime as the attached chicken run is properly predator-proofed.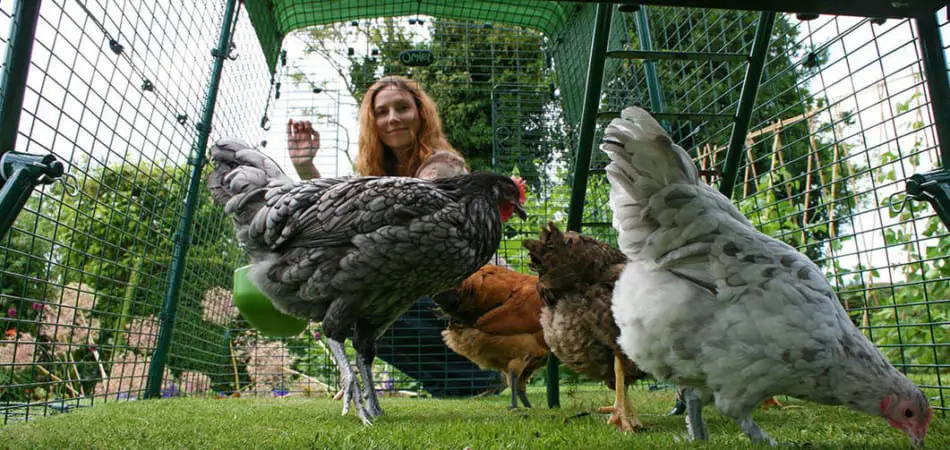 What your chickens will love about it!
Your hens will be living the luxury life in the Cube which does not have the weaknesses of the draughty wood and wire housing. Winters can be taken head on with the insulated walls and you can even buy a blanket cover of it very cold.
Within the coop, your hens will enjoy separated roost and nesting areas with a sliding panel between the two.
The sliding door panel allows your birds to gracefully exit down the steps to an adequately sized run, where they can come and go as they please.
Longevity
The Eglu Cube hen house is very hard-wearing and should last 10 to 15 years or more. It is excellent that this coop is able to be fully recycled by regrinding the plastic when spent.
Rounding up...
We think that the Eglu Cube coop is the ideal poultry housing for people who enjoy keeping chickens. The enthusiasm of its inventors is clearly seen in its utility.
It makes a great investment for owners who are new to keeping poultry and want to be sure that they will get everything right. With the bright and funky green or purple finish, we are sure that there will be happy chickens, happy owners, and plenty of eggs!
What're the alternatives?
$349.99
in stock
3 new from $349.99
as of November 27, 2023 02:42
$665.46
in stock
as of November 27, 2023 02:42
$138.99
$195.99
in stock
2 new from $138.99
as of November 27, 2023 02:42
$109.99
$119.99
in stock
as of November 27, 2023 02:42
$284.99
in stock
as of November 27, 2023 02:42
Last updated on November 27, 2023 02:42