If you're considering getting a gerbil, you will need a gerbil cage. A good gerbil cage will keep them safe and comfortable. And, it will let you watch him as he explores eats, sleeps, and plays.
Of course, you don't want just any gerbil cage! The best gerbil cage will be at least 20 gallons in size. And, it will be made of glass or metal while being portable and easy to clean.
In a hurry? Then skip this article and see the three best cages reviewed in the best gerbil cage buyer guide below:
What to Look For To Find The Best Gerbil Cages
So, when choosing the best gerbil cages, what should you look for? There are a few simple things that you need to look for when choosing a high-quality cage. These include the material it is made of, how easy it is to clean, what size the cage is, and whether or not it comes with accessories.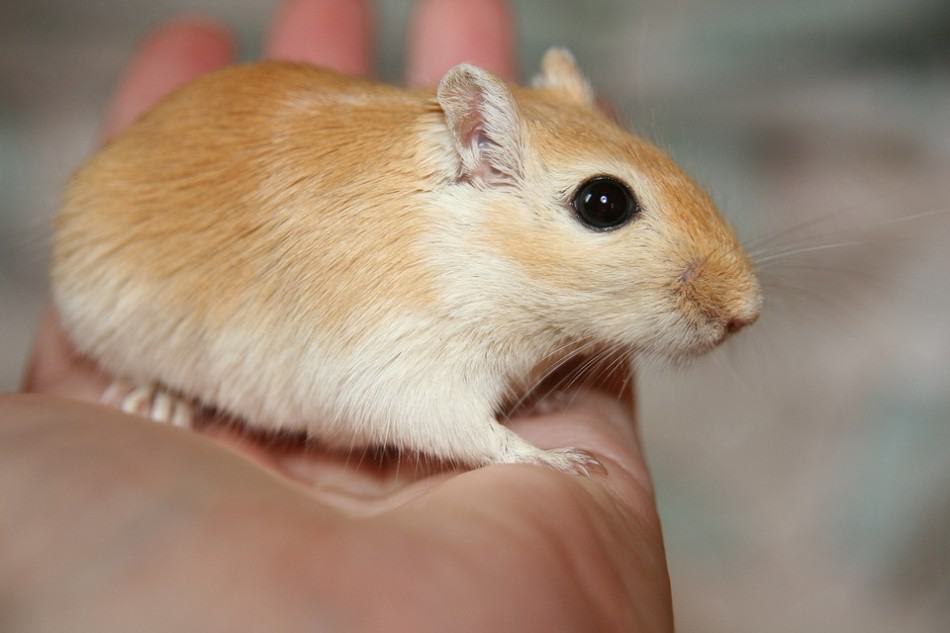 The best material for a gerbil cage is glass or metal
Your gerbil's cage will be made up of two parts. The top part will form the roof of the cage so that your gerbil cannot climb out and nothing can get in. The bottom part will hold the bedding and your gerbil's accessories.
Some gerbil pages are made of plastic. You will want to avoid these if at all possible. Gerbils love to chew and they will chew on the side of the cage. If the side of the cage is plastic, they will chew threw it and escape. Plus, they can get very sick chewing and ingesting plastic.
A glass or metal cage will protect your gerbil. And, they will not be able to chew through the cage or the top. If they do chew on the metal cage, it won't be something that they can chew through or get hurt with.
Hence why glass aquariums are the perfect solution. They have a large surface area which means you gerbil has plenty of room to run around and the cannot escape.
Gerbils need room to play
Gerbils may be tiny but they have lots of energy. In the wild, they would be scampering around, digging burrows, hunting for food and running from danger. 
They are almost always on the move. So, that means that they will need to have plenty of room to move in their cage. Your gerbil should have room to play, sleep, and burrow. 
The best gerbil cages will offer at least 20 gallons or 430 Sq Inch of room per gerbil. So, if you have two gerbils, then they will need a 20-gallon cage. If you have enough room, it is best to allow two gerbils at least 20+ gallons of space. They will appreciate not being cramped.
Space to climb and dig
To give them even more room to live and play, it is possible to get a gerbil cage that has two or even three different levels. These multi-level cages will have space upstairs and downstairs.
That means you can add a wheel or other types of toys and accessories for it to play with.
It's also very important that the base of your gerbil cage be deep enough to hold bedding. You will want to add several inches worth of bedding so that your gerbil can burrow and explore.
This allows them to act like they would in the wild. And, a deep base will help stop your gerbil from throwing the bedding out of the cage as they play.
The best gerbil cages will be secure
Gerbils are very curious. And, it only takes a small space between the wires of their cage for them to escape. Be sure that the wires on the cage are too small for your gerbil to escape from.
The best gerbil cages will keep them safe and protected inside their cage. 
It's also very important that your cage has a top on it. Gerbils can jump. And, it's possible for your gerbil to climb or jump out of their cage. You will also want to make sure that larger animals like cats cannot get into the cage. 
Easy to clean
Your gerbil's cage will need to be easy to clean. No one enjoys cleaning their gerbil's cage. So, having a cage that is easy to clean is a must. You will find that a traditional gerbil's cage rather than a fish tank is much easier to clean. 
8 Best Gerbil Cages
The Prevue Pet Products Universal Small Animal Home is designed to work for a number of different small animals. The large base provides enough room for your gerbil to live and play. The base is 6 1/4″ deep which helps keep the bedding inside the cage.
There are two large entry doors (one on the top and one on the bottom) to make it easy for you to access the cage. And, the wire spacing at 3/8″ will keep your gerbil safe and secure. The cage contains a small platform that your gerbil can access via a ramp.
The cage measure 32 1/2″ long by 19″ wide by 17 1/2″ high. The top of the cage is held to the bottom with six clips for added security. It weighs 14 pounds so it is a convenient weight to transport if needed.
Technical Spec
Designed to home a wide variety of small animals
Tight 3/8" wire spacing. Large tubby base offers room for exercise and accessories
Extra deep 6 1/4" tubby base
2 large entry doors – one on top and one on the side
32 ½'' L x 19'' W x 17 ½'' H with 3/8'' wire spacing
PROS
Easy to assemble
Deep bottom tray
Lightweight
3/8″ wires
Widely recommended by many breeders
Large surface area
One of the biggest cages you can buy online
CONS
Doors do not close securely
Other models are more sturdy
See more customer reviews on Amazon here!
---
Latest prices on Amazon here ↗️
The living world deluxe habitat for Gerbils and Hamsters helps create a close-to-natural environment for your gerbil or hamster to live in. The cage includes a large lower tank that is the perfect size for your pet which you can create a deep base for them to dig and burrow.
You add the bedding to the lower portion and your gerbil has plenty of room to dig tunnels, hide, and build their nest. There is an additional Plastic Metro Tunnel that you can add to the bottom area to allow them to rest and sleep inside.
Highly regarded in and amongst gerbil keepers as one of the best indoor pre-made cages ( without making your own ) Thanks mainly to its size.
Technical spec
Habitat that provides everything you need for safely housing a small animal
Safe, well ventilated and comfortable
Kit includes a balcony with a full wire cage with clear plastic bottom, an access ramp, tip proof food dish, a drip proof water bottle, and hay guard
No tools required; Assembles in minutes using four easy to use plastic clips
Measures 37.8 inches length x 22.4 inches width x 22 inches height
PROS
Multi-level for your gerbil to play in
Large base to hold adequate bedding
Includes accessories
Overall size is very good
Quality product
CONS
Price
Some people report the door does not close securely
Read more customer reviews here on Amazon ↗️
---
The Midwest Critterville Arcade Hamster Cage has a multi-level space so you can watch your gerbil play. It measures 18.11″ long by 11.4″ wide by 21.5″ high. It weighs 6.1 pounds. 
This gerbil home comes with accessories including an exercise wheel, water bottle, food bowl, nesting nook, and interior play tubes. The gerbil cage has a deep base that will hold your gerbil bedding. And, the top door is easy for you to access. The top cover can be removed to make cleaning easier.
This gerbil cage is modular and includes connector pieces that will let you connect another gerbil habitat. Which is the best thing about this cage because as it is the cage is too small for one gerbil let alone two.
Technical Spec
18.11Length x 11.4 Width x 21.5 Height Inches
6.1 Pounds
FREE accessories to get you started. Exercise wheel, water bottle, food bowl, nesting nook & interior play tubes
Deep base to contain hamster bedding, a convenient top door for easy access to your pet & a removable upper cover for easy cleaning
1 Year Manufacturer's Warranty
PROS
Customizable so you can add more accessories
Easy to watch your gerbil play in the arcade
Very sturdy
Bright and colorful
Interesting levels
CONS
Difficult to assemble
The wheel is very squeaky
Not enough air circulation
Lacking in space
Need to connect to another one to be big enough
Read more customer reviews on Amazon ↗️
---
The Favola Gerbil cage includes two roomy floors. The first floor is almost 5″ deep which allows your gerbil to burrow in their bedding. It also includes a plastic ramp that allows your gerbil to access the second level. This level contains their food dish, water, and hiding spot. 
This cage also includes connection ports that allow you to add and connect other gerbil cages if you want to. The top panel has an access door. And, you can easily remove the top portion of the cage from the bottom for cleaning. 
The top portion of the gerbil cage measures 23.6″ long by 14.4″ wide by 11.8″ tall. The bottom area measures 23.6″ long x 14.4″ wide by 4.75″ high. 
Technical Spec
DIMENSIONS 23.62 x 14.37 x 11.81 inches
WEIGHT 6.37 pounds
Upper wire detachable
Fast delivery from Chewy.com
PROS
Two levels so your gerbil has lots of room
Easy maintenance access
Wide base
Spacious
Easy to clean
Plenty of room for a deep bedding
CONS
Smaller than many models
Only one opening to access the cage
Not very sturdy
---
The idea of a fish tank for a cage is a great idea. For many years people have used large wide containers for housing gerbils.
Even large plastic storage containers are a great option if you're on a budget. They are strong and deep with a wide base giving you the ideal conditions to create your own amazing gerbil home.
With a glass or plastic cage, the only two things you will have to remember are; firstly not to place them in direct sunlight or they can heat up to very high temperatures. And secondly, you'll need to fashion some kind of lid.
PROS
Hard for gerbils to escape
Easy to clean
Customizable
Wide base area
You can create a deep bedding or sand base
CONS
Maybe not suitable for young children
Glass can break
Need to make your own lid or cover
---
The 3 Levels Gerbil Small Animal is an all-metal, chew free cage. The cage has three levels with tight 3/8″ bar spacing. The gerbil cage also contains wire shelves and ladders. 
There are two front doors that allow for easy access. And, the bottom grate floor is removable to make cleaning easy. You can easily fold it for storage and travel. And, no tools are needed to assemble it. The gerbil cage size is 24″ long by 16″ wide by 24″ high. 
I have two concerns with this cage. Firstly, their poor little feet will not like the cage floor and secondly there isn't enough floor space to dig and burrow.
Technical Spec
Cage Size: 24″L x 16″W x 24″H
All Metal, Chew FreE
3-Levels
Tight 3/8-Inch Wire Spacing
Two Front Doors
Animal Safe Epoxy Coated Finish
PROS
All metal construction
Very roomy
Easy access to the gerbil cage
CONS
You may need to reinforce the connections with zip ties
There are spaces between connections that may allow your gerbil to escape.
The base is not deep enough
Hard to clean
---
The Savic Hamster Heaven Metro Cage includes all of the supplies you need for her gerbil. It comes with tunnels, an exercise wheel, two gerbil houses, a penthouse, and a water bottle. 
This gerbil cage measures 31.5″ by 20″ by 20″. It weighs 12.17 pounds. There is a large, deep base that allows your gerbil to have fun without scattering bedding out of the cage. And, the cage comes with two handles so you can move it to a different location easily. There is a large door for easy access.
Technical Spec
The cage measures 80cm x 50 cm x 50cm
9.5mm bar spacing.
Large Base
Two large handles
The cage is proudly made in Belgium
Weight 21.4 pounds
PROS
Large cage allows for lots of room
Very sturdy cage
Holes in the tubes allow for ventilation
Colorful and Fun
CONS
Accessories are plastic
Tubes can be difficult to assemble
Accessories are tricky to clean
You have to take everything out to clean
Read Amazon customer reviews ↗️
---
This interactive hamster or gerbil cage has tubes, platforms, and accessories your gerbil will enjoy. It measures 18.11″ long x 11.61″ wide by 14.76″ high. The plastic base measures 3.25″ deep. The gerbil cage comes with a food dish, water bottle, hide-out, exercise wheel, and play tubes.
The top can be removed from the base for cleaning. And, there are both top and front doors to allow for easy access. You can expand the gerbil cage by purchasing additional accessories for your gerbil to play in tubes and wheels outside the cage.
Technical Spec
2 Spacious Floors
Deep Base 11.5 inches to promote playful borrowing
5.5 inch exercise wheel & a connecting port for play tubes
Top panel features an access door & entire wire portion & middle plastic section of the cage disconnects from the transparent base for easy cleaning access
Large Living Space 22.6 length x 18.7 width x 21.5 Height inches
Base measures 22.25l x 18.05w x 11.5h (approx. 401 sq. inch base),
Quality Guarantee 1 Year Manufacturer's Warranty on all parts
PROS
Easy to clean
Includes accessories
Lightweight
401 SQ Inches space
CONS
Read customer reviews on Amazon ↗️
---
Our Winner: Editor's Choice
Prevue Pet Products 528 Universal Small Animal Home, Dark Gray
8 new from $81.99
6 used from $78.71
Free shipping
as of September 7, 2023 20:42
Features
Designed to home a wide variety of small animals
Tight 3/8'' wire spacing
Extra deep 6 1/4'' tubby base
2 large entry doors – one on top and one on the side
32 ½'' L x 19'' W x 17 ½'' H with 3/8'' wire spacing
Kaytee Critter Bath Powder for Pets
7 new from $4.62
Free shipping
as of September 7, 2023 20:42
Features
Designed for use with our Small Critter Ceramic Bath House
14-Ounce
For dwarf hamsters, gerbils and chinchillas
Kaytee Clean & Cozy Bedding, White, 49.2 Liters (Pack of 1)
6 new from $14.95
1 used from $22.88
Free shipping
as of September 7, 2023 20:42
Features
ODOR-CONTROL GUARANTEE or your money back
LONG LASTING and expands to three times its size
ABSORBS SIX TIMES its weight in liquid, making clean up easier
SAFE FOR SMALL PETS with no harmful chemicals or by-products
99.9% DUST FREE
F.M. Brown's Tropical Carnival Natural Hamster-Gerbil Food, 2-lb Bag – Vitamin-Nutrient Fortified Daily Diet, NO Filler Seeds, NO Artificial Colors or Flavors
3 new from $10.89

as of September 7, 2023 20:42
Features
Vitamin-Nutrient-Fortified: Specifically formulated for the daily dietary needs of hamsters and gerbils
Support Good Digestion: Added beneficial bacteria help stimulate good digestion so your hamster or gerbil can get the most out of our nutrient-rich ingredients
Immune System Support: Farm fresh veggies contain antioxidants that help maintain a healthy immune system
Medley Of Delicacies: A clever mix of fruits, veggies, seeds and grains ensures your hamster or gerbil gets the full spectrum of nutrients needed to be healthy
ZOO VITAL Biscuits: Includes our specially formulated ZOO VITAL Biscuits for healthy teeth and gums with nutrients required for the well-being of your hamster or gerbil
Keep Calm and Love Gerbils Animal Lover Shirt – Unisex Tshirt Black
 out of stock
as of September 7, 2023 20:42
Features
Professionally designed apparel by Family Gift Tee Store. We carry clothing for the entire family!
Perfect Gift Item with Large Front Sided Design Printed in USA! Occasion:Party,Daily,Home,Dating,Shopping,Work,Beach,Travel,Party,Work . Unisex Tshirt Sweatshirt Tank Top.
THE PERFECT GIFT: Our graphic is an ideal and unique gift for any occasion like father's or mother's day, birthday present, Housewarming gifts, Christmas, Valentine's Day, Or Just A Treat For; Your Mum, Dad, Brother, Sister, Uncle, Aunt, Best friend or any other person you care and want to show appreciation. Perfect gift for your choice!
Suggest To Hand/Machine Wash Cold Water, Do Not Dry Clean, Dry Flat, Not Bleach.
Please check the detailed size information from our size chart at the images.
All of these gerbil cages are great choices. However, in the end, our choice is the Prevue 528 Cage. 
If you're still unsure then read our complete buyers guide for the amazing Prevue 528 hamster and gerbil cage here.
This cage is very roomy and sturdy. It provides great air circulation which is very important for your gerbil's health. It is both portable and easy to clean and access. 
Additional accessories can be purchased to further customize your gerbil's cage. And, plastic accessories can easily be replaced if you prefer to use metal ones. 
The deep base will give your gerbil plenty of room to play while containing the bedding to minimize mess.
Here are some essential Gerbil Accessories
$81.99
$189.00
in stock
8 new from $81.99
6 used from $78.71
as of September 7, 2023 20:42
$5.49
in stock
7 new from $4.62
as of September 7, 2023 20:42
$14.95
in stock
6 new from $14.95
1 used from $22.88
as of September 7, 2023 20:42
$10.89
in stock
3 new from $10.89
as of September 7, 2023 20:42
out of stock
as of September 7, 2023 20:42
Last updated on September 7, 2023 20:42