Rabbits are adorable no matter what they do, but even they have destructive habits sometimes. Take digging, for example.
How long ago did you plant those beautiful tulips, only for your pet rabbit to completely dig everything up?
How do you stop your pet rabbits from digging up the lawn? In this article, we'll tell you how to determine the root problem and figure out a good method to stop them from digging – for good.
Determining The Problem
The first step to solving the problem is determining what exactly the problem is in the first place.
In this case, we already know that the problem is digging. The question is, why does your rabbit dig? If you don't know the answer to this question, then there isn't much you can do either.
In order to figure out the solution, you first have to determine the problem. And to determine the problem, there are three steps to follow:
Observe your pet rabbit. Each and every animal, including rabbits, has its own individual personality that makes it unique from any other animal, even those from its own species. This is what makes them so interesting, and at the same time, so hard to compare to others. That's also why it's very important to observe your pet first before drawing to any conclusions.
Figure out what triggers the digging. While you're observing your pet rabbit, try to figure out if there's any specific event, thing, person or animal that triggers the bad habit. When does it start digging? For example, is it that it sees your family dog? Or perhaps after nightfall?
Decide how you want to tackle the problem. Once you've figured out the trigger, you now have to decide on what method you'd like to employ to stop the digging. The important thing is to find a solution that suits you and your rabbit best.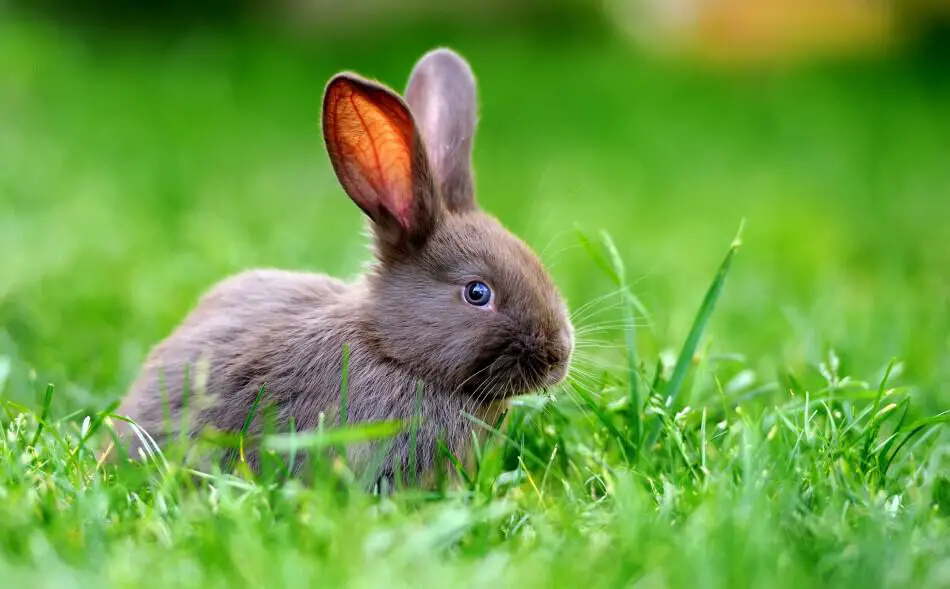 Why Do Rabbits Like Digging?
There are many reasons why a particular rabbit decides to start digging. In fact, you may come across one of these reasons while you're observing your fluffy pet.
1. Anxiety
An anxious rabbit is an unpredictable rabbit. Just like any other animal, your pet rabbit could begin doing things it normally doesn't when it becomes anxious, scared, or stressed.
One way to know if your pet is digging out of anxiety is if you notice that the digging happens after something or someone unfamiliar comes into the picture.
Let's say your friend, who owns a very large German Shepherd dog, decides to visit you randomly one afternoon.
Your pet rabbit, surprised at the sudden furry visitor which may or may not take a bite at him, may suddenly start digging out of pure anxiety.
2. Boredom
Rabbits also dig when they're bored, just because. Remember, in the wild, rabbits have endless playgrounds where they can run, hide, and do whatever they want all day.
Your home may be bigger than the average rabbit burrow, but seeing the same thing all day every day may still be quite boring to your energetic little friend.
3. Hygiene
This is a bit rarer than the other items on this list, but it does happen more commonly than you may think.
Rabbit nails tend to grow at a fast pace. Obviously, long nails can hinder a nice and safe hop. So when they get too long, rabbits usually have no choice but to deal with the problem themselves.
What do they do? They scratch at solid or firm surfaces in order to trim their nails down.
4. Instinct
Last but not least, your rabbit's digging action may simply come from the fact that it's a primeval habit hardwired into your fluffy friend.
Rabbits create their homes in the wild by digging or burrowing into the ground, so why should that stop just because yours lives in your fancy home now?
Despite the fact that you're able to give him a warm and comfortable home, your pet rabbit probably still feels the need to 'improve' it using his own bare paws.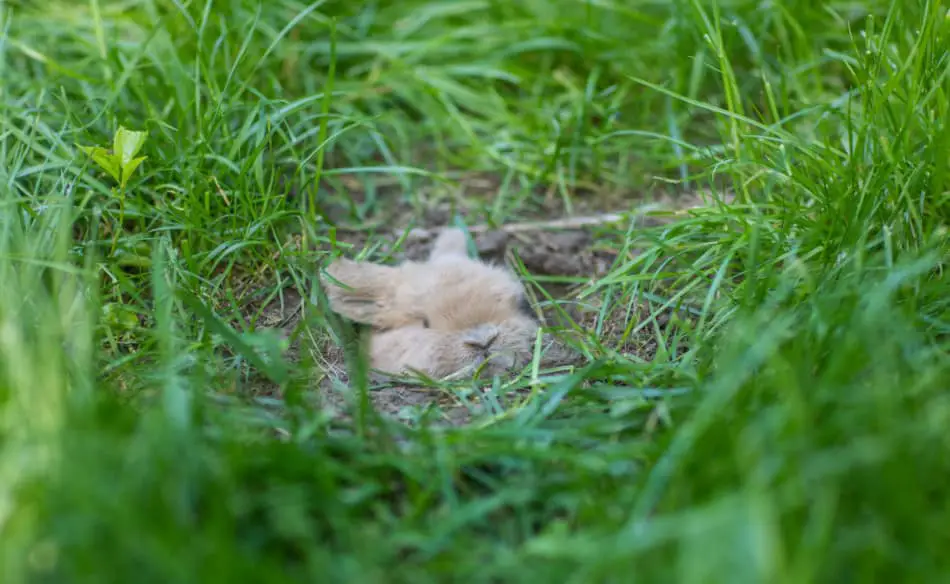 Where Do Rabbits Like Digging?
You may think that you're safe from digging rabbits if you live in a tiled house, but you're completely mistaken.
Rabbits, just like dogs, don't necessarily require soil in order to start digging. They can dig, or at least attempt to dig, absolutely anywhere, even on solid tiles.
How To Stop Pet Rabbits From Digging
Now that you know the many reasons why your rabbit could be digging, it's time to discuss the different ways in order to combat this habit.
Here are three ways how to stop pet rabbits from digging!
Keep him entertained
As mentioned above, one of the reasons why your rabbit resorts to digging is boredom. Another reason is anxiety.
Either way, a good way to combat the problem is simply by keeping your rabbit entertained. Providing plenty of entertainment in the form of treats, toys, or playtime with you not only entertains your rabbit but also distracts him from doing any unwanted habits.
Address the cause
Why does your rabbit dig again? Digging, in many cases, is just a symptom of the problem. If you really want to solve the problem, you should address the cause instead.
If your rabbit digs because his nails are getting too long, take him to the vet and get his nails cut. If he's digging because he doesn't trust your new neighbor, try to get them to play together to establish trust.
If he's digging because he's got nothing else to do, well guess what, time to make a trip to the pet store and get something nice!
Train your rabbit
All these methods are good, but sadly, none of them are guaranteed to be long-lasting. If you want a method that you can rely on regardless if you're present or not, it's this: training.
That's right, the best method to stop pet rabbits from digging up the lawn, or, say, your beautiful marble tiles is to train them not to.
Rabbits are very intelligent animals which can be trained to do, or not to do, things. As long as you train him patiently and consistently, he's sure to remember it in no time at all.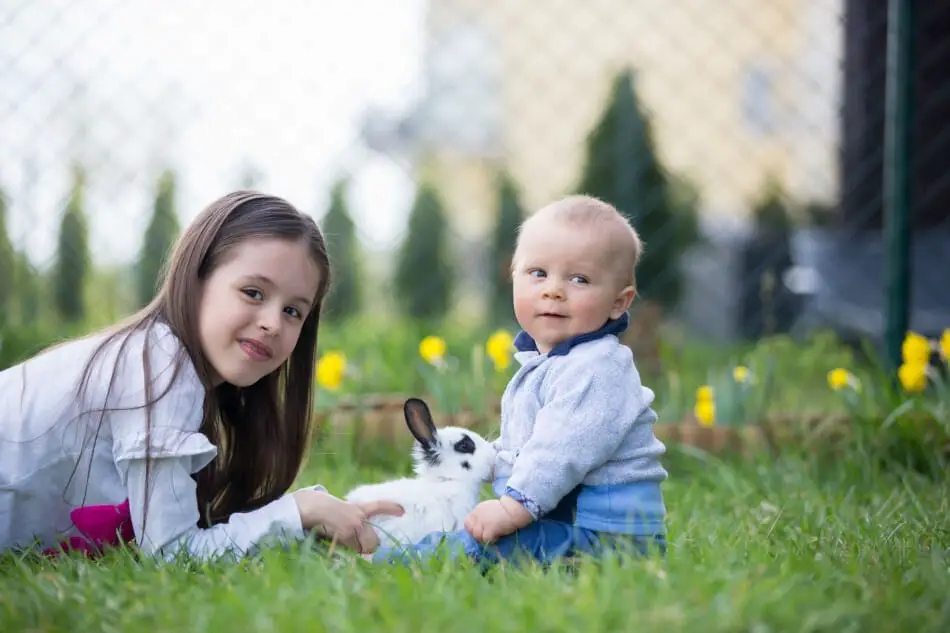 Keep your rabbit in a playpen
It's nice to think that your pet rabbit can have the freedom to run around your yard. However, if they are constantly digging up your lawn then you may want to limit the damage by keeping them in a playpen.
A rabbit or Guinea Pig playpen will allow your bunny to play outside in the fresh air and enjoy the lawn without damaging your entire garden.
Then pet friendly and safe enclosures will keep your pet bunny in a small location where they can dig to their hearts content.
Below are a few designs we really like….
Tespo Pet Playpen, Small Animal Cage Indoor Portable Metal Wire yd Fence for Small Animals, Guinea Pigs, Rabbits Kennel Crate Fence Tent, Black 12 Panels
3 new from $29.99
21 used from $25.49
Free shipping
as of November 26, 2023 08:42
Features
Upgrade version: cable ties and anti-slip pieces added in. Cable ties help build doors or ramps or reinforce the whole structure. Anti-slip pieces prevent connectors from slipping on the floor.
Diy expandable: make qualified metal wire grids into different shapes, a low wide exercise pen, or a two-storey premium Villa.
For various animals: hedgehogs, hamsters, guinea pigs or rabbits, they can all have FUN in this fence. Easy to keep an eye on them from any angle.
Easy assembly: Easy to put together with the illustrated instruction and included mallet. Use cable ties to achieve even more features like doors or ramps.
100% satisfaction guarantee: We are always available to provide professional customer service before and after your purchase, so don't wait any longer and enjoy it right now.
KOUSI Small Animal Pen Indoor Fence Animal Pen Plastic Fence Large Dog Pen Plastic Play Yard Plastic Dog Pen Rabbit Pen Small Pet Playpen, Large 59x59x27.6(in), Transparent
 out of stock
as of November 26, 2023 08:42
Features
Fun Pet Play Yard – With 12 pieces of 28" x 20" Panels. Your pet will have plenty of room for playing and keeping active while staying safe within the boundaries of this playpen. Perfectly suit as pet fence, small pet pen, dog pen, dog play area, animal tent, outside dog fence, rabbit pen etc.
Quick & Easy DIY Assembly – Our slotted, multi-angle connectors make this playpen super easy to set up, take down, or rearrange whenever you like. DIY the shape as you see fit, and enjoy a variety of options. Can shape as puppy cage, bunny cage, animal fence, animal enclosure, play yard etc.
Customizable, Expendable Design – Plan your own layout and bring your ideas to life. Assemble the playpen using 2 or more sets for even more choice in customization.
Sturdy, Convenient & Portable – Carefully selected metal material is durable, washable, and environmentally friendly. Playpen components can be stored and transported with ease.
Ideal For Small Pets & puppy – Suitable for puppies, guinea pigs, rabbits,ferret,rat,hamster, and other small pets. Not suitable for big dogs or animals that can exert a lot of force.
BestPet Chicken Coop Chicken Cage Pens Crate Rabbit Cage Enclosure Pet Playpen Exercise Pen
as of November 26, 2023 08:42
Features
✔【 ANTI-RUST METAL EXERCISE PET PEN】: Epoxy coating finish extends the life of the pet playpen and provides resistance against rust, corrosion, and fading, even in the most extreme climates. Chicken Coop Chicken Run Rabbit Cage Pet Playpen
✔【SAFE AND COMFORTABLE PLAYPEN AREA】: Pet exercise pen works great as a puppy playpen or as an exercise area for non-climbing small animals including Rabbits, Ducks, Turtles & Guinea Pigs. Pet freely enjoys exercising & playing in pet playpen, importantly, owner do not need to gaze them all the time if busy.Chicken Coop Chicken Run Rabbit Cage Pet Playpen
✔【WATERPROOF COVER INCLUDED】The waterproof cover of pet playpen and steel roof frame fit the outdoor exercise pens perfectly and the enclosed ends provide your pet with full protection from sun, rain, snow. Added UV protection prevents ripping, cracking, fading or peeling giving you years of worry-free use. The roof pitch of pet crate allows for water, debris and light snow to run off instead of accumulating on the roof. Chicken Coop Chicken Run Rabbit Cage Pet Playpen
✔【WATERPROOF COVER INCLUDED】The waterproof cover of heavy duty dog crate and steel roof frame fit the outdoor dog cage perfectly and the enclosed ends provide your pet with full protection from sun, rain, snow and debris. Added UV protection prevents ripping, cracking, fading or peeling giving you years of worry-free use. The roof pitch of pet crate allows for water, debris and light snow to run off instead of accumulating on the roof. Chicken Coop Chicken Run Rabbit Cage Pet Playpen
✔【EASY TO SETUP】This pet playpen is a must have for any pet lovers. Quality of our chicken coop constructed with simple assembly instructions will set up in minutes. Our puppy playpen assembles and comes down quickly which is very important as you don't want to be wasting tons of time while enjoying time off. Chicken Coop Chicken Run Rabbit Cage Pet Playpen
Conclusion: How To Stop Your Rabbit Digging Up The Lawn
Keeping a pet rabbit is not always a walk in the park, especially if the said park keeps being torn apart by your own pet.
However, with enough dedication and love, you, too, can solve this problem with your fluffy friend and continue living your harmonious life together.