Rabbits can be kept indoors or outdoors and will be happy enough in either situation, the key thing to keep in mind however is that rabbits need plenty of exercise on a daily basis. 
If you give your rabbit the run of the house then that is perfectly fine, there is no issue with a rabbit running and hopping about a spare room but it's also important to let your rabbit have fresh air and when it comes to outside exercise, a rabbit run is an essential purchase.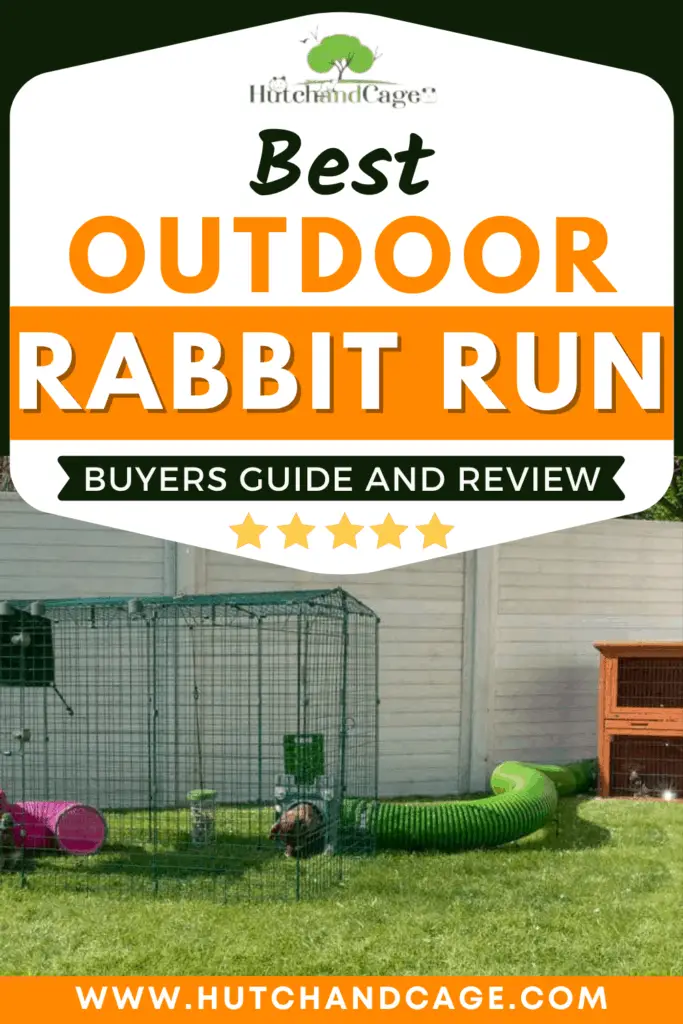 In a hurry? Take a look at our Number 1 Choice of outdoor Rabbit Runs ↗️
Why Do You Need an Outdoor Rabbit Run?
For the vast majority of people, you'll either have an indoor hutch, outdoor hutch or both and these are perfect for giving your rabbits a safe, warm and comfortable living area.
What you also need to take into consideration however is that rabbits need exercise in order to stay fit and healthy, both from a physical and a mental perspective. 
Letting your rabbits run around freely in a yard is often not a great option, gaps in fences, burrowing and predators are all issues that you will face if you just leave your rabbits to roam freely and therefore a dedicated rabbit run is crucial for not only providing a rabbit with exercise but also doing so safely.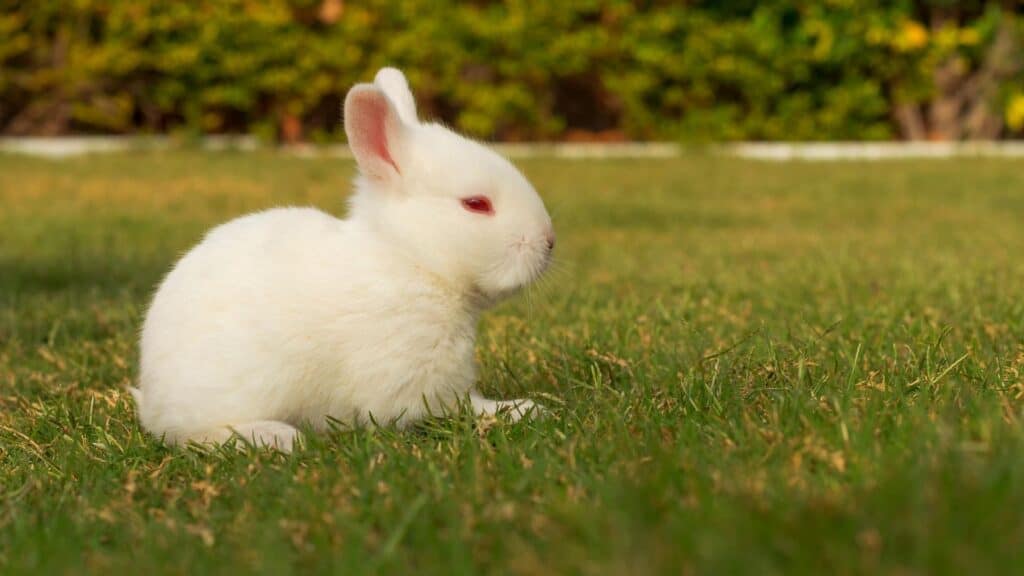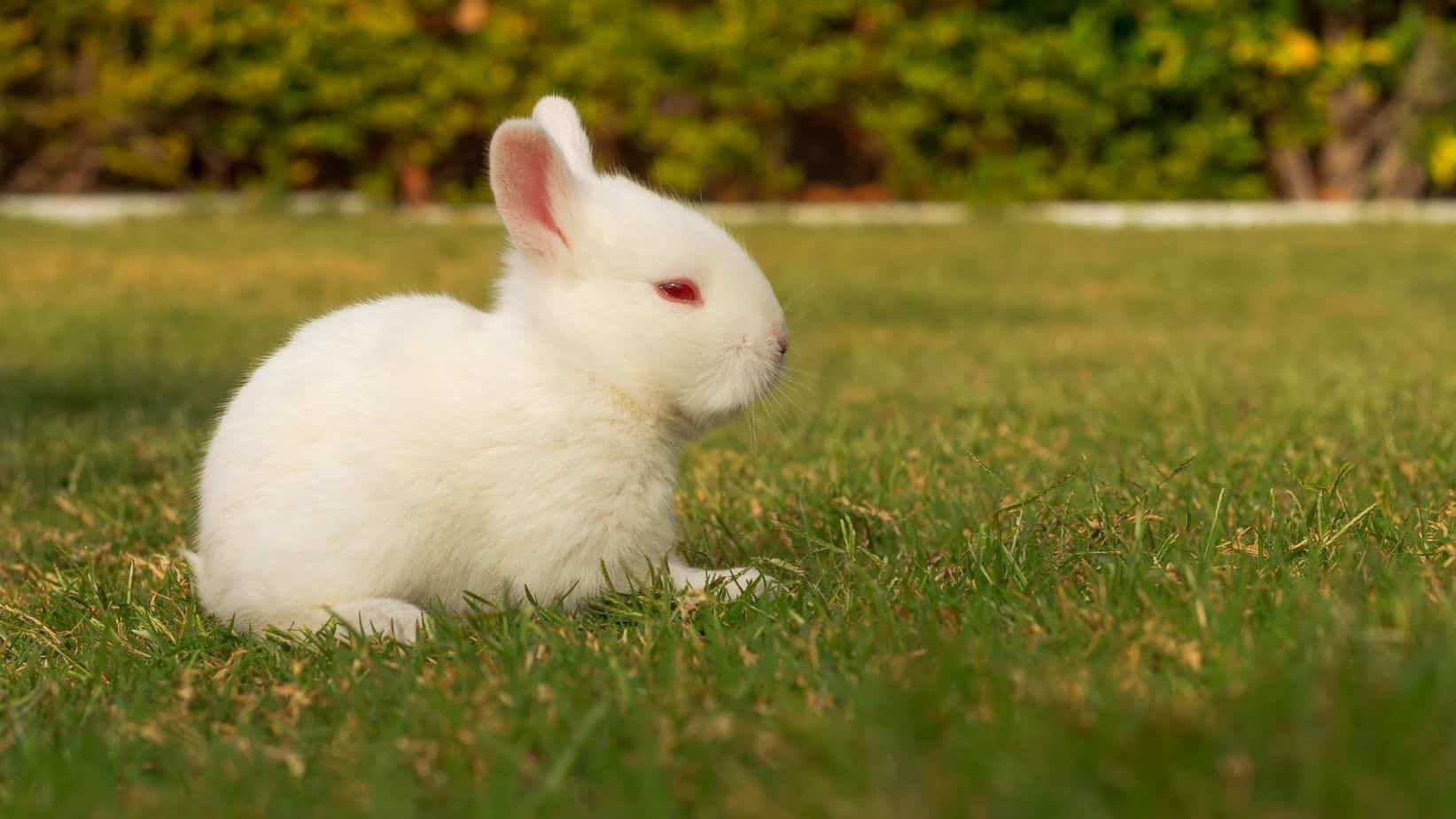 According to a specialist veterinarian Richard Saunders, it's a pet owner's duty to provide suitable living standards for their rabbit as environmental factors can have a large impact on a rabbit's wellbeing. If they are not given enough space then they can suffer from skeletal issues, sores and issues with being overweight. 
Therefore, when considering a rabbit run you will need to take into consideration a few important facts that will influence your rabbit's wellbeing.
Factors to Consider When Buying an Outdoor Rabbit Run
Size – The size of the rabbit run is the single most important factor that you'll need to take into consideration when buying an outdoor rabbit run. The minimum recommended run space for a rabbit is 8ft (L) x 4ft (W) which allows for three comfortable hops in a specific direction. 
Of course, we are stating that this is a minimum requirement, but it will depend on the age or breed of rabbit, though there is no doubt that your rabbit will appreciate a run with as much space as you can give them. 
You'll also want to ensure that the height of the run is tall enough to allow the rabbit to stand on its hind legs and stretch (an important factor that often gets forgotten about).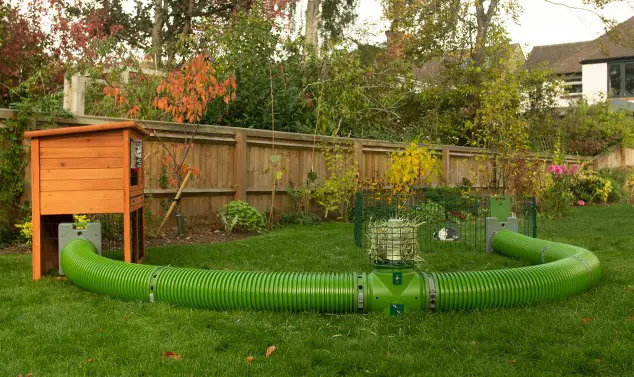 In terms of a footprint, you could keep a hutch inside the run to minimize the footprint it takes up in your yard or you can connect the hutch and run with a rabbit tunnel creating two separate areas for your rabbit to travel between. 
Security – While the size of your rabbit run footprint is important, the safety it provides is equally just as important for two reasons. 
Firstly you want to keep your rabbit safe from predators, in the wild, their survival instincts are excellent however when placed in an enclosed space it's the owner's responsibility to then make sure the run is completely predator-proof. 
Secondly, you always want to make sure your rabbit can't escape from the run. They have an impressive ability to jump and climb so a sealed roof on an outdoor run is essential.
Not only can they escape over a run but also burrow underneath one and therefore you'll either need to place the run on a concrete floor or get a run that's enclosed from the bottom. 
Other Factors – The run needs to be a solid structure which again needs to be predator-proof, It needs adequate shade in order to offer shade from the sun or shelter from the rain and have access to a 'safe' place, this can be a specific enclosed box or the hutch itself which the rabbit will use as a hiding place or daytime bed. 
---
The 3 Best Rabbit Runs (2020)
Now that you know what to look out for in a rabbit run, we are going to look at and review what we think are some of the best rabbit runs on the market. 
We've selected three that we think are ideal due to the variety in shapes and sizes that you can select from and all of them have implemented the important factors that we mentioned above. 
1. Omlet Outdoor Rabbit Run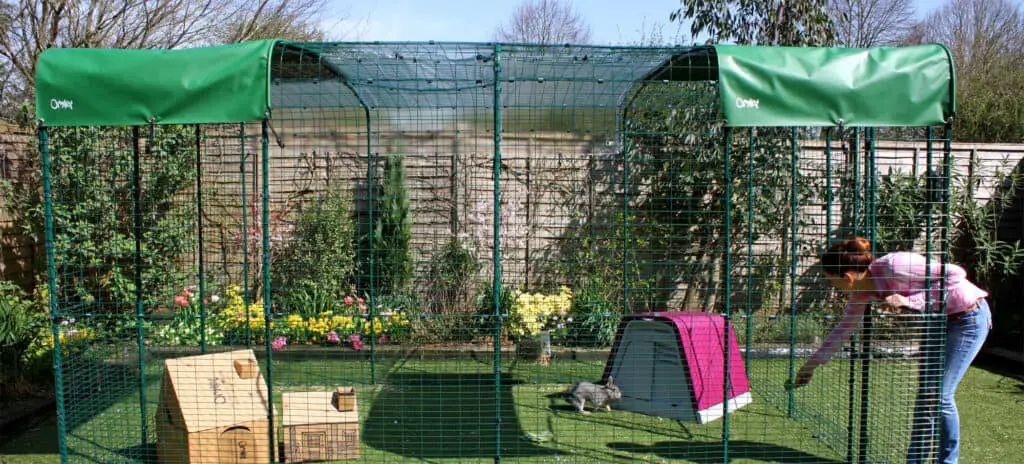 The Omlet Large Outdoor Rabbit Run is a fully customizable, spacious run that is designed to blend into the background of your backyard so that it gives your rabbits plenty of space to exercise, keeps them safe from predators but also looks visually appealing at the same time. 
The customizability with this product is by far the key feature, you can start with a run size of 6ft (L) x 6ft (W) x 3.9ft (H) and they go as large as 12ft (L) x 6ft (W) x 6.8ft (H) with a few options in between. 
That is however the standard structure, this rabbit run actually has an innovative design which means you can continually add to the length and extend it as far as you'd feasibly like (up to a length of 24ft) making it the most customizable rabbit run on the market.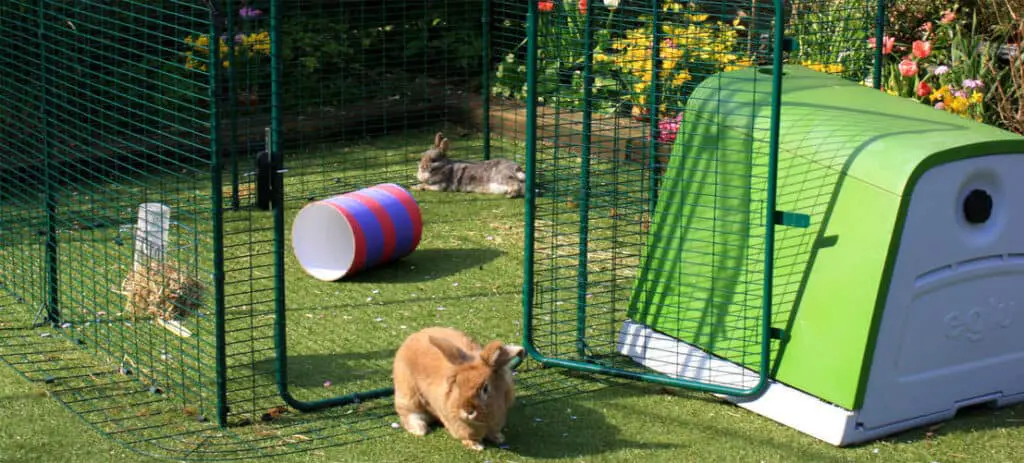 The Omlet outdoor rabbit run comes fully enclosed regardless of which size you require and is made from a solid and sturdy structure that is completely predator-proof. There's a detachable trip to prevent burrowing in and you can purchase an optional underfloor mesh for added security which easily clips on to your run. 
The Lo-rise (3.9ft tall) rabbit run should only take an hour to assemble and like all Omlet products, comes with an incredibly easy to follow assembly guide. The High-rise (6.8ft tall) run should take around an hour and a half to fully assemble. 
Overall, this is a safe, versatile and fully customizable rabbit run that both rabbit and owner will enjoy. 
What We Like
Fully customizable size to suit any backyard space
Designed to blend into your backyard
Both height options are ideal, the smaller one for children to enter and play with the rabbits whilst the taller option has a door that will allow you to easily feed, clean and even play with your rabbits as well
What We Feel Could Be Better
A lot of the additional accessories like underfloor mesh and cage covers are sold separately
---
2. Zippi Rabbit Run with Roof and Underfloor Mesh – Double Height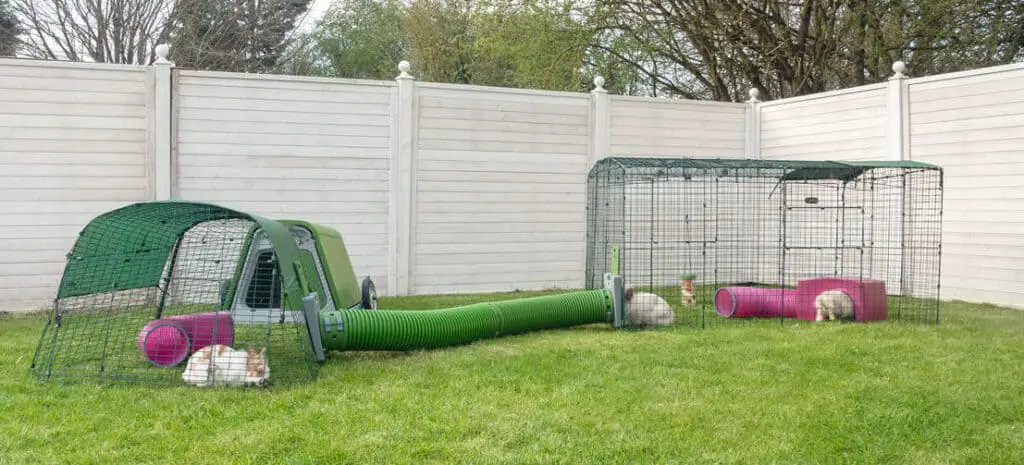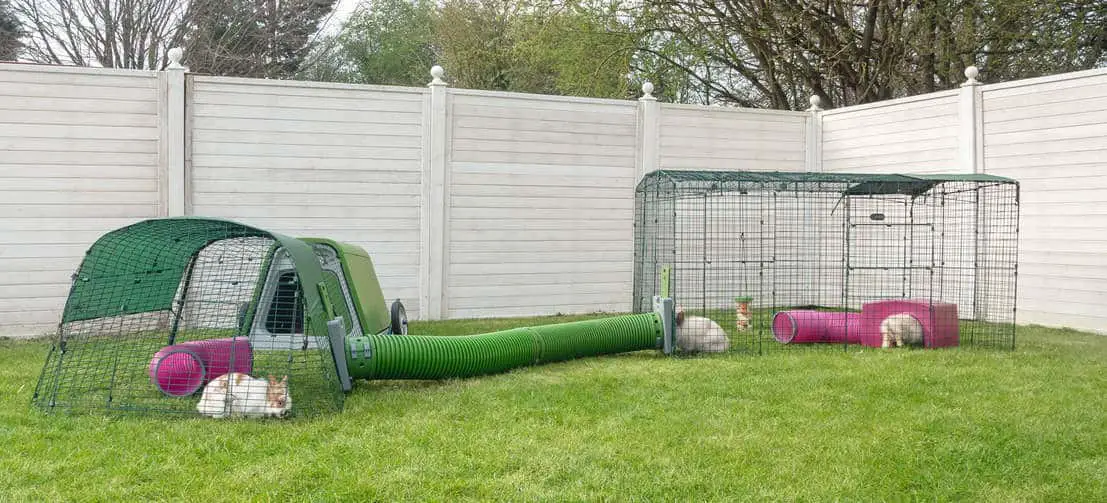 The Zippi rabbit run with roof and skirt (double height) is a spacious and lightweight run that offers plenty of versatility for further expansion and accessories. 
Firstly, this run offers full protection for your rabbit thanks to the sealed roof and underfloor mesh (though if you have a concrete patio the roof and skirting would be a better, more comfortable option instead of the mesh).
The frame is made from heavy-duty steel meaning your rabbit won't escape or be at risk to predators so they can be left to play and exercise unsupervised. 
The versatility of this rabbit run is a key feature, the double height can be combined by turning a section of the run into an easy access door so that children can easily access the run to play with the rabbits.
You can also extend the run with additional fencing and interlink additional runs and hutches using the Zippy burrow tunnels for a limitless play area for your pets. 
Assembly is quick and simple, there's even a useful assembly video that they have provided here for an easy visual walkthrough. 
Dimensions:
Covers an area of 6ft 1in x 4ft 5in (including skirt) with a maximum height of 3ft 5in.
Walls and Roof mesh size: 1.50 x 1.50 inches
Underfloor mesh size: 3.07 x 3.07 inches
Skirt mesh size: 1.50 x 3.07 inches
What We Liked
Expansion options available
Fully enclosed for safety from predators
Fits a wide range of accessories for connection to a hutch or other runs via the Zippy tunnels
Affordable price
What We Feel Could Be Better
Not the most spacious run in terms of length (though the overall footprint is good)
Accessories sold separately
---
3. Zippi Rabbit Run with Roof and Underfloor Mesh – Single Height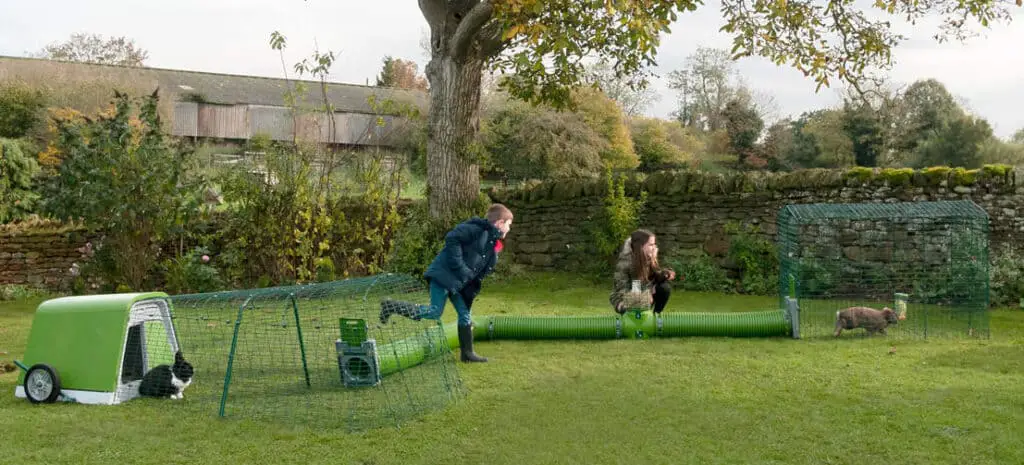 The single height Zippi rabbit run with roof and underfloor mesh is the ideal run for those looking for a more portable and compact run that can be moved around with ease.  
The single height run has many of the same great features as the double height run above and we much prefer this to many of the other shapes/sizes in the Zippy range due to its portability and suitability for those with a smaller backyard.
The main drawback of this run is unfortunately the initial size. It's great as a portable option, however, it does not allow room for children to play in and you're quite limited by the range of accessories that it will hold. Still, it's more than suitable for a smaller rabbit and can be extended over time. 
It offers all-round protection with a sealed roof and underfloor mesh and can be linked to a hutch or further play area with the use of the Zippy burrow tunnels giving more versatility than the initial size may indicate.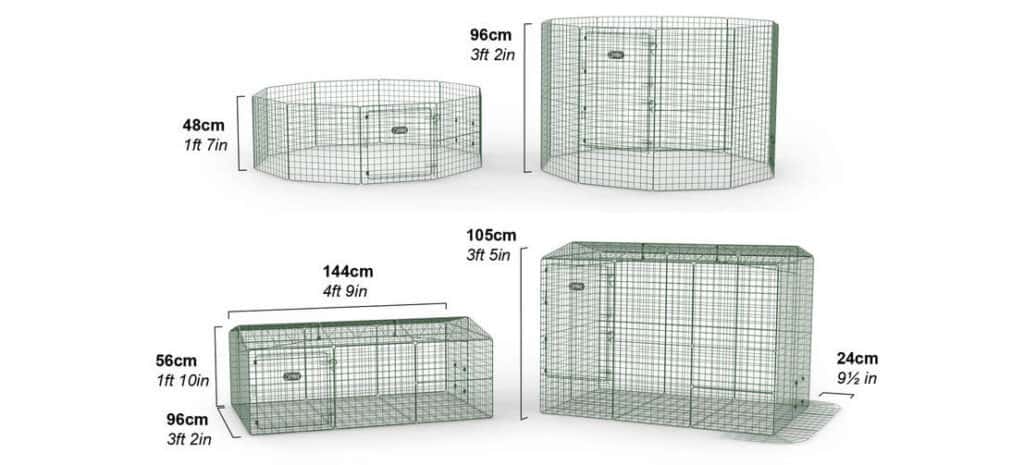 Overall, this is a great portable run that we'd recommend for a small rabbit breed or a young bunny so that you can extend it as it grows. 
Dimensions: (Many sizes & Shapes available)
Covers an area of 4ft 9in x 3ft 2in with a maximum height of 1ft 10in
Walls and Roof mesh size: 1.50 x 1.50 inches
Underfloor mesh size: 3.07 x 3.07 inches
Skirt mesh size: 1.50 x 3.07 inches
What We Liked
Portable and can be moved around easily
Extension options are available 
Easy assembly
Full protection from escape and predators
What We Feel Could Be Better
More limited by the accessories that will fit in this run
---
Summary
Exercise is an essential part of keeping a rabbit happy and healthy as a pet and when looking into an outdoor rabbit run as an exercise solution, always make sure that you are looking into the safety and wellbeing features before anything else. 
Size, shade, hiding place, protection from escape (burrowing or jumping) and protection from predators are all essential factors to keep in mind and the products we've covered above all do a great job of these.