A market-leading parrot cage with superb craftsmanship and performance
Parrot owners who want to invest in a high-quality cage for their Macaw or another large parrot can purchase the Prevue Pet Products Empire Bird Cage, by birdcage manufacturers Prevue Pet Products.
This is one of the largest parrot cages on the market and designed to house  Hyacinth Macaws and other large parrot breeds in comfort and security.
You can purchase this premium parrot cage with the confidence that it will:
Provide your parrot with adequate space
Protect your parrot
Promote healthy living
Prevent your parrot from escaping
In this comprehensive review, we will provide you with all the information you need to evaluate the Empire cage as the birdcage of choice for your beloved pet.
Read on for its key features as well as pointers for selecting the best birdcage for your valuable parrot.
Why you need an extra-large cage for your parrot
A correctly sized cage is critical for the wellbeing of your parrot and the larger, the better for big parrot breeds like Macaws. Even slightly undersizing your parrot's cage risks sustained distress and injury to your parrot.
Small cages are a common problem and if not remedied will stress a bird leading to health problems. For Macaws, the problems encountered with an inadequate cage include:
Aggression towards owners and strangers
Self-mutilation – plucking out deathers
Biting
Incessant squawking
Injuries including beaks being caught in cage bars
These problems are distressing for both parrots and owners and it is always important to address a need for more space when assessing health problems in a pet.
An extra-large cage like the Prevue Pet Products Empire Bird Cage provides much-needed relief and room to exercise climbing and balancing skills. 
Selecting a large cage for your large parrot or Macaws
Proper selection of a cage for bigger parrots is vital and you will need to consider the breed of parrot you want to house and its character traits. 
Macaws' size, strength, and potential for aggression necessitate a cage that can withstand their activities. A cage of a caliber that is suitable for a Macaw needs to be made from metal as these parrots can chew straight through a wooden cage.
Even weak metal can be bent and torn apart by these determined and intelligent birds. 
Here are 6 key points for selecting a large birdcage for a parrot
Cage size
The cage should be large enough for the parrot to stretch and flap its wings so that its muscles do not weaken. At a minimum, a large macaw requires cage dimensions of 36 by 48 by 60  inches in height. Dimensions of 34 by 24 by 36 inches height will suffice for smaller Macaw breeds.
Cage materials
You will need a sturdy cage made of stainless steel or even wrought iron. Pay attention to the welding of the cage, with double welds being stronger and more resilient against force.
Care for toxicity
Avoid toxic materials in both the wire metal of the cage and any coatings used. Zinc is poisonous to macaws so galvanized metal needs to be avoided. 
Bar spacing
Proper bar spacing for a larger bird allows the parrot to spread and move its feathers without them becoming trapped in between narrow cage bars. For a larger parrot, the bars of the cage should be 1 to 1.5 inches apart. 
Robust perch
The quality and robustness of the parrot's perch are almost as important as the cage as it will spend so much time on it. Many owners may have to replace the perch supplied with the cage because it is too narrow to be comfortable for the feet of a large parrot. Perches may be chewed so need to be durable. 
A secure latch
These inquisitive creatures will make short work of a latch that is too easy to open, especially when bored.
A closer look at the Prevue Pet Products Empire Bird Cage.
This self-assembly parrot cage has been designed with the parrot at its center. Animal experts Prevue have designed this cage to provide the maximum space for your parrot to climb, explore, and play. 
The unique and roomy square top of this XL design makes all the difference in comfort to your bird. It is set on castors with a roomy tray meaning you can move it easily in your home without making a mess. 
Not only is the Empire Birdcage by Prevue Pet Products attractively designed in stainless steel with a stylish black Hammertone finish, but it also features easy and secure construction with hex bolts that cannot be loosened by even the most determined resident! 
About Prevue Pet Products
For over 150 years, Chicago-based Prevue has developed and designed pet housing and accessories of outstanding quality and craftsmanship. 
This family-owned business originally called Reliance Pet Products and made its name through its expertise in importing cages for exotic pets straight from the Orient.
Over the years Prevue has become a market leader for high-quality cages, in particular, for larger parrots like Macaws. 
It has been in the hands of the Savitt family for at least three generations and continues to distinguish itself as providers of innovative and trusted pet products. 
Product specification and features
Cage Dimensions: Length: 46 inches (116.84 cm) Width: 36 inches (91.44 cm) Height 78 ¾ inches (198.12 cm).
Wire spacing: 1 ⅜ inch (3.493 cm)
Material: Stainless steel
Finish: Black Hammertone finish 
Items supplied:

Cage mesh panels
Flathead hex bolts
3 stainless steel non-tip bowls
A 1 ⅛ inch diameter hardwood (eucalyptus) perch
Pull out bottom grille 
Tray
Cage stand base with easy-rolling casters

Assembly: self-assembly
Package Weight: 140 pounds
Warranty: honored by the manufacturer within 90 days of purchase upon supply of a valid sales receipt. Replacement parts and servicing are available. 
Description of the Prevue Pet Products Empire Large Birdcage
Standing tall!
At over 6 ½ foot tall this giant of a parrot cage is literally head and shoulders above the rest. Unlike its competitors, the generous height goes all the way up to its square top design.
Removing the bottom grille adds a further 10 inches of height to this unique design.
Strong and stable
Designed for Macaws and other large parrot breeds, the Prevue Empire cage is built to last with robust mesh panel construction that quickly and securely self assembles with bolts that cannot be unscrewed by your bird.
The stainless steel fabrication and dark power coating are non-toxic and designed to withstand the battering that a birdcage can take. 
Keep your parrot on the move!
This epic Macaw cage is set on a robust base with casters, meaning you can move it with ease. The rounded corner seed guard is designed to keep seed husks, dust, and waste inside the cage.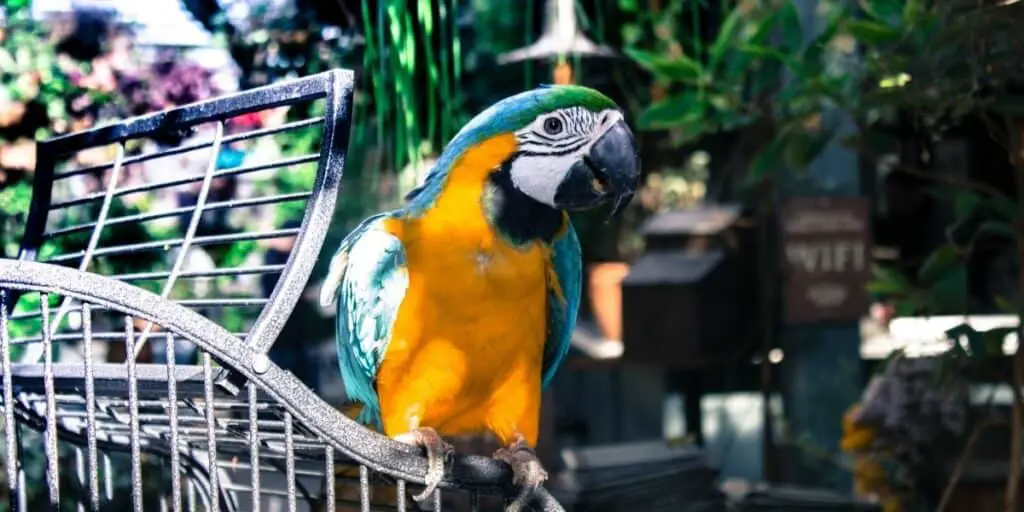 Maintenance is simple
The Empire Large cage has a pull-out bottom grille and tray which makes cleaning the cage easy and convenient. The cage can be cleaned with mild soap and water.
Prevue also provides a non-abrasive cage scrubber to get the job done efficiently. Air-dry the tray out of direct sunlight or heat to prevent warping. 
All the essentials are included
Though not quite plug and play, the Empire cage has everything you need for its occupant included. The three non-tip bowls in stainless steel and wooden perch are hardwearing and durable. Everything locks into place. 
Escapologists need not apply!
If your Macaw is adept at letting himself out for a wander from time to time, those days are gone. The double-locking high front door will take a long time to work out!
Pros of the Prevue Bird Cage
This Macaw cage is understandably garnering rave reviews. Prevue has poured their experience and expertise into designing a product that will be ideal for contemporary parrot owners. Stand-out pros include:
The height – one of the tallest parrot cages you can buy outside of a custom build.
Square top – provides room at height for your parrot to climb the cage walls.
The robustness – secure assembly makes the cage durable.
Secure door and fittings – all cage components are designed to keep your parrot safe and withstand chewing or prying with their beaks. 
Movable – with a cage this large, the integrated casters make all the difference in moving it smoothly.
Smart design  – the clean lines and minimalist appearance is unobtrusive and will not look out of place in any home. 
Cons of the Prevue Bird Cage
The thickness of the bars – Some Macaw owners would like the cage bars to be thicker, to prevent prying. 
Difficulty forcing on the castors – purchasers have reported difficulty attaching the casters, though once assembled they function properly. 
Reports of damage to the flatpack panels – though this is a shipping problem, it is disappointing if the panels are affected by transit. 
F.A.Q
Can two Macaws be housed comfortably in this cage?
Though this cage is roomy, it is designed to house one parrot comfortably. 
Can the cage bars hold up against the bite pressure of a Hyacinth Blue? 
Hyacinth Blue Macaws have a bite pressure of around 400 pounds per square inch and can break a broom handle in two. However, most have a peaceable temperament and the Empire cage is designed to withstand the force of a large parrot. 
What accessories would be suitable for this cage?
With Macaws having a cerebrum that is larger than most other birds, you need to occupy them constructively. A variety of toys including chew toys, wheels, puzzle toys, and additional perches can be firmly attached to the cage bars. 
Do Macaws Need a cage at all?
Like all birds and pets they need a place to feel safe. Free flying birds around your home is lovely but even they will need a place to rest and relax.
Rounding up
Parrot owners who are looking for a generously designed and robustly built cage can purchase the Empire birdcage from Prevue with confidence.
It meets all the requirements for meeting the welfare needs of a large parrot and will house them elegantly. 
Other alternative cages