Keep your chickens moving with a fantastic chicken run!
If you are new to keeping chickens or setting up new accommodations for your hens, it's vital to ensure that your housing or coop offers adequate room to meet their care needs.
Your chickens need space to roam, forage, and exercise innate behaviors like scratching and dust bathing, that help keep stress and disease at bay.
Healthy and happy hens lay delicious eggs, so it is well worth putting in the effort to ensure your feathered friends enjoy a great quality of life with lots of stimulation and movement.
One of the easiest and safest ways to meet their need for fresh air and exercise is to install a decent chicken run as part of your chicken coop.
In a hurry? Skip this article and see three great chicken runs below
What is a chicken run?
A chicken run is an enclosed outdoor space you can provide for your chickens that allows them to move freely within its boundaries. Chicken runs are fenced with gated access and provide security from predators and wandering.
Your run may be attached to your chicken housing or in a separate area depending on how you use your space. Some are 100% confined areas with a roof and some are a simple fenced of area.
There is an extensive range of traditional and modern designs available meaning a solution can be found for even the most awkward spaces.
Read on to learn more about chicken runs and see our selection of the 3 best wire chicken runs, pens, and yards on the market.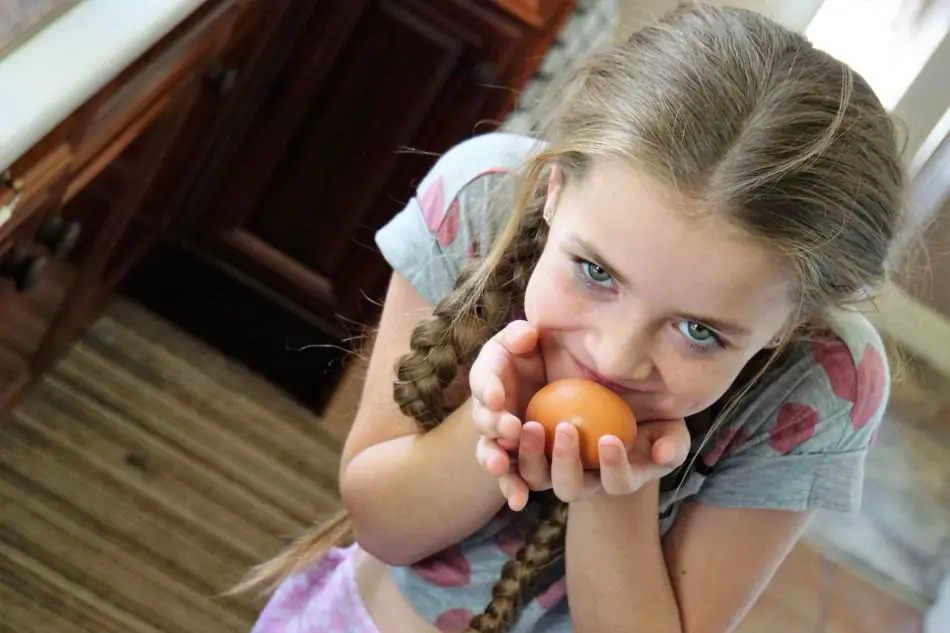 Why your chickens need a good run
There are many great benefits to setting up a chicken run for your hens and though it is a simple addition, it has a massive impact on the quality and level of care you can provide your hens.
Here are some great reasons for getting a chicken run set up and put to good use:
Keep your chooks safe and secure. Losing your hens to ground or airborne predation is always a risk when you let them roam free. One of the most important benefits of a chicken run is the secure enclosure it provides while allowing the chickens to get space, fresh air, and enjoy a natural environment. As we will explore further on, predators are wily and will try to get at your prized hens in any way they can. Robust construction from the correct materials and proper erection goes a long way to keeping a  ravenous predator at bay.
No need to worry about disease. Space and sunlight with plenty of fresh air are a great health boost for your hen. Runs also prevent contact with wild birds that might transmit diseases such as bird flu.
Endure far less wear and tear on your garden or grounds. You definitely know when chickens are around, due to the dusty, 'scorched earth' appearance of their environment. If prized perennials and neatly manicured lawn borders mean a lot to you, it is probably best to confine the industry of your pet hens to a chicken run, rather ran let them free range.
Upgrade their diet. A chicken run means that your hens enjoy an authentic diet augmented with shoots and grubs they can scratch up in their run. A great variety in nutrition will show up in the quality of your eggs.
No hunting for your haul of fresh eggs. With a broody hen, your eggs could end up stashed in a hidden nest. Keeping your layers in a run saves you the hide and seek at egg collection time.
Take advantage of easy cleaning and maintenance. Keeping everything that pertains to your birds in one place makes keeping your cool pristine straightforward. Walk-in chicken runs are ideal for this as you do not have any stooping to access the run.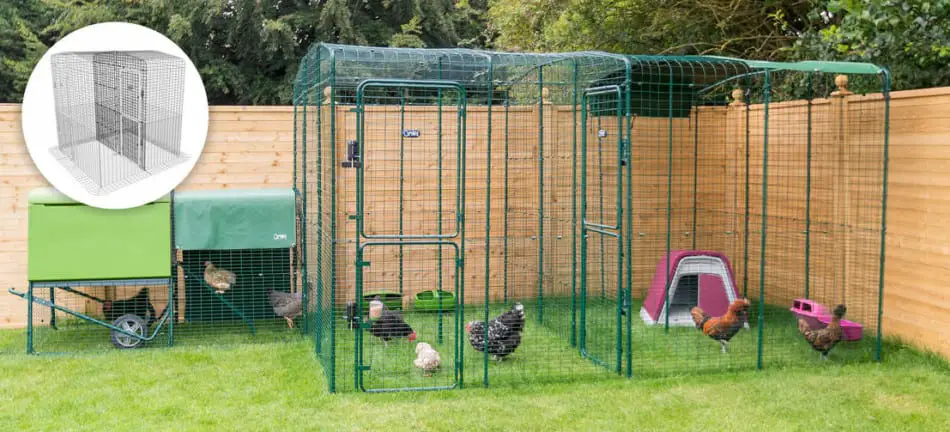 Wire chicken runs are a good value durable chicken run
They're a classic choice that is hard to better if you are keeping a small number of hens. Wire chicken runs are simple, low maintenance and come in a range of shapes and sizes and once erected, they will provide years of robust service.
What to look for in a wire chicken run
We've all heard of chicken wire, but did you know that it is only strong enough to keep your chicken inside the run? Not all wire used to build chicken runs is the same, and weaker wire gauges can be broken or even chewed through by foxes or badgers.
Wire mesh for the walls and roof chicken run should be of an adequate thickness and resilience to withstand predators, weathering, and provide structural support.
The run should not have gaps in the wire of sufficient size for your fluffy friends to trap or injure themselves or predators like weasels and stoats to squeeze in. ½ to 1-inch wire is usually sufficient.
The metal and coatings on the wire should be non-toxic and rust-resistant.
Openings to your run should be able to be securely latched. A spring-loaded door is beneficial, as it will automatically close as you leave the run.
Your run should provide adequate space for the number of hens you keep. Overcrowding is a recipe for stress, fighting, and disease. Your chicken run should provide 8-10 square feet (roughly 1 square meter) per hen at a minimum. More room is always better.
Let's take a look at some of the best versions of these wire chicken runs. We have looked at their design features, materials, and fabrication to share the top picks that provide all-round value for money.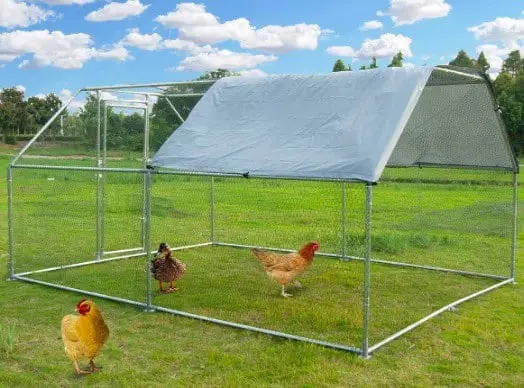 KEY FEATURES
Chicken run dimensions 9.2 x 12.5 x 6.4 feet
Walk-in hen run
Galvanized steel frame
PVC coated wire mesh
Waterproof and UV resistant cloth cover for roof
This is a simple chicken run that provides over 100 square feet of space for your hens, meaning you can accommodate a flock of 10 to 12 hens comfortably.
The structure is basic and relies on wrapping the supplied PVC coated hexagonal wire around the interlocking tubular steel frame. The run includes a walk-in door with latch, making feeding and cleaning a cinch.
Hot or rainy days are tacked by attaching the waterproof canvas cover to the top of the coop like a tarp with toggles.
Plus points
The basic design is cost-effective for keeping a fairly large flock of chickens at home.
It is scalable too and comes in a variety of configurations.
Stand up access means care of your hens is easy.
Could be better
No means of securing the chicken run to the ground is supplied. We suggest using tent hooks to secure to the grass
There is also no means provided to prevent a predator from digging underneath the run like foxes.
The wire supplied is chicken wire and may not be of an adequate gauge to resist predators.
---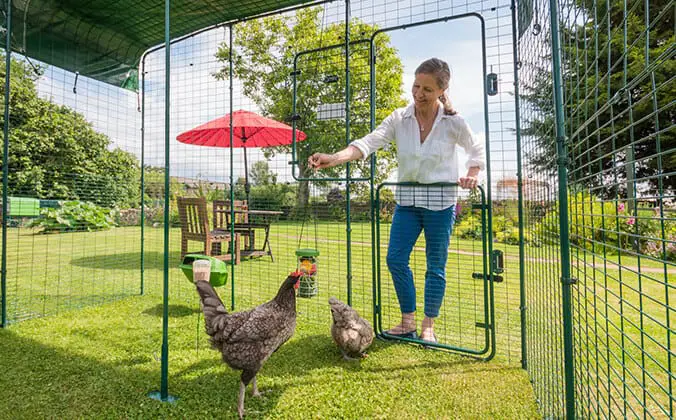 KEY FEATURES
Chicken run dimensions 6 x 9 x 6 feet
Walk-in chicken run
Strong steel weld mesh
Wire skirting to prevent predation
This is an attractive chicken run that looks great in your backyard while providing spacious but contained outdoor space for around 5 of your pet hens.
It is made from strong steel weld mesh with a garden-friendly deep-green coating.
Predators prevention is a priority with this design and Omlet have included a number of smart features that take on all potential points of attack:
Screw pegs secure the coop firmly to the ground.
This hen run is built with a strong wire mesh skirting that prevents foxes from digging through to your birds.
A gravity controlled automatic latch means the door to your run always closes securely.
These units are incredibly modular and can be sized up or down and connected to a variety of chicken housing including  Omlet's own ingenious range. Shelter from rain and sunlight is simple with the weather and UV resistant coverings that can be bought for the roof.
Plus points
The handy stable door makes feeding and checking in on your hens very easy.
The bright and airy design will fit in with most gardens.
This design pays real attention to protecting your birds from predators such as foxes.
Could be better
The basic chicken run is supplied alone. Essential accessories like screw pegs and the weather-proof covering are sold separately.
---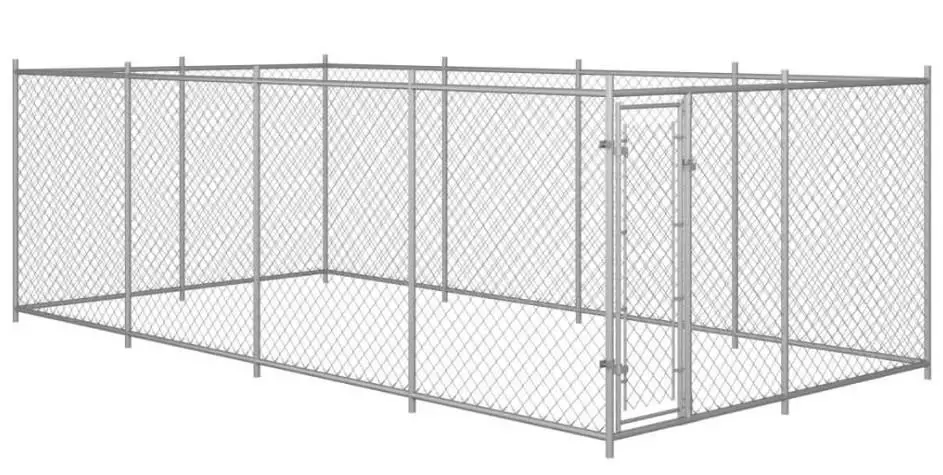 KEY FEATURES
Pet pen dimensions 26 x 13 x 6.5 feet
Walk-in pet pen
Galvanized steel frame
Chain linked mesh walls
100% PE roof
This pet pen has primarily been designed for dogs, but can be used as an adaptable and cost-effective option for experienced poultry keepers looking to keep their hens comfortably in one place.
With up to 344 square feet to play with you will be able to also keep your chicken housing within the enclosure for added convenience.
The steel pen is robust, but it is important to remember that it has not been designed with poultry in mind. It has the potential for gaps and weaknesses that can be exploited by predators that may dig or squeeze through gaps between the chain-link wall and tarp roof.
Plus points
This pen provides a very large space for your chickens to roam.
It includes weather-resistant roofing
The design is structurally sturdy and made from strong materials
Could be better
This pen has not been built specifically for poultry.
The pen could potentially be dug into or squeezed through without reinforcement.
No cover
---
Chicken Run F.A.Q
Q. If I keep my chickens in a run are they free-range?
A. Birds contained by a chicken run are not truly free-range, though if given an expansive environment you will all enjoy many of the benefits of free-range living without the increased risk of predation, lost hens, and missing eggs.
Q. Can predators dig underneath my chicken run?
A. Yes. Foxes and other wild animals are adept at burrowing into a chicken run to ravage your birds. A mesh skirt that is buried in the boundary of your run is a good method of prevention. You may also choose a design with a mesh bottom. Alternatively, you can raise the run and build it on bricks.
Q. Does my chicken run need overhead cover?
A. Of course! The top of your chicken run should be routinely covered for a number of reasons:
Your chickens can fly out. They may not be the most elegant aviators, but chickens do fly and unless their wings are clipped, a few flaps can lift them clear of your run.
Aerial predators like hawks can take your birds.
Animals like foxes will simply climb in and help themselves.
Q. Can I build a chicken run myself?
A. A DIY chicken run is s great project and means that you can create a run to the exact dimensions you need. Basic carpentry skills are all that is needed, but you will need to ensure that your structure and materials are properly assembled and truly predator-proof.
Buying a ready-made chicken run provides the reassurance that the build quality and durability are of an adequate standard. 
Q. Do I have to keep my hens in one place?
A. If you want to add a bit of variety to your hens day to day routine, you can buy a mobile chicken run or 'chicken tractor' that can be lifted or wheeled into different positions.
With a portable chicken run, you can move your hens to shady areas on sunny days or in sun-exposed areas in cooler months. Cleaning may also be easier too.
Editors Choice
Our pick would be the Eglu Chicken Run thanks to its ability to grow and your flock size increases.
this range of fox-resistant chicken pens looks great whilst blending into the garden. These large chicken enclosures are spacious, extendable, and designed to work with any kind of chicken house or chicken coop.
The one below is a wire coop from Omlet. It's one of their smaller wire coops which is part of a much larger range.
Click here to see the complete range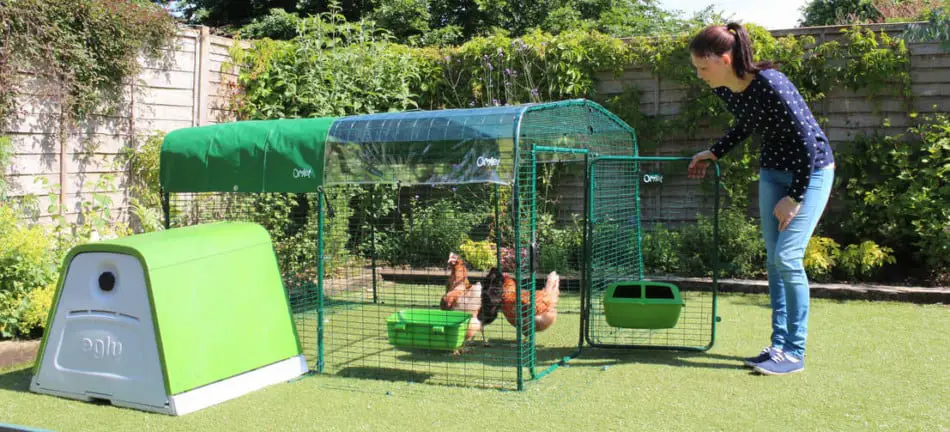 Rounding up: Best Wire Chicken Runs
Having a chicken run alongside your housing ticks the box for providing the fresh air and space your hens need. Great ready-made runs like the ones we've shared here are a good investment and provide the peace of mind that your chickens cannot be predated.
Happy Hen-keeping!