Keepers of backyard hens are very familiar with the well-worn routine of rising early to open the coop and hitting the backyard at twilight to ensure everybody's in and the roost is properly secured.
For the humble backyard chicken, predators abound so you must be confident that your roost security is up to the task of protecting your fluffy friends all night long. 
British poultry experts Omlet, have risen to the challenge of creating an automatic coop entrance that does all the hard work of ensuring your chickens are properly secured at night.
Better still, you can have a lie-in while the door lets your hens out in the morning!
In this review, we will take a look at the features of this clever chicken coop accessory that should take the strain off your daily routine with your hens.
Give your chicken coop a smart home upgrade with The Universal Automatic Chicken Coop Door by Omlet. RRP £159.99 / $189.99.
What is the Universal Automatic Chicken Coop Door?
The Omlet Universal Automatic coop door provides an entirely hands-free means of securing coops of any design, including seamless attachment to Omlet's own range of Eglu chicken coops. 
It is perfectly sized for chickens who can enter and leave the coop at will when it is open and are safely inside when it is closed.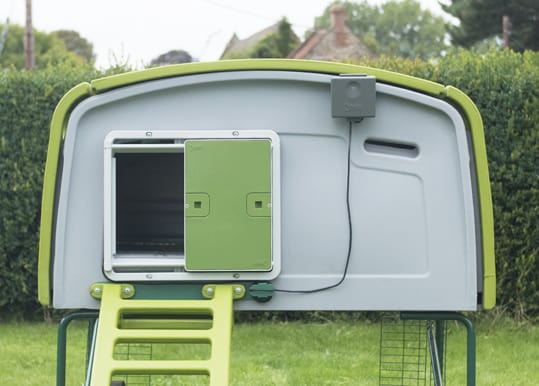 Read the full review of the Eglu Chicken coop here!
This automated coop door can open and close itself automatically and possesses the gears, motorization, and electronics to achieve this. 
The door can be powered by a battery or mains electricity and is controlled by an integrated timer or light sensor, as required. 
The integrated frame and door closure are strong and secure and unlike traditional coop door designs cannot be worked or shifted by a cunning predator. 
Keep reading for key physical and electrical specifications of this automatic hen house door. 
About Omlet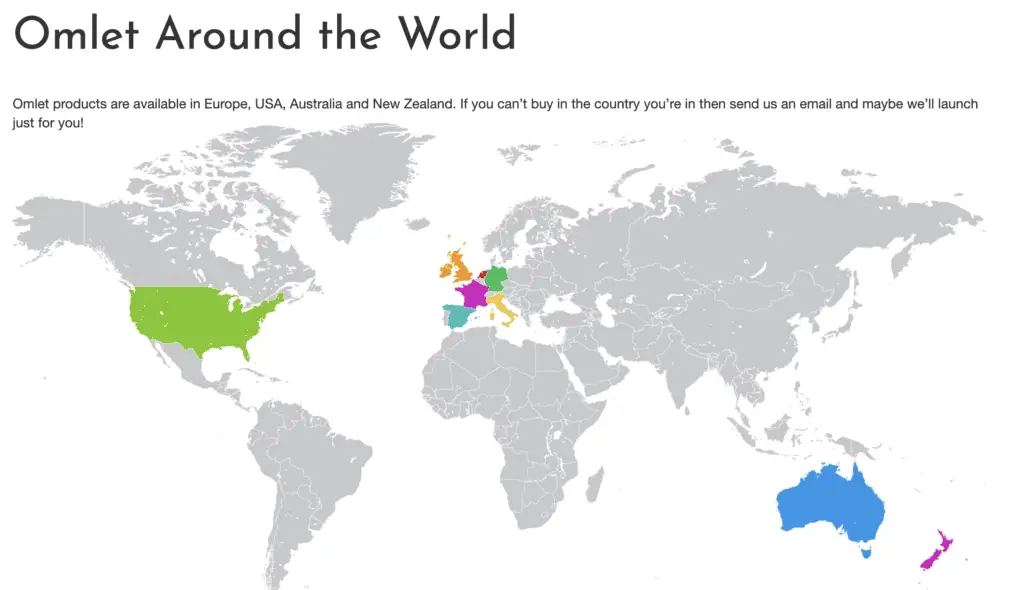 The story of pet housing company Omlet is an exciting one and begins on the college campus with an enduring friendship between four classmates with a love of design and poultry. 
The founders of Omlet, James Tuthill, Johannes Paul, Simon Nicholls, and William Windham were the designers of the multi-award-winning Eglu chicken coop which entered commercial production in 2004. 
Since then, their fledgling company has grown and established itself as a market leader for high-quality pet housing and inventive accessories. 
Omlet products can be purchased for your hens and coop with the confidence that you are buying from an innovative and ethical company with a commitment to animal welfare.
Why upgrade your chicken coop door to an automatic one? 
If you are perched on the fence about buying an automatic coop door, these stand-out benefits of an automatic door demonstrate the convenience and utility of what is now an essential accessory for backyard hens:
Reclaim your evening and perhaps part of your mornings too! You no longer need to rise early or stay home in the evenings to deal with the coop door. 
The opening and closing of the door can be synced up with your hens' routine.  Chickens love routine so they will be let out in the morning and tucked in at night at the same time every day, no matter what your schedule. 
You may even be able to have an overnight break from your hens. Automation and smart solutions like this coop door mean you can probably have your first vacation in ages!
Automatic doors keep predators out. Coop doors come in all sorts of shapes and sizes, but automatic doors like Omlet's are strictly chicken sized.  
Manual vs Automatic coop doors?
The Universal Automatic Chicken Coop Door is a clear winner!
This motorized hen house entrance will work on just about any wooden coop meaning that you don't have to fiddle around with latches or sliding panels. 
Omlet's low-maintenance door is easy to install and performs consistently in all seasons.
It functions robustly when installed in wood, wire, or mesh. 
In case you are wondering what happens if a hen is in the doorway when the door starts to close, the Universal Automatic Chicken Coop Door has in-built safety sensors that stop the door from crushing a hen or chick. 
It's the perfect accessory to the Omlet Eglu Cube!
If you are already an Omlet fan, you should consider upgrading your coop to include the Universal Automatic Chicken Coop Door.
It has compatibility with both the Mk1 and Mk2 versions of this iconic coop.
The Mk2 coop is as close to plug and play as you can get with pre-prepared fixing points that are ready to receive this automatic door. 
The Mk1 Eglu Cube can be adapted with a fixings pack that that is included with the door.
This short video should give you an idea of how it will all work:
What happens to my existing Eglu Cube door?  
The existing door can continue to remain in place in the open while the Automatic Door does the hard work!
Only just hearing about the Eglu cube? Take a look at our review of the Eglu Cube, we think it is one of the best chicken coops of 2023!
Now for the technical part…
Product specification for the Universal Automatic Chicken Coop Door: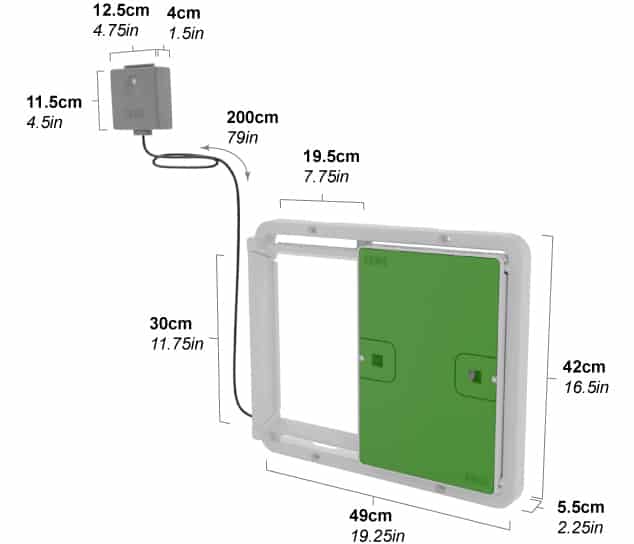 This hardwearing automatic door is made from ABS plastic which has high rigidity and impact and abrasion resistance. It has zinc gearing and steel fixings that will not corrode in wet weather. 
The power supply is either via 4 AA batteries or using the 12V / 500mA power adapter. The plug for mains power (P1J) is not supplied and must be purchased separately.
The door has a 2-meter power cable included.
Door frame dimensions: 49cm x 42cm x 5.5cm
Control panel dimensions: 13cm x 12cm x 4.5cm
Three key programming modes for the Universal Automatic Chicken Coop Door
Light Setting
The Automatic Chicken Coop comes with a powerful light sensor that can be used to trigger door opening and closing at a light level set by you.
The sensor can discriminate between sudden intense light, such as from a torch, and the gradual light increases or decreases from the sun.
As a poultry owner, you will appreciate the benefit of this function, which allows the opening and closing of the door to take place in step with the seasonal changes in day length that affect your chickens.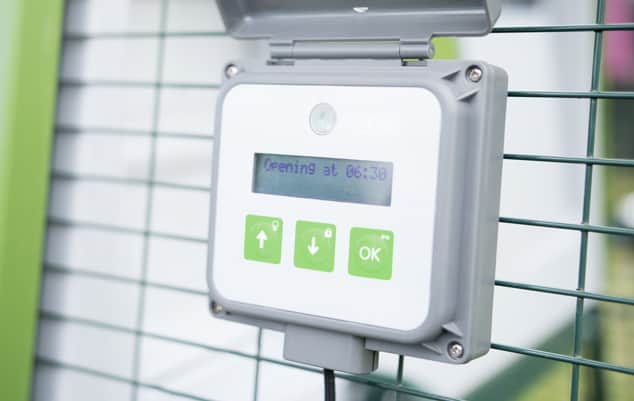 Time setting
The precise timer function means you can set an exact time for opening and closing the door. This provides you unrivaled control and means that the opening and closing works to your schedule.
Manual control
A third manual setting is great for those times where you need to open or shut the door outside of the programming. This one-touch control also includes a fail-safe hand-opening if needed in emergencies.
Take a look at how easy it is to program your auto door:
Pros-Universal Automatic Chicken Coop Door
Easy to program with light sensor, time, or manual setting. You can readily override the automatic function and open or close the door with the press of a button.
The all-weather design means that you can be confident that the door will operate properly in all seasons including sub-zero temperatures.
Like the rest of the Inlet product range this door's smart, modular design makes it a tidy addition to any coop. The timers and controls can be smartly mounted.
A horizontal sliding door mechanism means that the door cannot be lifted. Predators can try to lift and get under pulley automatic coop doors, but this robust design is predator-proof.
The door can also be used to power an optional coop light, that your hens may appreciate.
Easy to clean: The door can be quickly and thoroughly cleaned down with warm soapy water like the rest of the coop. 
Cons-Universal Automatic Chicken Coop Door
You cannot rely on this door for all aspects of your hens' security. While it is in the open position snakes and other predators can sneak in. It is no substitute for the care and vigilance you already have for your flock. 
Some owners would appreciate the light and time programming being able to be combined.
A solar power option would be a great option for powering this door, especially if it is difficult to run mains power over to the coop.
The mains plug not being supplied is a bit of a hassle, but you can purchase it separately here.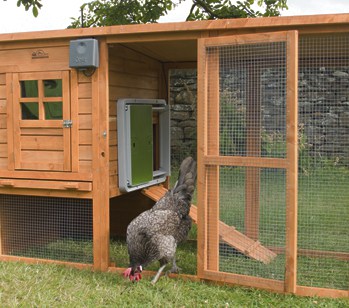 What backyard chicken keepers think of the Universal Automatic Chicken Coop Door. 
A poultry housing product rarely gets such consistent rave reviews, but the feedback from hen keepers is positive and enthusiastic. In particular, owners appreciate the time they gain and the peace of mind from using an effective and secure automated door system. 
"It saved my marriage!"
"Works really well and no getting up at the crack of dawn to let them out"
"…certainly life-enhancing. It's just great."
Where to buy the Universal Automatic Chicken Coop Door
Omlet ships this outstanding door internationally. The Universal Automatic Chicken Coop Door can be purchased via Omlet UK Outlets or Omlet Outlets USA
Rounding up
We hope you are as impressed as we are with Omlet's clever Automatic Chicken Coop Door. It is a product that inspires confidence, especially if you are new to purchasing an automatic product for your hens.
We are sure that you will find it a straightforward to use and durable addition to your coop!