Share festive cheer with owners of backyard hens with this selection of cheerful, charming, and totally chicken-related gifts!
Owners of backyard hens are all about the flock they lovingly care for, so they will be excited and appreciative of gifts that show you understand their passion!
What better way to thank them for all those tasty eggs than with gifts that will delight both them and their feathered friends? 
The chicken keepers in your life as well as their hardworking flock deserve a treat or two especially if they have been keeping you supplied in rich golden yolk eggs!
Our list of 11 of the best Christmas gifts for backyard hens is fun, practical, and completely chicken-oriented. We hope you will spot the perfect Christmas present for the poultry keeper in your life. 
Enjoy! 
1. Muck boots!
If you spend time with backyard hens you will know that this pastime can get really mucky. With a new pair of muck boots, your loved one won't need to tiptoe around the yard in Crocs anymore (gross!). 
These all-weather heavy-duty boots by The Original Muck Boot Company mean business. Inside their feet will be warm and dry while the tough exterior and slip-resistant soles take on the filth of even the messiest coop!
---
2. Delight hens with a swing!
What better way to drive away boredom in the coop than to teach your chickens to use this bright and funky swing:
The Chicken Swing by Fowl Play will liven up any coop with its bright corncob perch instantly arousing the curiosity of your hens. Balancing on a swing is a fun challenge for intelligent hens and their owner will have hours of fun encouraging them to exercise their natural behaviors.  
---
3. Your friend or relative will love this zany egg skelter!
An egg skelter provides an ingenious method for storing fresh eggs from the coop in a practical and attractive way. Its distinctive helter-skelter design consists of a robust wire spiral frame that can hold and dispense the eggs in order of freshness.
If the gift recipient has productive hens they probably have a pile of eggs and have to work out which ones are freshest. With the egg skelter you load the spiral egg holder in order of freshness so the oldest eggs are always at the bottom ready to be used. 
This beautiful egg skelter by Toplife holds up to 36 eggs!
---
4. Start breeding Chickens
Hen keepers often relish having a reliable incubator on hand to hatch and raise chicks from eggs they are gifted or niche breeds. This smart 12 egg incubator by KEBONNIXS is a compact and portable incubator with excellent egg turning and thermostatic control.
---
5. A henhouse radiator is a great Christmas gift
While you and your friends and family are toasty and warm eating Christmas dinner, the chickens are most likely hunkering down in sub-zero temperatures. Show that you care with this thoughtful panel heater that provides safe heating for a brooder or coop.
Cozy Products 200 Watt heater is an effective alternative to a brooder lamp and is peck proof meaning it can be left in the roost with confidence.
---
6. A reusable egg tray is another great storage gift
A resizable version of the basic cardboard egg box is a fantastic idea. Gifting these plastic-covered, 18 egg, egg boxes by XBY-US will mean that your relative won't need to hunt high and low for old egg boxes to store eggs. 
---
7. An ingenious egg apron
Collecting fresh eggs from the nesting box will suddenly become the most popular job in the house when you gift one of these clever chicken egg collecting aprons
You can shuffle along safe in the knowledge that each one of those delicious eggs is nestling in its very own pocket, leaving both hands free. Egg aprons come in a variety of fun designs and usually hold up to a couple of dozen eggs at a time.
---
8. A water warmer will save your chicken keeper that early morning ice breaker chore!
In deep winter no one wants the hassle of fiddling with frozen poultry drinkers. We are very sure that any owners of backyard chickens will be very grateful for this high-quality, high-capacity heated poultry fountain by Farm Innovators
This is a clever poultry drinker that can be filled with 3 gallons of water and heated to prevent freezing by a carefully integrated 100 Watt heater. It can be safely filled from its base, plugged in, and left in the coop.
---
9. Hens at work!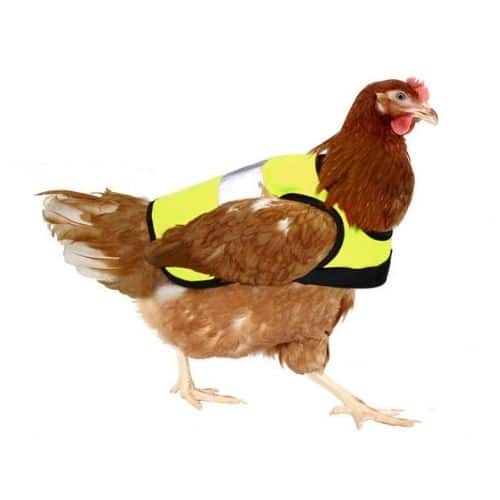 Though it is unlikely that free-range hens will be on the building site or directing traffic, these incredibly cute High viz chicken jackets by Omlet provide a welcome extra layer for your hens on a cold day and help you spot them in the evening time. 
---
10. Put the poop to good use by gifting a handy composter!
People who keep backyard hens are often keen gardeners and poultry manure is one of the best organic fertilizers you can get. With a smart composter like this neat tumbling composter from garden experts Miracle-Gro the used bedding and poultry waste can be tidied up and composted down with the minimum of fuss. 
---
11. Upgrade them to a fabulous Eglu
The Eglu by British pet housing company Omlet is a contemporary modular chicken house and coop system that has been designed with the future forward hen keeper in mind. 
The hen house is made from molded antimicrobial plastic meaning no red mite worries and cleaning is as easy as hosing the whole thing down. 
The coop is one of the most predator-proof around and even has a protective skirt that prevents animals from digging through to the hens. 
A large Eglu Cube Chicken Coop can house 6 large hens in style and up to 10 bantams, saving space and looking great in any front yard. We're sure that this present would be at the top of any savvy hen keepers Christmas wish list!
---
So that's our take on chicken-keeping Christmas gifts with swagger!
We hope this list of fun and useful gifts for backyard chicken keepers will bring some seasonal cheer for a chicken owner and their feathered friends. These great Christmas gifts could also be an encouragement to a loved one who is new to keeping chickens as well as the old hands.
Seasons greetings!