This large chicken coop from Omlet, is easy to assemble, easy to clean, and hands-down the best pre-made chicken coop we've encountered. In this article we'll cover each of the Lenham Chicken Coop's features so you can decide whether or not it's a good fit for your backyard flock. 
🇬🇧 Availability is from Omlet's Warehouse with Fast Delivery and money back guarantee.
🇺🇸 Best Chicken coop for US customers click here.
What to Look for When Choosing a Chicken Coop
Before we go into detail on this hen house from Omlet, we'll cover a few of the basic things that you want to consider when purchasing a chicken coop. 
Adequate Size
Make sure your coop is big enough for your flock! How many chickens do you want to keep? There needs to be enough room for all of them to roost at once, and at least two nesting boxes to prevent them from laying their eggs on the ground where they'll get dirty.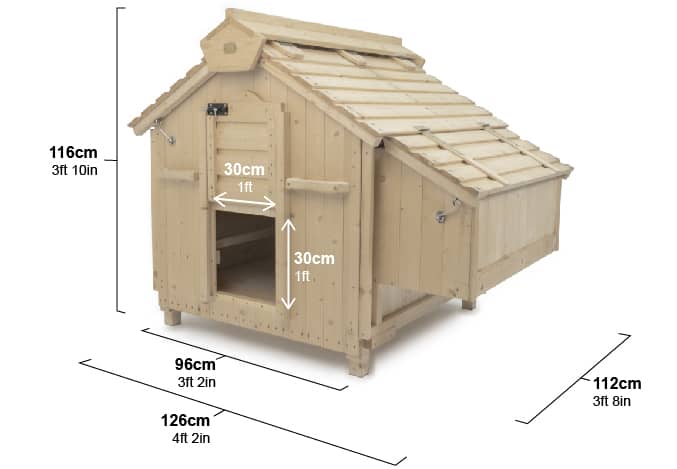 Experts recommend budgeting a space of at least one square foot (33 square cm) per chicken. You may need to adjust this if the breed of your choice is larger or smaller than average. Perches should allow at least eight inches (20 cm) per bird.
The Lenham Chicken House is designed for up to 12 medium-sized chickens or 6-8 larger birds such as Buff Orpingtons.
Materials:
House: Whitewood Picea Abies
Plastic latches and metal fixings
Assembled dimensions: W 126cm x L 112cm x H116cm
Please keep in mind that this is just the space that they need to sleep at night. For optimal health, chickens need much more space than this during the day. They can free range or you can provide them with an outdoor run. We'll discuss this in more detail towards the end of the article. 
Safety and Security
The purpose of a chicken house is to keep your birds safe from the weather and from predators. The entire structure should be secure. This includes the floor, as some predators can tunnel into hen houses that have dirt floors. 
All doors and hatches should be locked securely each evening once your hens are safe inside. You can install an automatic door so that you're not tied to your flock of chickens every day at dawn and dusk. More on this option further down. 
Protection from the Elements
In addition to protecting your flock against predators, your coop should protect them against rain, sleet, and slow. It must be heavy and sturdy enough to withstand high winds and provide some protection against freezing temperatures. 
The winters here is the UK can be harsh, but the Lenham Wooden Coop survived a bitterly cold winter in 2020 and kept my chickens safe, dry, and warm.

– Harold, Silloth-on-Solway
Adequate Air Flow
Be sure to consider air flow when choosing a chicken coop. Droppings accumulate quickly and release gaseous substances that may be hazardous to your hens. Choose a coop that has adequate ventilation to be sure they get enough fresh air for optimal good health.
Fits Up to 10-12 Chickens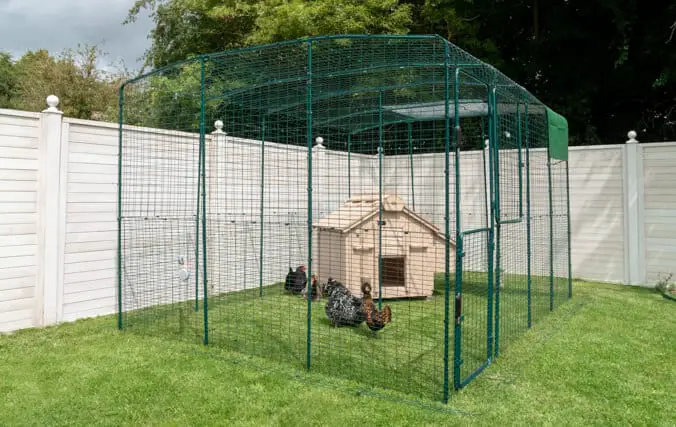 Many premade coops only fit two or three hens. This coop holds up to a dozen chickens, which is a wonderful flock size for large families and chicken lovers. Collect a rainbow of eggs each day to enjoy and share with friends and family!
This large hen house comes with three sturdy perches which can be removed when it's time to clean the coop. The size was chosen to be a comfortable fit for chickens.
Flat sides provide a stable surface for a good night's rest, and sanded corners protect your hen's feet. The top bar can be placed on either side or placed in the middle, so chickens are not stacked above each other. 
Even though this coop fits twelve chickens, it takes up very little space in your yard. This coop is 96 cm wide and 112 cm long.
If you're planning to purchase a large breed of chicken to house in this wooden chicken coop, you may want to limit your flock to six or seven birds.
Check the latest prices today!
Easy to Assemble
This large wooden chicken coop comes in two boxes. It includes all of the fittings and fixtures you'll need, plus an instruction manual and a half-hour instructional video that walks you through each step of the process.
Because the holes are pre-drilled, you can put in the screws by hand with just a manual screwdriver.
Don't forget to paint or varnish each piece and let it dry before assembling. 

Secure Against Predators 
No flimsy plastic or thin wire mesh here! This wooden chicken coop is made from sustainably farmed Norwegian Spruce called Whitewood Picea Abies.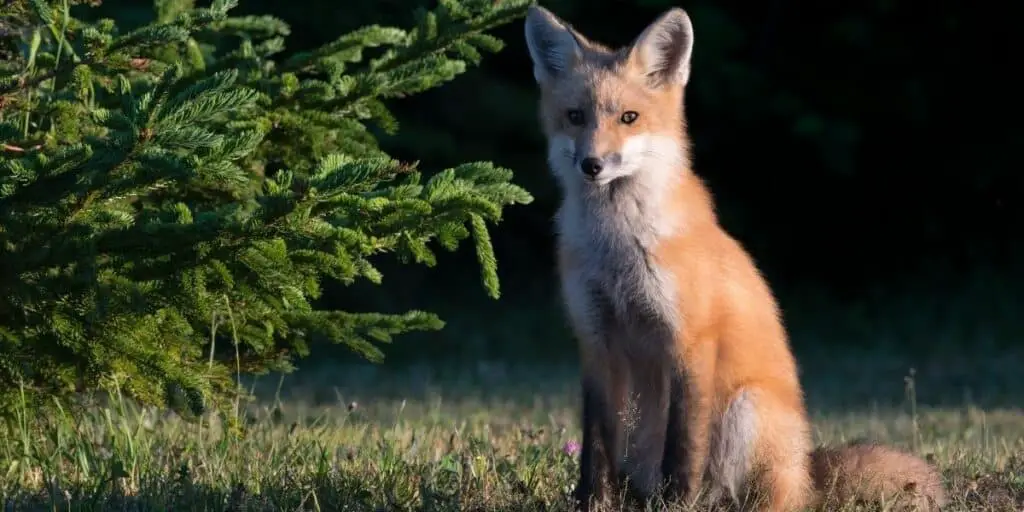 Its wood is strong and durable. A wooden floor and solid roof keep your chickens safe from every type of predator.
This coop is safe and secure against predators. The metal latches and locks are easy for humans to use, yet strong enough to keep foxes out. 
Easy Egg Collection 
Three large nesting boxes attach to the side of the hen house. They can attach to either side, the right or the left. This section of the structure has its own little roof on hinges. Simply lift the roof when it's time to collect your eggs.
The kit includes nest box shutters, which you can close at night to prevent your hens from sleeping (and pooping) in their nests.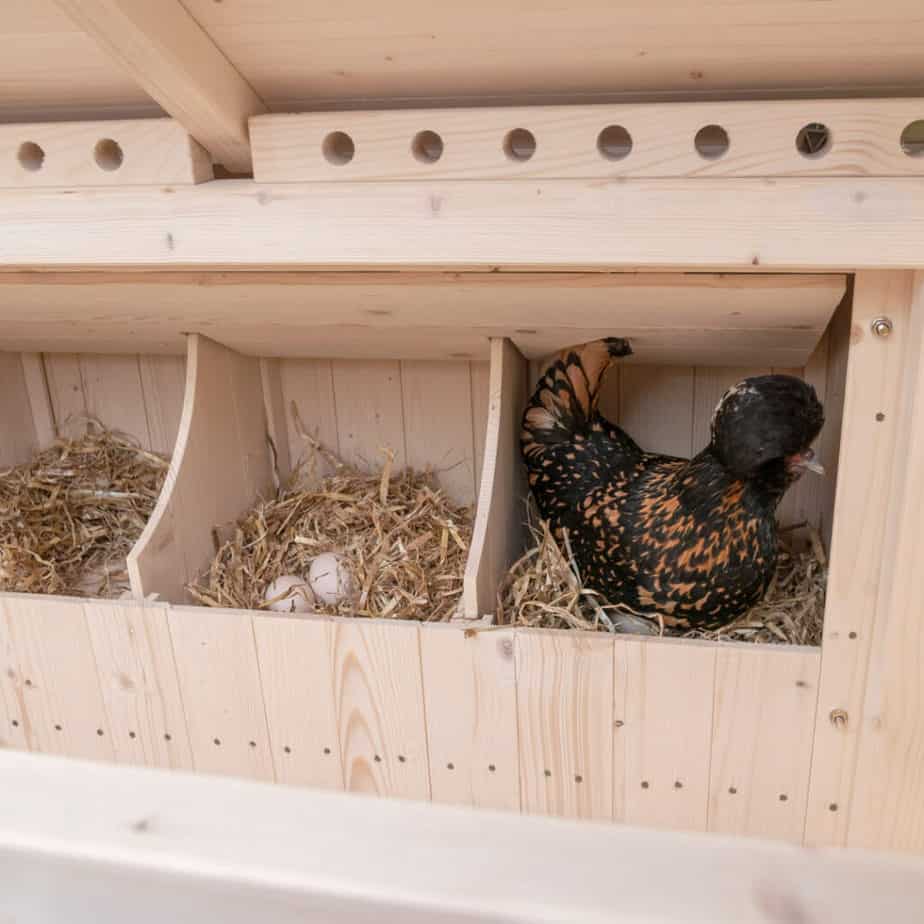 Chickens produce most of their droppings while they sleep at night, so it's best to prevent them from sleeping in their nesting boxes and soiling the eggs.
Well Ventilated 
Draft-free ventilation allows adequate airflow while still protecting your hens from the weather. A row of holes sits beneath the eaves of the house. You can also remove the sides or raise the roof to allow extra airflow on hot days.
Easy to Clean
Cleaning small chicken coops can be a painful, disgusting job. Not so with the Lenham Chicken Coop!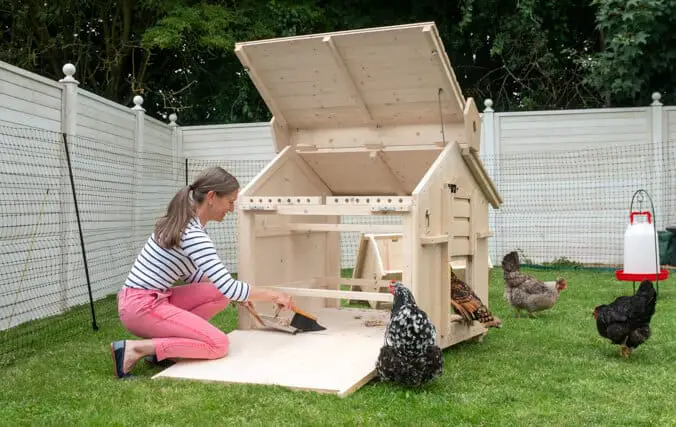 The roof lifts on a hinge. You can lock it in place in this position, making cleaning a breeze. You can even remove the perches, nesting boxes, and side walls when you want to give your hen house a really thorough cleaning. 
Use bedding on the floor or add your own reusable droppings board to make cleaning even easier. Some chicken lovers place bins of construction sand beneath the roosts.
The sand lasts for ages and cleaning out droppings is as easy as scooping them out with a kitty litter shovel. You can add them to your compost pile. 
Check the latest prices today!
Choose Your Colour
This wooden hen house is unfinished, which means you can paint it the colour of your choice or protect its natural wooden look with a clear lacquer. Choose a weather-resistant option for maximum durability. 
Easy to Move
This may not seem like the most important feature, but it really is! Chickens destroy grass quickly, and a mobile coop allows you to rotate them around the yard.
Moving your chickens frequently will prevent them from destroying your lawn and also give them continual access to fresh pasture.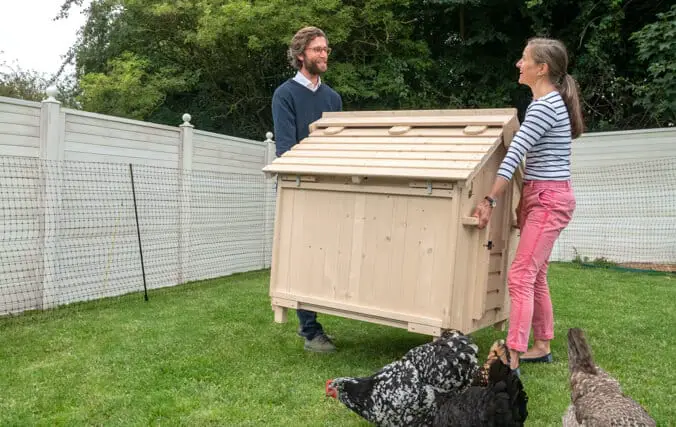 This coop has built-in handles that make it easy for two people to lift and carry it from one location to the next. If you want to move it by yourself, it's easy to install two wheels to convert this chicken house into a chicken tractor. 
Compatible with an Automatic Chicken Coop Door
The Universal Automatic Chicken Coop Door from Omlet is a safe and convenient way to protect your hens. The battery-powered door opener has both a timer and a light sensor, which means that you can either program the door to open and close at certain times each day or program them to open at dawn and close at dusk.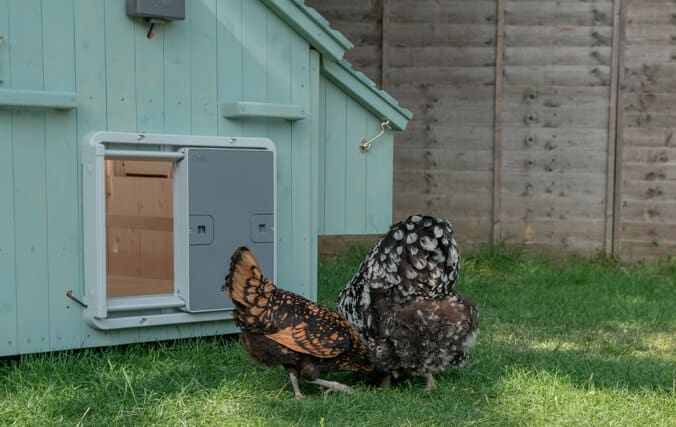 It works even when temperatures drop below freezing.  This automatic chicken coop door is easy to install in the Lenham Chicken Coop.
No more having to get up early to let your birds out and having all the neighbours complaining that your cockerel is too loud because he wants to come out at 5-6am
Add Fencing for a Secure Run
Remember that chickens can't live inside of a chicken coop. They are designed to give your chickens a safe and comfortable place to sleep at night. Even a large coop like this one is much too small of a space for chickens to spend their days.
Your chickens would be happy to free range in your yard, but this could cause problems. Free ranging chickens could destroy your garden (or your Neighbour's).
They're vulnerable to stray dogs, foxes, and more. If you want to protect your chickens and your gardens, consider building a chicken run around your coop.
The Walk-In Chicken Run from Omlet will keep your chickens safe at home. It even has a wire roof! This will protect your chickens from birds of prey and prevent them from flying over the fence while still allowing plenty of sunlight and air in.
Screw-in pegs make it easy to secure the bottom of the fence's horizontal skirt against wily predators.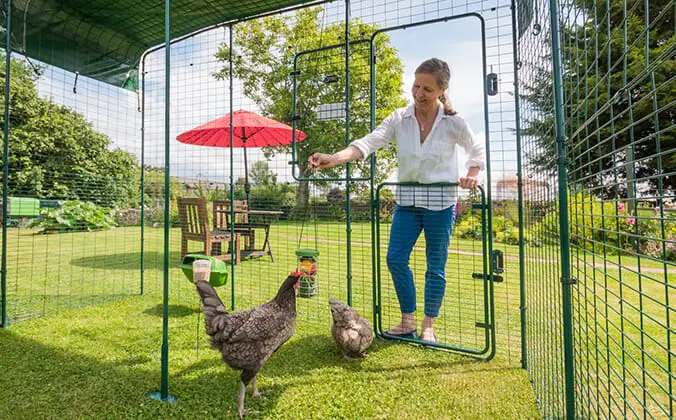 The door lock works from both sides. It's easy to attach roosts, feeders, and toys to the sides of the run. You can add a waterproof cover over the roof if you're expecting heavy rains and want to prevent the run from turning into a mud pit. It's even extendable, so you can make the run as big or as small as you'd like.
Conclusion
If you're looking for the perfect hen house, we recommend this wooden chicken coop from Omlet.
The Lenham Chicken Coop is easy to assemble, and it would be difficult to beat their price even sourcing each of the materials that you'd need to build your own coop. Your hens will love it, and so will you!