Chickens are foraging animals (and pets) and need some space to roam around outdoors.
You might be an owner that is not too concerned about the condition of your backyard however, the vast majority of chicken owners will likely have pristine grass or a vegetable patch that they want to maintain. 
Chickens, if left to their own devices, can cause havoc out in the open from eating foods that they shouldn't, tearing up patches of grass, and most notably using anywhere and everywhere as a toilet!
It's therefore common practice for chicken owners to section off a specific area in which the chickens can roam freely to keep everyone happy. 
Chicken fence is generally used to not only give your chickens somewhere to roam but more specifically, to keep them from roaming in places that you don't want them too. 
Omlet has therefore come out with a lightweight, portable and secure chicken fence solution that has certainly caught our attention.
In this article, we are going to cover all the key features that you'll want to know when it comes to this chicken fence and see whether or not it compares to the more traditional (if not limiting) chicken wire alternatives.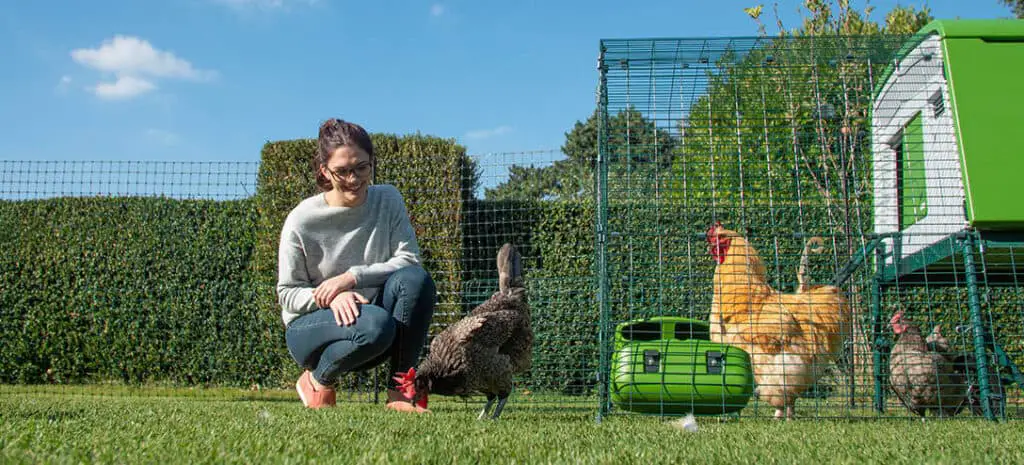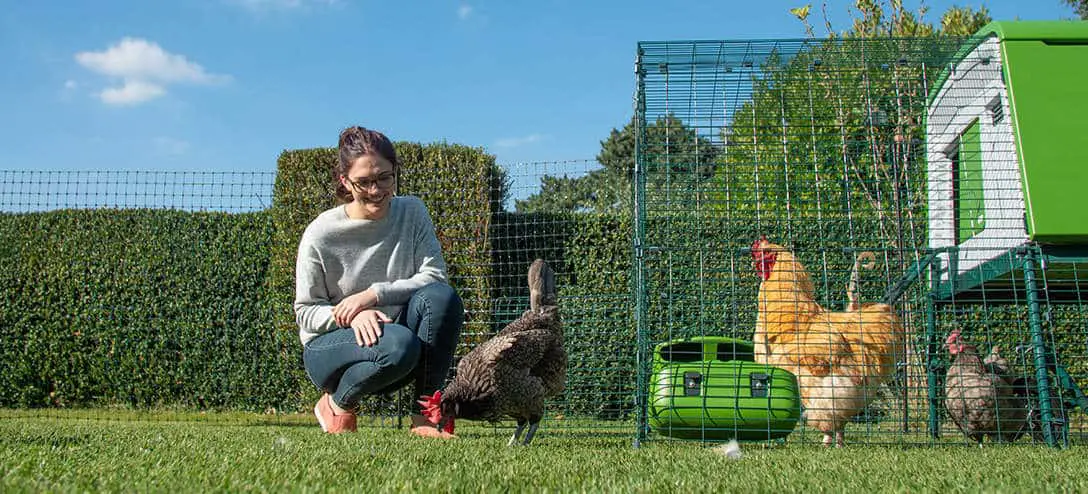 About Omlet
Omlet, founded in 2004 is an innovative design company based in the UK that specializes in backyard pet products.
The Eglu was their takeoff design which was an ergonomic chicken coop and since then they have expanded into rabbit and guinea pig accessories as well (mostly cages, hutches and runs). 
They took the UK market by storm and have since gone from strength to strength becoming an established international brand in both the US and mainland Europe. 
The chicken fence is an improved product designed to blend into your backyard whilst still being solid and easy to install.
Omlet Chicken Fence Features
You might be curious as to how many features a simple product like chicken fence can have? In all honesty, there is quite a bit that goes into the design of a product like this and you'll be pleasantly surprised to find that it has some time-saving and convenient features. 
These will likely save you a full day of work that you'd spend putting up a more traditional DIY chicken fence made from wooden stakes and wire. 
Key Specifications
Chicken Fencing Height: 1.25m
Hole Dimensions: 5cm x 5cm squares
Chicken Fencing Box Dimensions:
39ft Fencing: 28.1in x 10.8in x 6.0in
69ft Fencing: 28.1in x 12.0in x 8.0in
105ft Fencing: 28.1in x 14.2in x 8.6in
138ft Fencing: 28.1in x 15.8in x 10.5in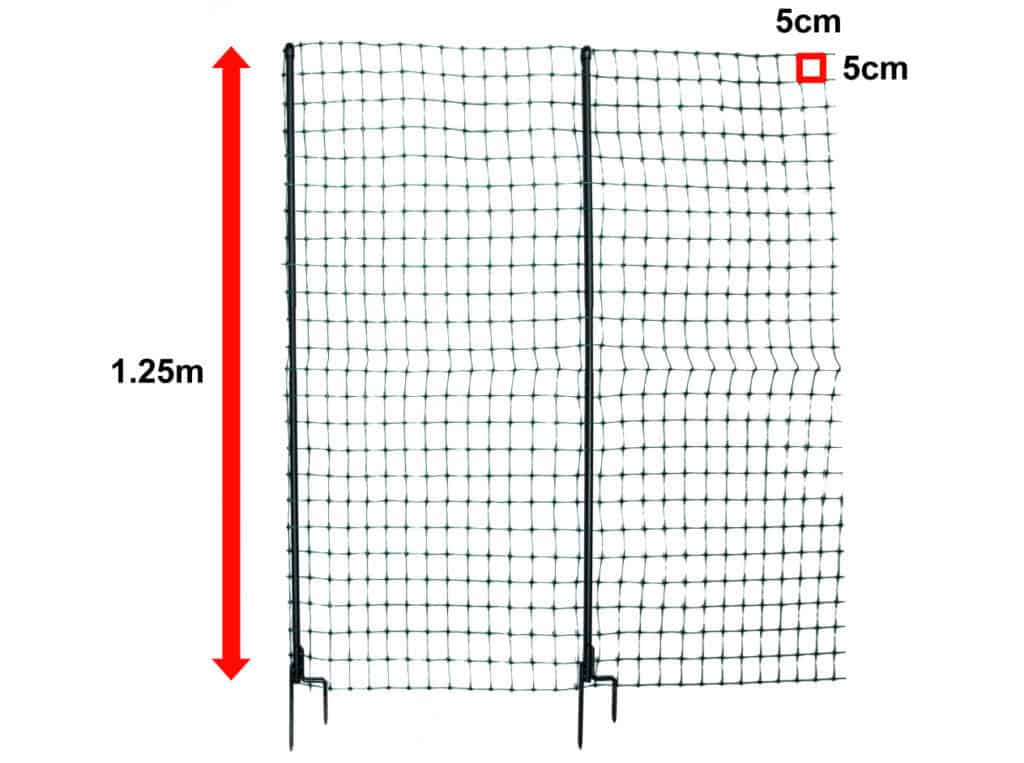 Design
When looking at Omlet Products, we always like to check out the design choice first because not only is the design Omlet's specialty but it also typically covers all the key features that you tend to look out for in your backyard products. 
The Omlet chicken fence is surprisingly simple in design (though I'm not sure what we expected, it is just a chicken fence after all!) and it will subtly blend into the background of your yard regardless of what size you purchase. 
The netting is made from polyurethane which is tangle-free, lightweight, won't rot and most importantly, it's peck proof so you know you are getting a durable and long-lasting product. 
The poles, gate and assembly are all designed to be as simple and intuitive as possible to use and we'll cover this shortly so that you know what to expect right out of the box. 
Overall, there aren't too many additional features with this product, it's durable, easy to assemble and a simple solution for giving your chickens some space to roam. 
Sizes
The Omlet chicken fence comes in a range of four available sizes and is designed to suit backyards of all sizes. The size guide can be seen below:
39ft – makes a 9ft 10in square
69ft – makes a 17ft 3in square
105ft – makes a 26ft 3in square
138ft – makes a 34ft 6in square.
As you can see, your chickens will have more than enough room to roam outside of the coop and the only limitations will be your yard size, the number of chickens that you keep or how large of an area you personally want to give them. 
There is some flexibility in this as well, the squares are just used to give a visual representation and you can actually modify the shape to fit any obstacles or desired location within your yard. 
If you need some layout ideas then Omlet has a page with customers setup pictures to help you plan design your desired layout here.
The range of perimeter sizes is not the only feature that you want to pay attention to, the height of your fence is often one of the most important factors to take into consideration as you don't want your chickens to get startled and quite literally 'fly the coop'. 
The Omlet chicken fence is 4.1ft high and while some chickens could potentially clear a fence of 4ft, this would be a rare instance and this fence is easily tall enough to prevent most escaping chickens.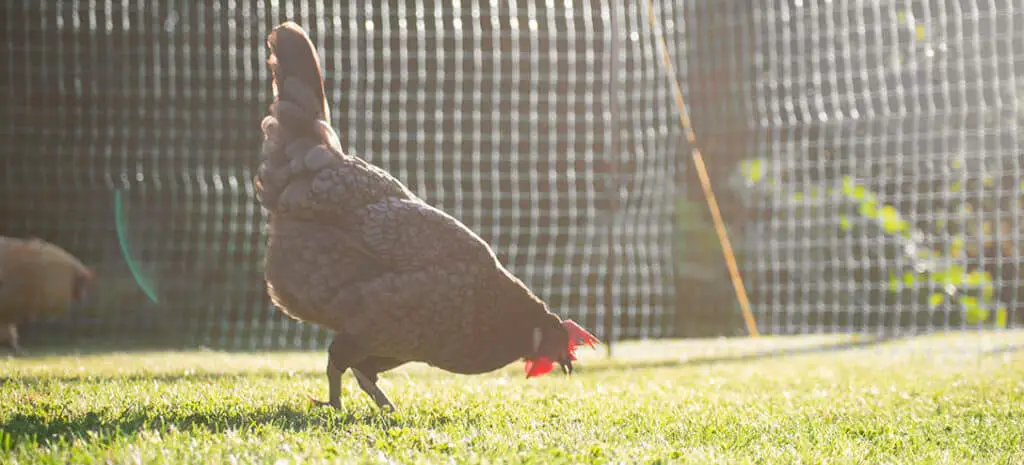 Assembly and Ease of Access
The ease of assembly is one of the key selling points with this product and you'll find that it's significantly easier to put up (and also move around to reposition) than standard chicken wire.
Everything comes flat packed and clearly organized with the netting pre-rolled and ready to simply unravel and attach. 
The adjustable poles have a slot at the top for ease of attaching the netting to and have a dual spike on the bottom to easily tread these into the ground with your foot eliminating the need for mallets.
Assembly time should take no more than 10 – 30 minutes for one person and it can be assembled much quicker with two people. 
Set up is so simple and intuitive that if you position it initially and are not happy with the location or shape, you can quickly move the poles and netting around to reposition them with ease.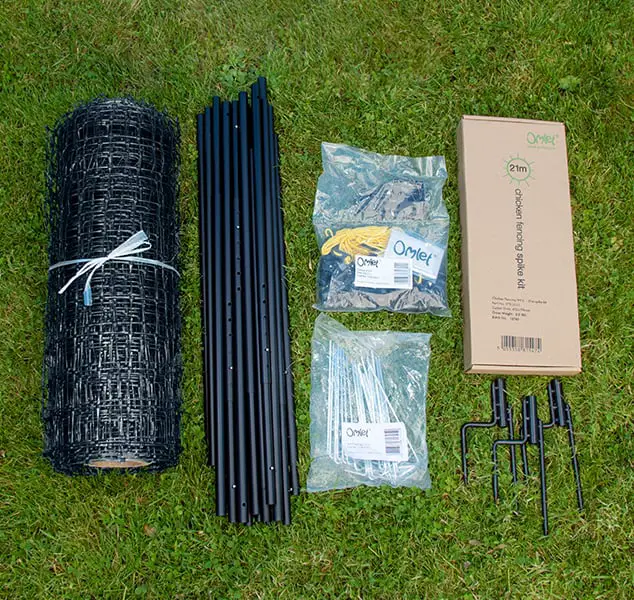 Everything about this product is designed to be incredibly simple to use, the gate can be placed in any position (and we recommend starting assembly with one side of the gate so that you can work your way around and not have any slack netting leftover) and it has a simple clip-lock catch mechanism when closed. 
The fence also comes with a reflective sign for the gate and reflective guy ropes making the fenced area more visible at night. 
Limitations
It's worth pointing out that this chicken fence is not predator proof and if you have any issues with foxes then this will do very little to prevent them from getting in. 
This product is simply made to contain your chickens and if you need something predator-proof, you will be best looking into an electrified fence solution. 
Powerfields P-89-G Electric 40" Poultry / Goat Fence-Netting, 40-Inches Tall x 165-Feet Long Netting, 15 Line Post, 19 Stakes, 2 Tie Down Cords, Repair Kit, Black/White Netting
 out of stock
as of November 28, 2023 10:42
Features
Poultry/goat netting roll measures 40" tall X 164' long with prefitted round PVC single spike post fitted every 12.5' along netting. Requires optional energizer with power of .25 Joules. Choose from many optional Powerfield energizers with power rating of .25 Joules or higher.
Install netting kit in 15-20 minutes. Installation manual included in every box. Components: 12 horizontal strands with 3 1/2" line spacing, 15 round PVC line posts, 19 corner/anchor stakes, 2 tie-down cords, and repair kit with brass ferules ( connectors) and polywire to keep on hand to fix breaks
Contains family pets, sheep, goats, turkeys, pheasants, chickens and other similar sized animals – Protects your prized and valuable investment.
Additional energizer power will provide a more memorable experience for the would-be predators. Deters predators like stray dogs, coyotes, foxes and raccoons.
Easy to construct many popular enclosure pens including; 40×40, 50×30, 20×60 or 10×70
Where to buy
In Summary
If you need an incredibly convenient and portable chicken fence for your backyard then we can't help but recommend the Omlet chicken fence. 
It comes with minimal parts and takes only 10 – 30 minutes to initially set up and if you're not happy with the placement it will only take around 10 minutes to then relocate or reposition it.
It's durable, peck proof, and comes in a variety of sizes to suit all needs. 
It's simple in design and if you need something to simply contain your chickens whilst having the flexibility to reposition it if needed, the Omlet chicken fence is going to be a great choice.